Why you should never make someone a romantic priority in your life when you are only an option in theirs.
In this video coaching newsletter I discuss four different emails from four different viewers. The first email is from a woman who has been the mistress for two years of a guy who has a girlfriend. The girlfriend now claims she is pregnant with his child and that is why he says he can not leave her. He complains to her about his girlfriend, but the bottom line is that he does not leave her. The second email is from a viewer who has been trying to get his ex-girlfriend back. After acting needy, desperate and chasing her did not work, he found his way to me. She now has a new boyfriend, but is keeping him in backup position while she dates her new boyfriend. He says he thinks being her friend will enable him to eventually get her back. He asks my opinion.
The third email is from a guy who lives in a small town. A married woman has been very flirtatious and communicating she is ready to have an affair with him. Since she is a cougar and twice his age, and he has little experience with women, he has missed several opportunities and asks me how I would handle the situation the next time he sees her. The fourth email is from a viewer who I have done a few Skype and email coaching sessions with. He has been trying to hook up again with his ex who dumped him. She recently dumped her replacement boyfriend and contacted him. He won't be back in town for a few weeks and wonders how he should handle things until he gets back. He is feeling the urge to contact her because he is worried she will meet someone new in the next two weeks, before he has a chance to return and hook up with her. He's still in a state of fear.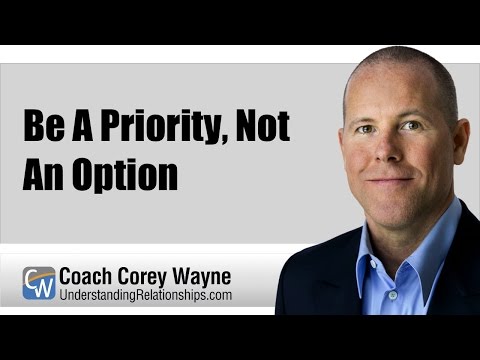 "If you love yourself, value yourself, respect yourself and see yourself as a catch, you will never make a lover or potential lover a priority in your life when you are only an option in theirs. It is demeaning and disrespectful to yourself to tolerate not being valued by another. Always look at what people do as a true indicator of how they really feel about you, instead of accepting their words or flowery language at face value. You deserve to be treasured and appreciated for the gift that you are, but you must act in ways that demonstrate this, and walk away from situations and people who do not treat you with the respect, appreciation and love that you deserve." ~ Coach Corey Wayne