How to avoid being betrayed by the perfect woman to make sure you make a good choice in a romantic partner.
In this video coaching newsletter, I discuss two different emails from two different viewers. The first email is from a guy who recently found out that his girlfriend of three years was a sugar baby, selling nude pictures of herself and selling her body for sex to other men. Pretty much everything she told him about her past and present was a lie. They just had their first child together a few months ago before he found out the truth about who she really was.
The second email is from a guy who shares a success story of how he got a second chance with a woman who friend zoned him a few years ago, and how she is crazy about him and they've been together for a year now. My comments are in bold italics like this below in the bodies of their emails.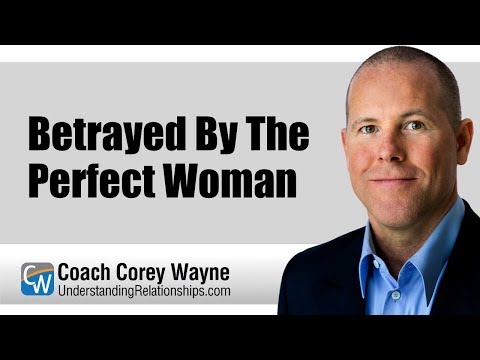 First Viewer's Email:
Coach Corey Wayne,
Man I can't believe after years of watching you and reading your book, I have to reach out myself.
It happens dude. We all fuck up. You've obviously read my book. I've made a lot of fuckups, but that's part of life — making mistakes and learning from them. Because success really doesn't teach us like failures do.
Let's just say, shit has hit the fan. I've attached a photo of my girlfriend of three years. As you can see, she's gorgeous.
She's a babe. You can't get hypnotized by the good looks and the charm, especially when you're using the stuff that's in the book. Just because she's hot and she's fun to be around doesn't mean she's actually a good person with integrity. Remember, we as human beings make our decisions based upon emotion, and we use logic and reason to justify it.
I suspect, after going through this and having done this all these years, that this guy got pretty hypnotized by her beauty and sex appeal right away and just bought whatever load of bullshit that came out of her mouth. And he got so far into it emotionally before little red flags started coming up here and there. And probably for a while he told himself, "Everything's fine."
I'd say, to some degree, there had to be a little bit of self deception on his part. I've done it plenty of times in my own life. Because we don't want to admit bad things. When we really love somebody and we really care about them, we want to believe everything that they tell us. But the reality is, there's people out there that just learned to lie growing up.
You know how kids work, especially when the kids are really young. Mom says "No, you can't do that," and what does she do? She goes to her dad, "Mommy says it's okay." That's why communication is really important. And if there aren't a strong man and woman in the child's life that teach them integrity, especially if they grew up in families where lying and cheating, dishonesty and screwing each other over — I mean, these people are out there. And you've got to fucking pay attention.
She turns heads everywhere we go. She had the warmest personality and is my best friend. We've traveled all over the country and even overseas together. She's been the most loyal woman I've ever seen. I have two children, and the love she has shown them, I could never ask for. They love her dearly, as well. (Sometimes more than me!)
Four months ago, we celebrated the birth of our son. I thought she was everything I wanted in a woman… until two weeks ago.
Long story short. She lied to me about everything. She had this wonderful apartment in Nashville, a good education, a heartbreak love story of how she was done wrong, and she built herself from the ground up. Reality: she was a sugar baby. She did not work a regular job, but used sugar to support herself and sold nude pictures.
She does NOT have her education finished. One of her sugar daddies agreed to help pay for her apartment if she sent her nudes often. I found out she had sent them to him our entire relationship for cash on the side, ($13,000 worth!)
The biggest deal is this… I met her when her first son was just born. She told me that she had had cancer, and they were going to have to possibly take her cervix away. She decided she would have a child on her on, and not let life take it from her. Sad story right?
Sounds legit, but the older you get the more you realize, there's a lot of people who just lie their fucking asses off in the world. If you've got a lot to offer, especially if you're a successful guy with money and you're inclined to want to take care of somebody, you want somebody that's a good teammate, and equal. You want a woman that's honest, has integrity, pays her fucking bills on time, can actually hold down a good job and has good friends and good people in her life.
If you're looking for a long-term type of relationship, ideally the best candidates are going to be women that come from solid families where mom and dad are still together, they love each other, they're honest with one another and they communicate well. And quite frankly, in this day and age, women like that are extremely rare, so when you find one you've got to take advantage of it, because there's a lot of people that come from broken families and fucked up shit. And that's reality.
When you've been single for a while, and you're really like "I'm ready for a girlfriend now," and you want it to happen — I've done this to myself in my life — and boom! you meet somebody, they're everything on your list you're looking for, and you just automatically assume that everything's going to be great and all sunshine, roses, rainbows and unicorns for the rest of your life, that's just not the way things work in the real world.
Two weeks ago, it all came unglued. I just had the urge to look and see what was in her phone and computer… boy was I surprised. This girl has been a sugar baby and selling nudes since she was 17. She is 25 now.
If she was doing this at 17, then you have to think, what's her family background? That's why it's so important when you're dating to find out what her family background is like. When you're dating somebody and you find out they come from a background where there's lying and cheating on both sides and especially if you study self-help, you tend to go, "Oh, she overcame all this. She's going to be a great person." But the reality is that people that come from broken homes, and one or both parents are missing, weren't there or there was nobody to fill in those roles, you're going to see these kinds of character flaws coming out.
When you meet somebody and they sound great and they look great, but they've got some sad story, there's no family in the picture, that's when you should be cautious. And obviously, it doesn't sound like this guy was. But I'm not calling the kettle black because I've done similar things in my own life.
I've done it in business, and I've done it in my personal life. You like somebody, you have a good feeling right away, you think, oh this is going to be awesome, but also in the back of your mind something seems a little off, but "Oh, I must just be imagining things." Eventually, you figure out that your gut feeling that you got right away was right all along.
The whole heartbreak love story about her and her last boyfriend… false. She was caught on seeking arrangement (sugar website) and he said that was the last straw, (you bet your ass I reached out to find the truth.)
It looks like he got in touch with the last boyfriend, and she had been lying to him as well, so she's got a history of lying in this particular case. The last boyfriend was like, you're outta here. I mean, who would want that? Who wants to be with a woman that you're supposed to be in an exclusive relationship with, and she's basically moonlighting as a whore, if you will? And lying about it. This person has no integrity.
Would you want somebody like this raising your children? If you have somebody like this raising your kids, your kids are going to grow up and be just like them. That's the harsh reality.
She had pushed for me to father her son, as he didn't have anyone. I could just raise him along with our son, and it would be wonderful. I found out that she had been messing around with a gentleman and was knocked up. She never told him about it. The whole thing was bullshit. The whole person, my best friend, woman, and future… was a lie.
So the ex-boyfriend wasn't the father of her child. It was just some guy she got knocked up by and never told him about it.
She says that she lied to me because she knew I would not want her if I found out about the sugar dating, and she wanted to protect her son.
That's the reality with someone like this. To them, emotionally it's better to tell a little white lie and not be honest, because then you can avoid uncomfortable situations. If this woman is 25 now, this is who she is. She's a liar, she's a cheater and that's all she knows. She's built her life around being devious and dishonest. She's got the mindset of a criminal.
I've never been more betrayed in my life. The pain of this is unbelievable. I still love her…. I can't just shut it off. She says she'll do anything…get a flip phone, send me her location, go to counseling, whatever. I just don't trust her.
What has she done to earn trust? So she's 25 years old, and now all of a sudden she's going to go through a radical life transformation and become an honest human being? It's absurd to think that she's capable of that. Maybe one in a million would actually do that.
She could fuck the whole baseball team behind my back and lie her ass off without me knowing it.
I love her more than I'd care to say. Tell me what the fuck to do!
Thanks for all you do brother!
Bob
If it was me, I wouldn't stay in a relationship with somebody like this because she's not capable of honesty and truth. I mean, for three years she lied to you, and she lied to her last boyfriend. Lying is a way of life to her. And thinking that this is somebody who has spent 25 years of their life lying to everybody about anything and everything is all of a sudden going to become magically reformed, I would not be willing to bet my future or any money on that happening.
You've got to think about your kids, because if you continue to allow her to be in your life and help raising children, your kids are pretty much going to turn out like her. Now, obviously you have a kid together with her, and that's a pretty sticky situation. You should probably go see an attorney in your state and get some legal advice on that.
What you have here is a woman that's incapable of honesty. Your options are basically she continues living this way and basically being a hooker, and you stay with her and say, "Okay, we've accepted the truth." Maybe you have an open relationship with her, but if you're writing me this, you're probably wanting her to be exclusive and have her all to yourself.
But based upon her actions, no. Love can't exist where there is no trust. In all the years I've been doing this, this is one of the worst levels of deception that I've ever seen from somebody. It sucks, it's sad, but I appreciate the fact you shared it with me. The reality is, you need to think about yourself and your kid. What's in the best interest of your children? Having their mother or stepmother being a pathological fucking liar and a hooker? Probably not.
Second Viewer's Email:
Hi Coach Corey,
One year ago today I would never have believed that I would be writing this email. I met an amazing girl at my school, and we were both incredibly into each other. I ruined it quickly by being too clingy and trying to lock her into a commitment, I then also agreed to just be friends when she suggested we're better off as friends. Although, I did walk away completely and then I found your work.
She was the first girl I ever asked out, and despite the pain, I spent the year dating other women, reading your book, screwing up along the way and also becoming a better man. I dated 5 girls during this time and had 2 girlfriends.
About a month after I broke up with my last girlfriend, I had a strong intuition and internal voice that told me to reach back out to the girl I met at school and ask her out for coffee. I knew I had to see her one more time as the new me. I know you teach not to do that, but I thought I did the work on myself, I threw my expectations aside, and I messaged her. To my delight, she was more than happy to meet up again, and that's where it all started.
This time around, I maintained the mystery, was career focused, I let her come to me, and I let her pursue me. She went from being the unsure girl, who said "I want to be best friends first before dating" to pulling me in and making out with me on her driveway on the first date.
If a girl ever says that, no. I'm not interested i becoming best friends before dating. You're either in or you're out. I'm only interested in romance. I'm not looking for a pal or a buddy. I've got lots of those.
She also pursues me a year into our relationship, and we're becoming best friends. Indoor Olympics anyone? She pulls me into it and treats me like her king.
Corey, I wanted to truly thank you. No one ever told me anything about dating, and it hurt learning about this process, but ultimately I credit you with teaching such important life lessons to be a better man and accept difficulties in life with a learner's mindset.
That's the correct attitude that you want to have. When you recognize, holy shit, I don't know everything. It's okay to be a beginner again.
I recently got into medical school, and I'm so excited to succeed in my career and build an empire with my woman. I'm always looking for ways to improve our relationship. I no longer set expectations, and I try my best to open her emotionally. I can't wait to keep growing, learning, and improving myself as a man to be the teacher to my kids that I never had.
Bob
What a great email!
Get the Book "How To Be A 3% Man"
How to Be a 3% Man
Audiobook | FREE**
How to Be a 3% Man
Audiobook | $19.95
How to Be a 3% Man
Audiobook | $19.95
*Amazon and the Amazon logo are trademarks of Amazon.com, Inc. or its affiliates. As an Amazon Associate I earn from qualifying purchases. **Free with a new Audible.com membership
How to Be a 3% Man
Kindle eBook | $9.99
How to Be a 3% Man
iBooks eBook | $9.99
How to Be a 3% Man
Lulu eBook | $9.99
*Amazon and the Amazon logo are trademarks of Amazon.com, Inc. or its affiliates. As an Amazon Associate I earn from qualifying purchases.
How to Be a 3% Man
Paperback | $29.99
How to Be a 3% Man
Hardcover | $49.99
How to Be a 3% Man
Paperback | $29.99
How to Be a 3% Man
Hardcover | $49.99
*Amazon and the Amazon logo are trademarks of Amazon.com, Inc. or its affiliates. As an Amazon Associate I earn from qualifying purchases.
Get the Book "Mastering Yourself"
Mastering Yourself
Audiobook | FREE**
Mastering Yourself
Audiobook | $24.95
Mastering Yourself
Audiobook | $24.95
*Amazon and the Amazon logo are trademarks of Amazon.com, Inc. or its affiliates. As an Amazon Associate I earn from qualifying purchases. **Free with a new Audible.com membership
Mastering Yourself
Kindle eBook | $9.99
Mastering Yourself
iBooks eBook | $9.99
Mastering Yourself
Lulu eBook | $9.99
*Amazon and the Amazon logo are trademarks of Amazon.com, Inc. or its affiliates. As an Amazon Associate I earn from qualifying purchases.
Mastering Yourself
Paperback | $49.99
Mastering Yourself
Hardcover | $99.99
Mastering Yourself
Paperback | $49.99
Mastering Yourself
Hardcover | $99.99
*Amazon and the Amazon logo are trademarks of Amazon.com, Inc. or its affiliates. As an Amazon Associate I earn from qualifying purchases.
Coach Corey Wayne Merchandise
If you have a question you would like me to consider answering in a future Video Coaching Newsletter, you can send it (3-4 paragraphs/500 words max) to this email address: Questions@UnderstandingRelationships.com
If you feel I have added value to your life, you can show your appreciation by doing one of the following three things:
Make a donation to my work by clicking here to donate via PayPal anytime you feel I have added significant value to your life. You tip your favorite bartender, right? How about a buck... $2... $3... $5... $10... $20... what ever YOU feel its worth, every time you feel I have given you a good tip, new knowledge or helpful insight. Please feel free to donate any amount you think is equal to the value you received from my eBook & Home Study Course (audio lessons), articles, videos, emails, newsletters, etc.
Referring your friends and family to this website so they can start learning and improving their dating and relationship life, happiness, balance and overall success in every area of their lives too!
Purchase a phone/Skype (audio only) coaching session for yourself or a friend by clicking here. Download the Amazon.com Kindle version of my book to your Kindle, Smartphone, Mac or PC for only $9.99 by clicking here. Get the iBook version for $9.99 from the iBookstore by clicking here. Get the Audio Book for FREE $0.00 with an Audible.com membership by clicking here or buy it for $19.95 at Amazon.com by clicking here. Get the iTunes Audio Book for $19.95 by clicking here. That way, you'll always have it with you to reference when you need it most. Thank you for reading this message!
From my heart to yours,

Corey Wayne
Author, Speaker, Peak Performance Coach, Entrepreneur
"Liars and cheaters tend to believe that everyone lies and cheats. They learned in childhood that telling the truth and being honest is too risky. In their eyes, it's better to lie and avoid confrontations at all costs. People can hide who they really are for about ninety days of a relationship. You must look at what people do, not what they say, as a true barometer of who they really are. Dating is like test-driving a used car. You can't know what you've really got until you spend a significant amount of time together. Love cannot exist without trust. Take your time, good relationships are worth the wait and stand the test of time. As the old saying goes, haste really does make waste." ~ Coach Corey Wayne
Click Anywhere on Today's Instagram Image Below & You'll Be Taken To My Instagram Page. When you get to my Instagram page, click the "Follow" Button so you can follow me on Instagram. I upload several new Instagram photos per week.