How to move forward in your career, working for others or working for yourself, if you are unsure of what to do and feel stuck, fearful or unsure of how to reach your potential.
In this video coaching newsletter, I discuss two different emails from two different viewers who have similar career issues and are stuck trying to decide the right approach and strategy to implement to move forward. The first email is from a viewer who works in the fast food industry and was climbing the corporate ladder, but now feels like he's no longer moving forward, and his superiors don't seem to be helping him to advance. He has a side business he's been thinking about starting, but still hasn't taken action, because he's unsure of what to do next.
The second email is from a guy who is still hurting emotionally after his girlfriend of five years up and left him. He loves music, but his fear of what other people will think is causing him to hold back and not put it out into the world. He asks my opinion. My comments are in bold italics like this below in the bodies of their emails.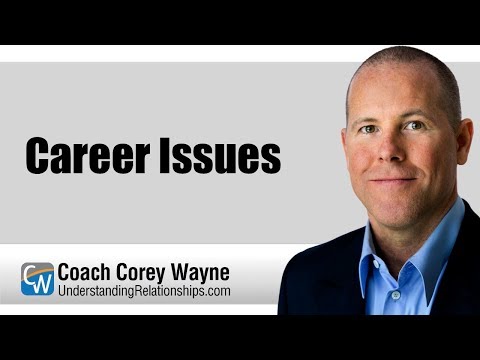 First Viewer's Email:
Corey,
First, I want to thank you for what you do. I got really involved with your work after being broken up with by a fiancé. I had watched some of your videos before it happened, and I knew what to do. I never contacted her again. She didn't end up coming back, but I'm glad I walked away. Now I'm doing really well with women, and it's almost something I don't really have to even worry about now that I've read the book 6 times. Still going to keep reading.
Now, I've run into somewhat of a wall in my career.
I'd say the average person who comes to me has some kind of challenge in their relationship, and they read the first book, "How To Be A 3% Man." What's interesting is, as your personal life starts to get better, you may start to recognize that the career isn't so great after all. Then once you get your relationship and career going well, you find your peer group is a bunch of unsupportive people that are always fucking negative. Then you work on expanding your social circle and making new like-minded friends that are going to celebrate you and push you forward.
As you grow in your level of consciousness, you start to see things more unified. I talk about unity consciousness in my second book, "Mastering Yourself." As you do better, you want to see other people doing better, but some people you can't reach.
I'm working at Chick-fil-A, little over 2 years.
Let me say something about the fast food industry. When I as 18 years old, I worked at Cisco's Chicken, and I can kind of relate to what you're going through. I enjoyed cutting up the chicken, but the manager always made me run the cash register. When I asked her about it, she said, "Quite frankly, when you're not on the cash register, the drawer comes up short." So I got stuck there doing a job I didn't like, and it really took away from my enjoying the job. After three months, I left because I wasn't enjoying myself.
You've got to recognize, sometimes other people have their own motivations, and you can't move forward after talking to them. It's just like dating somebody, and they're not treating you the way you want to be treated when you asked them in a loving way, but they keep doing what they did before. You've got two choices, you either accept it and put up with it, or you say, I'm going to leave.
At the end of the day, with your progress, your goals and your dreams, you've got to keep moving forward. You can't sit around and wait on somebody else to give you an opportunity if they're not willing. You're in charge of your free agency for your career. If you're not advancing, sometimes it's better to go to a different organization and team that is willing to give you the opportunity you want.
I go into extensive detail in "Mastering Yourself" on how to negotiate your salary and how to get multiple job offers, so you can be in a situation of abundance. Then those different employers can bid for your services just like any high-paid free agent when they come off of their rookie contract and have proven what a great player they are.
If you've got no offers, and you're just hoping to have a job, you're in a scarcity mindset. You're in a weak mindset, and you're in a weak place from a position of negotiation. That's going to work against you, and that's going to inhibit you from getting what you want.
I'm working here because I love the company, the people and customer service. I want to start a yard services company, but I was offered a position as a corporate trainer.
Remember, you always look at what people do, not what they say.
I thought it would be a great way to learn how to train employees in my business, so I thought I would do it for a few years to grow as a leader.
That's great. However, one thing you've got to consider, that's an entry-level type of job. And unless your career is working in the corporate world or maybe someday you'd like to become a franchisee, those are entry-level jobs. You see people complaining about hourly wages, but that should be a stepping stone. When you're middle-aged working somewhere like that, you're going to learn a certain set of skills, but you're going to get paid what you're going to get paid. You're trading dollars for time.
If you're not learning anymore, you're not growing your reserve of knowledge and developing your talents and skills, you can't earn more money other than hoping they'll be generous and give you a little bit of a raise every year. But the more skills you acquire, the more you develop your talents and grow your reserve of talents, the more valuable you are to an organization, because you can do more things. So that should be priority number one. That's what makes companies want to seek you out and hire you.
I started working on it about a year ago, and have learned many positions in the store. I was ready to apply, but the operations director said she thought I should work on headset first before I go for it. I agreed, but it's been 6 months since then, and it's been moving ultra slow. I learned one side of the headset since then, but haven't really been given the opportunity to learn it completely. I've asked twice in the last three months, but it just doesn't seem to make it on the schedule.
I'd ask them one more time. This sounds like you got stuck the same way I got stuck at the fucking cash register when I was 18. That wasn't fun and it wasn't compelling. Even though I was great at it, I didn't enjoy it as much as cooking. Therefore, I just started looking around for another job. If your idea is you want to be in the Chick-Fil-A business and maybe be a manager or do a franchise, unless you're absolutely in love with working it, this is a stepping-stone, an entry-level job.
This happens as well when you're earning a six-figure income and you hit a ceiling. You've got things you want to do, but the manager likes you where you are, because it makes their job easier and because they've got other employers who are not superstar employees. They'll stifle your growth. I'd ask one more time, and if it doesn't change in the next few weeks, you should be looking for another job.
It makes me unsure if they even want me to do it anymore.
Like I said, the manager probably likes keeping you there because you're good at that. At the end of the day, you are the agent that represents yourself. In essence, you've got a team that won't allow you to grow. So either they give you an opportunity to grow as promised, or you should be looking for something else.
It's harder to pay bills, and I'm tempted to just go into the business with the equipment I have. Anyway, I'm just kind of lost on what to do. I'm scared to lose the opportunity to train, but I almost feel used. I would really appreciate your thoughts
Bob
I wouldn't quit your job, but if you have the equipment to do the lawn service, there's no reason why you can't start that part-time. Get a few clients, and as you get busier with your side business and you're making more money on your side job, you can reduce your hours at Chick-Fil-A and eventually be able to leave that. Then as you get more business, you can hire somebody.
What's important about running your own business is, you've got to get good at identifying people that are reliable, that will show up and do a great job for you, and then you can manage. Then, you can grow it to a business that you can sell someday.
So regardless what happens with where you're at now, you should be looking at starting this other business on the side, and do it on your days off. As you get busier, you're just going to work less hours at Chick-Fil-A, until eventually you can say "see ya." But in the meantime, I'd be looking around at other companies you can work for that you can put your skills to use. Maybe a regular restaurant waiting tables or something.
If you wait tables in a regular restaurant, especially a nice restaurant, the bigger the check, most people tend to tip twenty percent here in the States. If your average check is $30 versus $100, it's really the same amount of work. You want to work smarter, not harder. You're in charge of your own destiny.
Second Viewer's Email:
Hey Coach!
Just wanted to start by thanking you for doing what you do. I find it unbelievable how accurate your information has been and have turned many of my friends onto your work. I've listened to your book about 8 times on audible and honestly think I need to keep listening, because I find myself making mistakes still, but am very grateful to have your work to refer back to and to keep me on track.
Repetition is the mother of skill until you stop making those basic mistakes. You can learn the knowledge, but the most important thing is to apply it consistently. That's what grows your skills and talent. And as you see what works, that will give you confidence.
My question is this… I am a 26 year old music enthusiast. I play, write, produce, and consume music constantly, but I feel like the biggest frustration in my life is that same fear most people have of not being accepted or liked by others or being good enough, and it keeps me from fully pushing my music out into the world.
There are two primary fears: fear that you're not enough, in other words you don't have what it takes, and fear that you won't be loved and accepted by your friends, family and peer group. Well, everything takes time. Everybody that's a great musician was once a novice. That's reality.
Repetition is the mother of skill. The more you practice something, especially when you love it and are passionate about it, you'll put the time in, versus somebody that has it as a hobby and is not serious about it. If you're actually composing music, obviously your level of passion is more than the average person. That tells me that it's innate. It's natural.
A lot of people are going to tell you your music sucks, and some will say, I really love this. But the reality is, you're not writing music for them. You're writing it because it's something that stirs your soul. It comes internally. You have to get it out into the world, and that's the important thing. Creative people tend to be insecure, but you can't worry about the complainers. You have to develop some thick skin. You're not responsible for other people's opinion of you.
Music has always been like therapy for me and has been a way for me to express the emotions I may not want to show women, or anyone for that matter, because if I did, it would definitely scream beta male.
What are the best, top hit songs usually about? Heartbreak. Somebody got their heart broken. Now why is that? Because they are really fucking powerful emotions. Also songs about love, because there is a lot of heart, passion and emotion when you're in love. So if you look at the totality of great hit songs, there are some super strong emotions. If you're in a place where you're hurting really badly or you're really happy and in love, and you're a musician, that's the kind of shit you want to write about.
You are screwing yourself and your future fans if you're not putting that shit out into the world. Give the finger to your haters, because you're not doing it for them. You're doing it for you. Take the feedback, but at the end of the day, if you love it and are proud of it, that's the only thing that really fucking matters. You'll get better over time. You can't get better if you're not producing it and putting it out there.
My girlfriend of 5 years just decided to leave me and move across the world, (I know she wasn't the one after reading your book, but its still hard right now), and I can't for the life of me write anything that isn't sad as fuck.
That's okay. You should write about that. It's authentic and people love that. Everybody who has had their heart broken has hurt like a motherfucker. Some of the best hit songs in history, decade after decade, they're about heartbreak, because those emotions are so intense. You're robbing your fans of your talent by not writing right now when you're in that state.
I'm trying to feel it to heal it. I'm wondering if you think I should just go for it and release all this music I've made, even though it is deeply revealing of my not so alpha qualities.
Well, being alpha is putting it out there and not giving a fuck. Being beta is holding back and not putting it out there, so stop being a fucking beta male and put the shit out there. Who cares what people think? You're doing it for you. That's part of feeling it to heal it. You can change peoples lives.
Or should I be finding a way to write music that expresses confidence and prosperity, (even if that is not authentic to how I am really feeling).
If you're writing music that's not authentic to how you're feeling, it's probably not going to do that well. There's no heart, no emotions, no authenticity. All you have to do is look at the internet. What does well? Authenticity. That's why I'm liberal with the f-bombs, because that's my personality. I'm being real with people, and people appreciate that. I'm not perfect. I made a lot of mistakes, and that's why I know what I know. Like Jocko Willink says, "Be humble or you will be humbled."
P.S. The video regarding porn and smoking pot is literally everyone I know, including myself, so thank you for that. I am working on getting sober.
Thank you for all that you do. Your work is appreciated so much.
Bob
Put your music out there. Fuck the haters.
Get the Book "How To Be A 3% Man"
How to Be a 3% Man
Audiobook | FREE**
How to Be a 3% Man
Audiobook | $19.95
How to Be a 3% Man
Audiobook | $19.95
*Amazon and the Amazon logo are trademarks of Amazon.com, Inc. or its affiliates. As an Amazon Associate I earn from qualifying purchases. **Free with a new Audible.com membership
How to Be a 3% Man
Kindle eBook | $9.99
How to Be a 3% Man
iBooks eBook | $9.99
How to Be a 3% Man
Lulu eBook | $9.99
*Amazon and the Amazon logo are trademarks of Amazon.com, Inc. or its affiliates. As an Amazon Associate I earn from qualifying purchases.
How to Be a 3% Man
Paperback | $29.99
How to Be a 3% Man
Hardcover | $49.99
How to Be a 3% Man
Paperback | $29.99
How to Be a 3% Man
Hardcover | $49.99
*Amazon and the Amazon logo are trademarks of Amazon.com, Inc. or its affiliates. As an Amazon Associate I earn from qualifying purchases.
Get the Book "Mastering Yourself"
Mastering Yourself
Audiobook | FREE**
Mastering Yourself
Audiobook | $24.95
Mastering Yourself
Audiobook | $24.95
*Amazon and the Amazon logo are trademarks of Amazon.com, Inc. or its affiliates. As an Amazon Associate I earn from qualifying purchases. **Free with a new Audible.com membership
Mastering Yourself
Kindle eBook | $9.99
Mastering Yourself
iBooks eBook | $9.99
Mastering Yourself
Lulu eBook | $9.99
*Amazon and the Amazon logo are trademarks of Amazon.com, Inc. or its affiliates. As an Amazon Associate I earn from qualifying purchases.
Mastering Yourself
Paperback | $49.99
Mastering Yourself
Hardcover | $99.99
Mastering Yourself
Paperback | $49.99
Mastering Yourself
Hardcover | $99.99
*Amazon and the Amazon logo are trademarks of Amazon.com, Inc. or its affiliates. As an Amazon Associate I earn from qualifying purchases.
Coach Corey Wayne Merchandise
If you have a question you would like me to consider answering in a future Video Coaching Newsletter, you can send it (3-4 paragraphs/500 words max) to this email address: Questions@UnderstandingRelationships.com
If you feel I have added value to your life, you can show your appreciation by doing one of the following three things:
Make a donation to my work by clicking here to donate via PayPal anytime you feel I have added significant value to your life. You tip your favorite bartender, right? How about a buck... $2... $3... $5... $10... $20... what ever YOU feel its worth, every time you feel I have given you a good tip, new knowledge or helpful insight. Please feel free to donate any amount you think is equal to the value you received from my eBook & Home Study Course (audio lessons), articles, videos, emails, newsletters, etc.
Referring your friends and family to this website so they can start learning and improving their dating and relationship life, happiness, balance and overall success in every area of their lives too!
Purchase a phone/Skype (audio only) coaching session for yourself or a friend by clicking here. Download the Amazon.com Kindle version of my book to your Kindle, Smartphone, Mac or PC for only $9.99 by clicking here. Get the iBook version for $9.99 from the iBookstore by clicking here. Get the Audio Book for FREE $0.00 with an Audible.com membership by clicking here or buy it for $19.95 at Amazon.com by clicking here. Get the iTunes Audio Book for $19.95 by clicking here. That way, you'll always have it with you to reference when you need it most. Thank you for reading this message!
From my heart to yours,

Corey Wayne
Author, Speaker, Peak Performance Coach, Entrepreneur
"Human beings have two primary fears. Fear that we aren't enough, or in other words, fear that we don't have what it takes to succeed, and fear that we won't be loved and accepted by our friends, family or peer group. Fear only exists in the mind. Fear is a false story that we tell ourselves to protect our ego from rejection, heartbreak, pain and the consequences of failure. However, in order to reach your full potential, you have to accept that failure is simply a necessary stepping-stone to accomplishing your grandest goals and dreams. You're going to fail more than you succeed and get rejected more than you are accepted and celebrated, and it's going to take longer than you think to succeed. Think in terms of decades. Great things take decades, not weeks, months or years. When you embark on your journey and take action towards what you want, you are going to encounter resistance and haters who try to discourage you, because those same people don't have the courage, determination and resolve that you do, for their own dreams. You are not responsible for the opinions that others have of you. You're only responsible for what you do, what you allow and how you show up in life." ~ Coach Corey Wayne
Click Anywhere on Today's Instagram Image Below & You'll Be Taken To My Instagram Page. When you get to my Instagram page, click the "Follow" Button so you can follow me on Instagram. I upload several new Instagram photos per week.