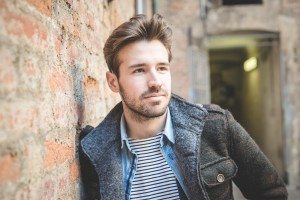 What you should focus on as a man if your past relationship caused you to feel like you lost who you were, so you can find yourself again, turn your life around, focus on your purpose and reach your full potential.
In this video coaching newsletter, I discuss an email from a viewer who shares how my work has helped him to find himself again and feel more liberated than he ever has in his life after breaking up with his girlfriend. He says for the last year of their relationship, he was totally fixated on her and what she wanted and wanted to do, but lost himself in the process. Eventually he ended the relationship, because he could tell she was not into him anymore, but did not want to hurt his feelings by dumping him. He is dating a lot of great, high quality women now and does not feel any pressure to settle down with any of them or the need to get another girlfriend. He's simply enjoying his life and all of the amazing experiences he's having. My comments are in (bold parenthesis like this below) in the body of his email:
Good Evening Coach,

I don't really have a question, but this email is just a thank you and a testimonial to your work and knowledge. Thank you so much for helping me find myself again. The one thing that resonated with me the most is how you urge us to find our purpose, and focus on it, before we go out and start trying to date and/or have a relationship again. (Masculine energy is all about purpose, drive, mission and achieving goals, and women who are in their natural, feminine essence like guys who have ambition.) That was definitely my problem. I'm only 23, so you can see how I can have a problem with that at times. As young people, we are sometimes too wishy-washy.

Anyway, here is a little background on me. I was in a relationship for all of college basically, and I can say that I definitely lost myself in that relationship. During the last year of college, it got to the point where, and you talk about this in your book, I was just doing everything she wanted, and she got bored with me. (You basically stopped being the guy she fell in love with and became her butler or manservant. Women don't want to be your mommy.) There were times I would notice things were not good, and I would ask my then-girlfriend, but she would never know how to put it into words. (That's really tough for most men, because women are trying to communicate from an emotional perspective, but most guys think more logically.) I now know that she basically lost interest with me, because I was not being my own man, and she didn't want to be with me anymore, but didn't want to hurt my feelings by saying it. (The majority of women do that because most guys can't handle the truth.) After, graduating, the uncertainty got to be too much, and I just "put her out of her misery." I broke up with her, and found your work. My life hasn't been the same since.

We broke up last October. I took the rest of the year to really re-center myself and I started dating again when the New Year came around. By then, I had read your book twice, I'm on my third time now, and was pretty equipped to at least start dating, and might I say, you were spot on!! (Even if you don't think I know anything, if you just apply the things I teach, you will see that it works.) I tailored all of my interactions and conversations to the ways you suggest in the book, and I got nothing but positive reactions. I have "hung out, had fun, and hooked up" with multiple amazing women as of January of this year, and I am at a point where there is not enough free time in my schedule, as I am a grad student, to fit all of these women in my plans. It's gotten to the point where even my close friends see it too. They have officially nick-named me the "Steph Curry" of our group of friends, because apparently, "I don't miss," ha-ha, and I have turned most of them over to your work. Half of them are still skeptical. (That's part of their story, because if they were to change their story, they would have to admit their approach isn't working. The reason why people don't have the things they want in their lives is because of the story they tell themselves about why they don't have it, can't have it or will never have it.) I've never felt so liberated in my life. I don't even feel pressured to settle down and have a girlfriend like I usually would have in the past. (Why is that? Because you have an abundance mentality. You have choices now, and you're not in a rush to get somebody in your arms so you feel better about yourself.) I really just enjoy all the experiences I'm having while shaping myself into the man that I want to be. Maybe I'll settle down when I'm 50, ha-ha.

You have helped me in ways that you cannot imagine, and for that sir, I say thank you. Godspeed with all your endeavors. (Thanks for being another guy who applies this stuff, because you're one more dude who can be a great example and a great leader.)

God bless,

Bob
RECOMMENDED PRODUCTS
"The purpose of all relationships is that you go there to give. However, focusing on giving does not mean you give up your friends, hobbies, purpose, interests and passions because it's what your woman says she wants you to do, or because it's what you think you should do to make her happy. Men who do this end up losing themselves in their relationships due to their efforts to please their women. Not only do they end up losing themselves, but in the end, they eventually lose their women also, because they stopped being the fun, interesting, complete and charming men they fell in love with. Women want an equal, a teammate and a partner, not men who become little boys who need to be told what to do. Relationships should make you a better version of who you are, not something you are not or something completely different than what you really are." ~ Coach Corey Wayne
Click Anywhere on Today's Instagram Image Below & You'll Be Taken To My Instagram Page. When you get to my Instagram page, click the "Follow" Button so you can follow me on Instagram. I upload several new Instagram photos per week.