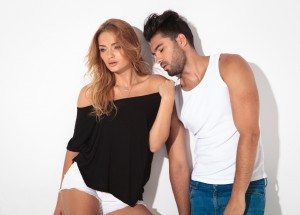 What it means and what you should do if you started dating and hooking up with a woman with hot and steamy sex, only to see her slowly back away and become flakey and unavailable just a few weeks later.
In this video coaching newsletter, I discuss an email from a viewer who owns his own restaurant. He says most of the women he meets and dates he meets through his restaurant. About a month ago, he met a woman who was dining at his restaurant towards closing time. They started chatting, one thing led to another, and they had sex in the restaurant after everyone had gone home. She is in the middle of getting a divorce. After the second date, and another great session of the Indoor Olympics, she became flakey and non-committal when he tried to set the next date. This went on for the next four weeks. Now she is ignoring his messages and he wonders what happened. He says he seems to always attract the same kind of women. My comments are in (bold parenthesis like this below) in the body of his email:
Hi Corey,

I have purchased your book and have read it cover-to-cover several times as well, (You definitely don't know it well enough, and that's why you haven't gotten anywhere. You need to read my book 10-15 times), and I have watched all your video newsletters dozens of times each, so thank you for your insight. Honestly, I'm pissed at myself. I am even requesting your assistance, because I thought I had somewhat mastered this shit… that is until a woman comes along that I really get into, pun intended!

A little about me… I am not shy; I am a confident 38-year old, divorced, single father, and a successful chef/restaurant owner. I have hooked up with several women customers from time-to-time, which is usually how I meet most of the women I am dating/fucking. (You are in a position of authority, so naturally you're going to have women attracted to you. Plus people are coming to you all of the time, which is nice.) I seem to always attract the same type of women — ones that have some personal shit going on in their life, mothers who are divorced and women who professionally are very driven and successful in their own right, but emotionally a fucking mess! (Ideally, you want to look for a woman who has a good relationship with her parents. When you find out about their messy situations, you shouldn't make the mistake of thinking you can have a healthy relationship with them. You need to see their situations for what they really are.) I recently started seeing a woman going through a divorce… I KNOW!! (Men and women need to take time to heal after a divorce.) We went out on 2 dates. She is a 28-year old, who was dining at my restaurant one Saturday evening. After the restaurant closed, my friends and I were sitting on the restaurant patio, celebrating one of their birthdays, and booze was flowing! Around 12 am, this very attractive woman was walking by, and I stopped her to say "Hey, you ate at the restaurant tonight. How was your experience?" Long story short, she ended up hanging all night with me, and we hooked up in the restaurant during the early hours of the morning. Of course, I got her number, called her a couple days later and set a date with her. We had a blast, hooked up again, and this is why I am emailing you. (So far, so good. You created an opportunity for sex to happen and created an instant date.)

The first 2 weeks were great, 2 awesome dates, 2 awesome fucking sessions, she would send me pictures of her poolside, and passed the girlfriend test. (Dude, you had two dates. She does not pass the girlfriend test.) She made first contact pretty much every day. I would always take my time to respond, then sent a couple of texts and asked when she was free. The problem began 3 weeks ago. (At this point, she should be doing all of the pursuing.)

Week 1 – I asked when she was free and she said she had family in town. I used the takeaway, but didn't really care, because I was busy. There was no counter, and she said she would try and get away if she could?

Week 2 – I asked when she was free. She asked if I had my son this weekend. I replied no, I'm open Friday and Saturday. She said okay, and would try and switch one of her days with a colleague. On that Saturday, I received a text from her saying '"Hi babe. Unfortunately I've got to work." I didn't respond until the next day. Again, it was Saturday night in a restaurant. I'm busy. (That's understandable.)

Week 3 – I asked when she was free. She replied with her weekend plans, I used to takeaway, she countered with, "I might have some time Sunday if you're free!" My response was, "I have a food and wine festival during the day, but I'm free in the evening if you want to hang out?" No response. It has been a week since that. (If you get the same flakey response after two tries, you shouldn't bring up getting together anymore.)

It has been going on 4 weeks now since we have been able to schedule something, due to scheduling issues. (It's not scheduling issues dude. It's a lack of interest, and maybe another guy is in the picture.) She also seems to have gone cold/distant. I don't reach out, nor does she this past week. I basically work 7 days a week, raise my son, and am extremely busy and not very flexible, so I HAVE to plan dates. She works as well, mostly 7 pm – 7 am shift as a nurse, and sometimes weekends. So today, week 4, I reached out asking if she had time in her schedule to get together and have some fun. (You're not acting like a guy who's read my book several times. You're acting needy and desperate. You should have only asked her twice when she was reaching out to you. As I discuss in my article and video, "Dating Is Like Tennis," you have to hit the ball over the net and wait for her to hit it back.) I said I would love to see you and seduce you, blah, blah, blah. (Why would you say that dude. You're basically saying, I'm horny and I want some pussy. Are you available? You don't sound like you've read my book several times.) I'm waiting for her to respond, but not really! (Yes you are dude. You know you're waiting.)

I don't feel as if I'm pursuing too much? (You're definitely pursuing too much.) I mean after all, she is still not divorced! (This is another reason why she should be a low priority. Plus, she's really not an ideal candidate to be dating.) I'm assuming she for sure has a couple of dudes around. How do I play this one? (Do nothing. You're already falling under "The Illusion of Action" and doing too much.) What do I say if the response is another flaky one? (Don't bring up getting together. The only way you will get together again is if she brings it up first.) By the way, I'm totally still hooking up with other women.

Cheers and thank you!

Bob
RECOMMENDED PRODUCTS
"If you are going to become romantically involved with women who are in the middle of a divorce, separated from their husbands or who are in the process of ending their relationship, it is highly likely that you will get jerked around, experience flakey, hot and cold behavior, and dating them will be anything but easy and effortless. If you are looking for a new relationship, it is smarter and makes way more sense to date women who are already single and ready to mingle. Women in these transitory relationship situations often go back and forth between ending the old relationship and trying to work it out. When they go back, they blow you off, often with no explanation or communication. When they try to come back after they have blown you off, they are all apologies and full of promises that things will be different this time around. Smart men know better." ~ Coach Corey Wayne
Click Anywhere on Today's Instagram Image Below & You'll Be Taken To My Instagram Page. When you get to my Instagram page, click the "Follow" Button so you can follow me on Instagram. I upload several new Instagram photos per week.