What you should do and what it means when your girlfriend has male orbiters who like her and that she talks to frequently, so you can stay the prize in your relationship.
In this video coaching newsletter, I discuss an email from a guy who says that his girlfriend has several guy friends who blow up her phone all day and every day. This happened with his previous girlfriend who eventually cheated on him with one of these guys. He admits that the presence of these male orbiters with his previous girlfriend caused him to lose his center and be very jealous and insecure and was a contributing factor to her cheating.
His current girlfriend is doing the same thing, but he has maintained his composure. It still bothers him, and lately their conversations get dull and boring very quickly. He asks how he should handle the situation. My comments are in bold italics like this below in the body of his email.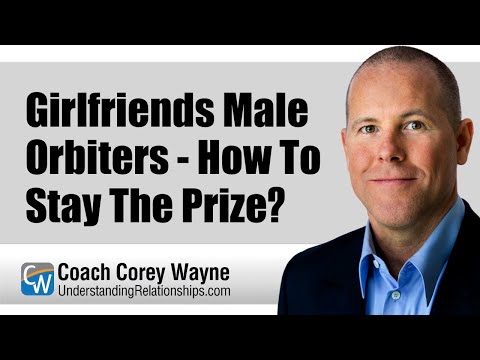 Hey Coach,
I first want to say thank you for all of your amazing content you have released over the years. I have learned so much from you. I am a 20-year-old male in a relationship with a girl two years younger than me that is 18, so we are both very young.
Yeah, you don't know what you don't know yet. And obviously the goal with reading a book like my first book "How To Be A 3% Man" and watching these videos is so you can learn from other guys and pick up from people that have more experience on these matters on what to do and what not to do. And obviously, you've got a pretty tricky situation here. You've been cheated on in the past, and you've got a girlfriend who's displaying the same behavior.
That's the way the universe works. You tend to attract the same weaknesses, you attract the same kind of people, so you can have the opportunity to transcend it and overcome it. And here you are with a girl that's basically treating you the same way as the one who cheated on you. So a lot of times, your natural instinct is to react the same way you reacted to your ex, especially when you see this girl displaying the same kind of behaviors as the ex that cheated on you.
We had been talking and dating for around five months before committing to a relationship, and we have been together in total around six or seven months. 
For those of you who are very familiar with my book, what does that tell you? It took a long time for her to fall in love and want to be exclusive. He doesn't say who brought it up, but obviously, if it took five months to get to the point where you were exclusive, she wasn't crazy, head over heels in love with you, if she ever has been, just by looking a that.
If you're following what the book teaches, usually week seven or week eight is when the woman's in love with you, wants to be exclusive, and wants you all to herself. And keep in mind, this is your first relationship since the last one when you were cheated on, and obviously, you're trying to overcome the mistakes you made in the past. It's not going to be easy. It's not a light switch. It's a process you have to go through.
It's a daily process trying to get better, and that's why you need to read the book 10-15 times. And I would say, more than likely, you probably have not done that. You're probably trying to cherry pick from videos and maybe skim through the book a couple of times.
My question comes in regards to her male orbiters/friends that are constantly blowing up her phone.
Well, obviously she's inviting that because she enjoys it.
I have been in a previous relationship where the girl I was with had orbiters and had male friends, but I got super insecure and was always questioning what they were talking about or what their past histories were. That relationship ended when I found out she was cheating on me, deleting messages, etc., and I know I helped cause that by being insecure.
You only have control over what you do and how you show up. You could be the best boyfriend in the world, and you can apply everything that's in my book perfectly, but if you're dating a woman who has no fucking integrity, as soon as you slip up, what's going to happen? She's going to be giving out her number to other dudes who have interest. And those guys aren't interested in just being "friends." If she believes that they just want to be "friends," that is some serious bullshit. And I think it deserves a sip of "No Drama Allowed."
This time, I haven't gotten insecure or been weird or scared about it, but I have mentioned to her that I feel like some girls lie about having guys friends when they aren't really true "friends" at all, they are flings/past lovers, and I asked that if it ever came to it that she just told me the truth about someone, if it's an actual friend or someone she messed around with.
So it's a fairly diplomatic way of going about it. "So, tell me about these guys that you're always talking to." If I was dating a girl, and this shit was still going on, that would be indicative of low interest in me, and that would mean that I'm pursuing too much, seeking her attention and validation, and she obviously thinks that I'm way more into her than she is into me.
This is one of the reasons it took five to six months for you guys to become exclusive. You obviously weren't doing everything that's in the book, because you just didn't take the time. You progressed things, you were making progress, but it still took way longer than it should have if you were applying what's in the book.
After I brought this up, she told me she had slept with one of her friends, and they still talk to this day.
Because obviously, he's still got the thirst for the punani. And he doesn't care that she supposedly has a boyfriend. He just looks at you as an obstacle to getting back into her panties.
But I saw that as a positive thing by her telling me and being open with me, instead of hiding that information. 
Well, you coaxed it out of her in a diplomatic way. At least she gave you the truth about it.
Also, one of her male coworkers asked her "your boyfriend doesn't get mad when you talk to other guys?" So, I know that up to this point I have remained mostly in my Alpha frame and haven't blown my status as the prize.
You sure about that bro? I don't know about that one.
But I would be lying if I told you that I don't think about it from time to time and don't question when I see her phone being lit up right in front of me.
That's just too much bullshit. That shit's just happening way too much.
And I know she can sense this from me, even if it's a little bit.
Yeah, because deep down, she knows it's inappropriate, it's disloyal and it's disrespectful behavior. But if you're worried about losing her and you're fearful, because obviously you were in your last relationship, and here you are. You've gotten better, but it's obvious with her interactions with you that you've still got a ways to go.
You're still pursuing too much, calling too much, texting too much, seeking too much validation, because she's not obsessed with you. She seems to like you a lot, and she's giving you a commitment. Now, how committed she really is to that commitment, that's kind of up in the air.
So, if she has 10-15 multiple orbiters/guy friends blowing up her phone on the daily, how can I set myself apart when texting/calling her, and in person, without being too cold (barely texting her throughout the day) and being too clingy, trying to make sure I'm always texting her when these guys are. 
That's your problem right there, dude. You're not following the book. At this point, if you were applying what the book teaches, she should be doing almost a hundred percent of the calling, texting and pursuing. Women just naturally do this more and more over time.
It's not a game-playing thing that you're doing. It's your facilitating her falling in love with you and becoming emotionally bonded to you by letting her do most of the calling, texting and pursuing.
You start out at the beginning of the book doing most of the pursuing to get together for dates, but usually by the second or third date, if you're applying what the book teaches, you will be sleeping together and then she's not going to want to wait two or three days or a week to hear from you again. She'll reach out, and then you use that as an opportunity to set the next date.
The fact that you're focused on "I need to text her, and I need to call her more, because I'm worried about these other guys" tells me you're chasing and you're pursuing her, and you're not letting her pursue you. So her interest in you is kind of mediocre. I'd say on an attraction scale of 1-10, based upon her actions, it's probably a 6, maybe a 7. It probably fluctuates back and forth in that area. She doesn't value you, because you don't value yourself. You're allowing her to continue to do this, and you haven't nipped it in the bud.
I know that if I don't text her that much, when I do text her, she will be excited.
What a revelation. Well, guess what that means? You should do more of that. You do less texting and less calling. See if you can get away with not calling her at all and only responding to her texts. She'll notice that. She'll feel it. Do it slowly over time, over the course of about a week.
Just slowly back off. You don't call, text or initiate at all, even if you go a day, or two or three without hearing from her. And then when she brings it up say, "Oh babe, I'm so sorry. I've just been really busy. It's so great to hear your voice. Let's get together. I miss you. I want to see you."
But how do I deal with knowing she is getting attention/validation anyway without needing me to text her? 
It looks like from her actions, you know she's young, she's immature, she may have some daddy issues, she might not be the best girlfriend material. She's displaying a lot of disloyal qualities, and you can't turn a 'hoe' into a housewife.
So, if she falls head over heels and becomes obsessed with you, if you start actually applying what the book teaches, you'll notice that this other crap will go by the wayside. But when you're doing too much, seeking her attention and validation and texting her all of the time, there's no emotional pull towards you. She's not having to work to get you to be in her life more, to get your attention more.
Women are naturally designed to seek a man's attention, his love, his presence, and his strength. They just do this naturally. And you facilitate this and let it happen.
Also note, our conversations get very dull and boring very quick. She puts very little effort in.
That tells me you're trying to force conversations when she's not into it. Again, you're over-pursuing. You probably don't think you are, but you shouldn't be calling and texting her at all unless she really complains about it three or four times. Then, once a week, surprise her with a random text, phone call, email or mail a card to her house, telling her how much you love her or what you love about her.
Just surprise her with unexpected initiated contact. More than likely, you'll be able to get away with letting her do 100% of the calling, texting and pursuing. I know it's scary. I know it's the opposite of what you feel you should do, because you worry about these other guys, but you're trying to control the situation. The problem is you're totally not in control, and that's why you're writing me in the first place. Just let it go, let it be. Let her seek your validation and attention.
I think it's because she has so many other people to respond to at all times.
Thanks again!
Bob
As far as these guys go, the next time you're lying in bed together after sex, just say ,"I want to talk to you about something that's been bothering me for a while. We're supposedly in an exclusive relationship, and you've got ten to fifteen different dudes blowing up your phone all the time, and at least one of them is a guy I know you've had sex with. The only reason that guy is trying to get in touch with you is because he wants to get into your pants again, just like the guys you work with."
"They're not your friends. They want your pussy. They want to be inside you. That's what they're after. And anything they say other than that, even if they deny it, is total bullshit. If these guys had any integrity and they weren't a bunch of fucking worms, they wouldn't be texting and calling you when you have a boyfriend."
"How would you feel if I had ex-girlfriends and women I just casually hooked up with calling me, blowing my phone up, wanting to get together and talk to me? Would you like that? Would you think that's respectful and loyal behavior on my part?" Obviously, she's going to say no.
"If we're going to continue seeing each other and I'm going to continue to be loyal to you only, you've got to display loyalty to me. The way I look at this whole thing is, you're not displaying any loyalty at all. It's like you're maintaining these guys in the background and giving them false hope that if it doesn't work out with us, you'll jump into bed with them."
"I don't like that. That turns me off. That makes me question if I really even long term want to stay in a relationship with you. Maybe we should just become friends with benefits, or maybe I should just move on and find a woman who values my loyalty, because if you valued my loyalty, you wouldn't be texting these guys all the time."
"That's the way I feel about it. Now, you can do whatever you want with it, but if we're going to continue to be exclusive and this behavior is going to continue, then I'm going to start flirting and talking to other girls. And eventually I'm going to leave you for somebody else, because why should I be exclusive to somebody who's not really exclusive with me?"
"You're kind of violating your commitment to me, and that's kind of rude and disrespectful. I don't appreciate that. The proper thing to do is to say, 'Out of proper respect for my boyfriend, I really need to minimize our contact.' And if these guys keep texting you, just ghost them. Let them disappear, block their numbers if you have to."
"Out of respect for me and our relationship, that's what you should do. I'm not going to force you to do it, but I'm telling you right now, if this behavior continues, I'm not going to stick around. I've been shit on once before by a girlfriend who did exactly the same things that you're doing."
"What that tells me is, women who behave this way tend to be very insecure and disloyal, they tend to not value loyalty or commitment, and they tend to be selfish and narcissistic. If they're not happy or their boyfriend's not doing what they want them to do, or treating them the way they want to be treated, they'll just go and fuck somebody else."
"What's the point of being exclusive with somebody if they're not acting loyal to you? You're not displaying any characteristics to me that you value loyalty. Maybe you're just the kind of girl that wants to date and fuck a lot of different guys, and if that's who you are, great. I'm happy for you. But it's not really what I'm looking for. It's not what I signed up for when I agreed to be in a relationship with you. You've got to figure out what you want."
That's how I would handle that. It's the best, most diplomatic way, because you're putting the ball in her court, and you're giving her the opportunity to push these other guys away and treat you better. And she'll respect you for standing up and not losing your shit and being angry about it. You're just telling her in a very matter of fact way that you don't appreciate it, you look at it as disloyal, dishonest and devious behavior, and you're telling her these guys are not interested in being her pal. They want to be fucking her brains out. That's what they really want.
You can't let this continue, because you're letting her get away with all kinds of disrespect. You're tolerating it, and you're inviting more of it. It's going to end the same way as the last relationship, unless you set some healthy boundaries and hold her accountable to them. And she might not be capable of it.
She might be too insecure and fucked up to be worthy of being a girlfriend or being loyal to anybody. Go find yourself a girl who does value that if she can't get her shit together. That's the harsh reality bro.
Get the Book "How To Be A 3% Man"
How to Be a 3% Man
Audiobook | FREE**
How to Be a 3% Man
Audiobook | $19.95
How to Be a 3% Man
Audiobook | $19.95
*Amazon and the Amazon logo are trademarks of Amazon.com, Inc. or its affiliates. As an Amazon Associate I earn from qualifying purchases. **Free with a new Audible.com membership
How to Be a 3% Man
Kindle eBook | $9.99
How to Be a 3% Man
iBooks eBook | $9.99
How to Be a 3% Man
Lulu eBook | $9.99
*Amazon and the Amazon logo are trademarks of Amazon.com, Inc. or its affiliates. As an Amazon Associate I earn from qualifying purchases.
How to Be a 3% Man
Paperback | $29.99
How to Be a 3% Man
Hardcover | $49.99
How to Be a 3% Man
Paperback | $29.99
How to Be a 3% Man
Hardcover | $49.99
*Amazon and the Amazon logo are trademarks of Amazon.com, Inc. or its affiliates. As an Amazon Associate I earn from qualifying purchases.
Get the Book "Mastering Yourself"
Mastering Yourself
Audiobook | FREE**
Mastering Yourself
Audiobook | $24.95
Mastering Yourself
Audiobook | $24.95
*Amazon and the Amazon logo are trademarks of Amazon.com, Inc. or its affiliates. As an Amazon Associate I earn from qualifying purchases. **Free with a new Audible.com membership
Mastering Yourself
Kindle eBook | $9.99
Mastering Yourself
iBooks eBook | $9.99
Mastering Yourself
Lulu eBook | $9.99
*Amazon and the Amazon logo are trademarks of Amazon.com, Inc. or its affiliates. As an Amazon Associate I earn from qualifying purchases.
Mastering Yourself
Paperback | $49.99
Mastering Yourself
Hardcover | $99.99
Mastering Yourself
Paperback | $49.99
Mastering Yourself
Hardcover | $99.99
*Amazon and the Amazon logo are trademarks of Amazon.com, Inc. or its affiliates. As an Amazon Associate I earn from qualifying purchases.
Coach Corey Wayne Merchandise
If you have a question you would like me to consider answering in a future Video Coaching Newsletter, you can send it (3-4 paragraphs/500 words max) to this email address: Questions@UnderstandingRelationships.com
If you feel I have added value to your life, you can show your appreciation by doing one of the following three things:
Make a donation to my work by clicking here to donate via PayPal anytime you feel I have added significant value to your life. You tip your favorite bartender, right? How about a buck... $2... $3... $5... $10... $20... what ever YOU feel its worth, every time you feel I have given you a good tip, new knowledge or helpful insight. Please feel free to donate any amount you think is equal to the value you received from my eBook & Home Study Course (audio lessons), articles, videos, emails, newsletters, etc.
Referring your friends and family to this website so they can start learning and improving their dating and relationship life, happiness, balance and overall success in every area of their lives too!
Purchase a phone/Skype (audio only) coaching session for yourself or a friend by clicking here. Download the Amazon.com Kindle version of my book to your Kindle, Smartphone, Mac or PC for only $9.99 by clicking here. Get the iBook version for $9.99 from the iBookstore by clicking here. Get the Audio Book for FREE $0.00 with an Audible.com membership by clicking here or buy it for $19.95 at Amazon.com by clicking here. Get the iTunes Audio Book for $19.95 by clicking here. That way, you'll always have it with you to reference when you need it most. Thank you for reading this message!
From my heart to yours,

Corey Wayne
Author, Speaker, Peak Performance Coach, Entrepreneur
"Men tend to value loyalty above all else in relationships. They don't like it when their girlfriend, wife or women they're dating is carrying on conversations with male orbiters during their relationship. Women who behave this way usually have daddy and abandonment issues and crave attention from other men, due to their own insecurities and lack of integrity. It also shows a lack of respect for and interest in their current boyfriend, husband or guy they are dating. The quickest way to get someone's attention is to remove yours. If your woman has many male orbiters, ask her how she would feel if several women were constantly texting you, some of which you have slept with in the past. If she wouldn't like that, then she should stop doing it to you. Love cannot exist where there is no trust. If she is unwilling to correct this disrespectful behavior, you should give her the gift of missing you permanently and find a woman who values loyalty, communication and commitment. Women who constantly need attention and validation from other men will simply cheat with one of them when they become unhappy enough with their current man before leaving and feel zero remorse for it." ~ Coach Corey Wayne
Click Anywhere on Today's Instagram Image Below & You'll Be Taken To My Instagram Page. When you get to my Instagram page, click the "Follow" Button so you can follow me on Instagram. I upload several new Instagram photos per week.