How many red flags are too many to ignore when you're dating and you have serious doubts about your compatibility and if you should have a future together.
In this video coaching newsletter, I discuss two different emails from two different viewers. The first email is from a guy who met a girl he really liked a few months ago. They really clicked right off the bat, and things seemed easy and effortless for about the first month of dating. Then her ex-boyfriend came back in the picture, and she has been flakey and inconsistent ever since.
The second email is a success story from a guy who got jacked around, manipulated and dumped by his ex-girlfriend. Then he found my work and got a girlfriend upgrade when he met a much better quality woman. Now his ex has recently gotten in touch, and it feels like the tables have turned in his favor. My comments are in bold italics like this below in the bodies of their emails.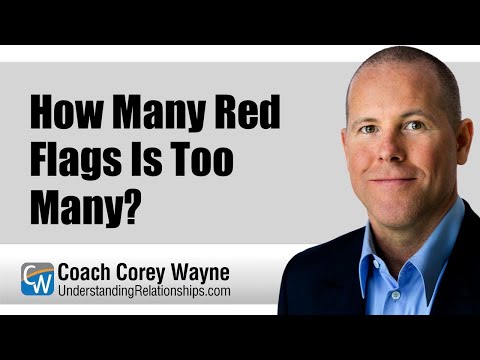 You want people in your life that aren't fucking stressing you out. You want people in your life that are going to contribute to your inner peace. Because you're going to make your best decisions and you're going to be at your best personally when you can be in a peaceful and relaxed state. So when you're setting up your career, your business, your job, your personal life, your social life, you want it to facilitate inner peace.
The world is full of people that have constant stress, constant drama in their lives, and if you get involved with them or allow them into your life — because that's just what they're used to, they're used to being stressed all the time, and they're used to being in relationships with people that stress them out — their stress is now going to become your stress. It's going to make it a lot harder to reach your full potential and remain in a peaceful and relaxed state.
We're all about ease and delight and effortlessness. And you've got to have people who have the same goals and values and have that same kind of vibe. It's hard to do when you meet a girl and you're really attracted to her, you really like her, she's easy to talk to and you have a lot of fun. Then after you start dating for a bit, these red flags and all of this friction starts happening. And then you find yourself questioning, "Is this person worth the risk?" as I talk about in my first book "How To Be A 3% Man."
The idea is, the book should give you the fundamentals to kind of screen your dating process and to do a better job. And obviously, a lot of people come to my work like both of these guys were, because they're new to it, they didn't know these things, and then they learn it. Especially the second guy. You'll see he learned it, he implemented it, he made himself better, he got himself a better quality girlfriend, and then this woman who had a lack of integrity and was manipulative comes back into his life, and he's at a much better place. It's easy to do the right thing when you've done the work and you've put in the time.
First Viewer's Email:
Hey Coach,

My name is Bob, I'm 23 and I live in Reno, NV. In late April, I met a really attractive, funny and smart girl on the beach at Lake Tahoe. We clicked right off the bat, and it felt like we'd been friends for years.
Notice that he's focusing on the emotions that he feels, because we make our decisions, especially when it comes to love, based on our emotions. And he's obviously totally focused on how he's feeling. When you're focused on what you're feeling, instead of trying to remain objective and look for red flags or problems, you'll tend to blow right past them, and it's usually several months down the road that you'll find out that this person is really incompatible with you.
Then you're emotionally invested, maybe you're exclusive, maybe you're telling everybody "This is my new girlfriend." Then the last thing you want to do is tell everyone, "Oh, we broke up." It's a little embarrassing. You don't want to go through and explain that. So people stay in it, and then they bullshit themselves thinking it will get better.
Skip forward about a month and we'd been talking all the time, texting, hanging out like 4 times a week, and banging it out all the time. Keep in mind, this was before I read 3% Man, or I would've understood the mistakes I was making… or at least some of them, Lol.
So he's obviously just carried away by his emotions. If you see enough movies, you think this is what's supposed to happen. It's supposed to look like this. It's supposed to feel like this. It's just gotta be my soulmate. It's gotta be "the one" because it feels good.
Anyway, after a month of bliss and having my logic totally swept away by emotion, I start to think I could make her my girlfriend in the near future (even though it already felt that way). Then… the ex-boyfriend shoots her a text and asks for her to come and "get her stuff back."
So maybe she got ghosted by the boyfriend or they had a nasty blow-up, and he was gone or she was gone. So you're in this situation here, and obviously you're thinking, I'm going to make her my girlfriend now. Probably by this point, you're a little more excited, a little more enthusiastic. You're calling more than you should, you're pushing a little too hard to spend time with her.
She's a little more resistant and not as excited as she was at the beginning to get together. The guy just recognizes, why doesn't she feel like she did a few weeks ago? I've got to do something. I've got to get her back to that place. I've got to get back on track.
Immediately, I knew this wasn't going to end well, but I sat back because I didn't want her to feel like I was going to get jealous or compete with this dude.
If they had been dating for a long time, and you had been together for a matter of weeks, she's going to have a strong emotional bond and connection to him. It doesn't matter if things have been great for the last few weeks. If you're pursuing her too hard, and she's starting to think or recognize that you're way more into her than she is into you, then she's kind of like, "I'm confused. I'm having doubts. There should be more chemistry, but there's not." Then the ex-boyfriend is like "Heyyyy" right in the middle of her having doubts. And if she didn't really have a clean break from that guy, it wasn't completely over, things can get really squirrelly really fast with somebody like that.
Then, the next day goes by and I got nothing. Then two weeks go by and… ghosted. That one hurt, but I got over it. This is when I picked up your book.
So think about that for a second. He's thinking, I'm going to make her my girlfriend, and then he gets ghosted. So he obviously has no sensory acuity. He didn't know what to look for. And obviously, he admits that he had not read the book yet, but this is what happens to the average guy who doesn't know any better. He's just sailing along like, "I met my soulmate. It's great." And then all of a sudden, two weeks later, "I'm ghosted. What happened?"
Low and behold, she texts me after about two weeks to meet up and give me a t-shirt back. So we meet, talk, and I figured, "Hey, I've fucked like two girls already since we last talked, who cares if you had some sex with an ex-boyfriend, everyone makes mistakes."
She wants me back, but I told her I'm not a second choice. Plus, she's 21 and partying, while I've been out of that phase for a while now. I spend my time pursuing my MMA career as well as entrepreneurship.
If you're a high achieving man, and you want to accomplish great things with your life, you want to achieve your dreams, and you're dating a twenty-one year old party girl who's bouncing back and forth between you and the ex-boyfriend, does she sound like the kind of person that's going to be a great cheerleader, a great fan and is going to push you to reach your full potential? Or is she going to be a little more focused on herself and just having a good time?
However, when we're alone she is a hell of a conversationalist on these topics, just not a great communicator about her own feelings.
Well, if she's not talking about her feelings, it's probably because she doesn't really have many. You disappeared, you backed off, which causes her to become not so sure of where she stood with you. And then she probably started backing away from the ex-boyfriend, because he's pursuing her a little bit more. She's in that period where she's got two guys, two prospects, so she's going to choose the most masculine and most dominant one.
In this kind of situation, you need to say, "Hey, you need to resolve whatever it is with your ex-boyfriend. I'm not going to get in the middle of it. But if it doesn't work out, let me know and we'll get together." In this kind of situation, I would let her do 100% of the calling, texting and pursuing.
Guys that get in these kinds of situations, as soon as they back off and the girl reaches out, they go right back to pursuing. And it sounds like in this next paragraph, that's what you're starting to do and why it's kind of not progressing a lot.
To conclude, it's been about a month since we had that talk, and she is still seemingly distant. I've been hanging back, dealing with her tests, playing it cool, and only reaching out to set up dates.
Well, that's part of the problem. You shouldn't be reaching out to set dates when a girl ghosts you to go hang out with the ex-boyfriend. Because when you do that, you're communicating "it's totally okay to blow me off for some other dude, and I'll still keep pursuing. You can keep disrespecting me." You're literally inviting her to do it again.
The thing is, she hasn't been very available and is only trying to hang out when she pushes the issue first it seems.
That's part of your problem. You're trying to pursue a woman who's now got another dude in the picture. And if you'd been following what the book teaches… because again, your emotions are kind of over-riding you, your ego is getting in the way a little bit, and you're like, "I want her back. I'm better than this guy. I want to prove myself to her." It's a bad way to go dude.
However, she still talks to me like she's "my girl" and will tell me she misses me and whatnot…
It doesn't matter what she says. The only thing that matters is what she does.
"What people say and what people do are not always the same thing," but is still making it difficult to see her.
How should I play it? Am I wasting my time with this one?

Bob
Well, you don't really know her that well. I mean, the other thing that's really important to dig into in these situations is to get some context on what was going on in the relationship. That's why it's always good to ask questions, especially if you're looking for a healthy, long-term relationship. What was the relationship with her father or her parents like?
A big thing I see a lot of in my phone sessions with guys is, they get involved with women that come from a family of liars and cheaters, where there's multiple marriages, multiple affairs on both sides of the family. And then you find out she's cheated on most of her boyfriends or guys she's dated, or you started dating her when she was supposedly dating somebody else.
With this particular girl, you don't know. But the kind of red flags you should be looking for is, you need more intel on the family situation, and you need more intel on what her history is with the guys she's had relationships with. It's not that you're going to start digging on those things, but as you continue to casually date, and if you're letting her do most of the pursuing, she's constantly seeking your attention and validation.
When a woman is seeking your attention and your validation, she wants you to like her. And the higher her attraction grows, and the more she starts to fall for you, that's when she starts volunteering everything about what's going on in her life and her past. And then you can really find out what's going on.
That's why it's so important in the beginning, at least for the first three or four months, you've got to maintain a level head and not go goo-goo, ga-ga over this girl like this guy did here. That was a big part of his mistake. And on top of that, you can tell he's still hung up on her, still trying to pursue her, and still trying to force things. He even sees that if she pushes the issue to get together, then she'll actually get together.
So in this case, when there's actually another dude in the picture, you don't need to do any pursuing. Let her reach out, and you make dates. That's all she gets. And you should be super skeptical of her at this particular point, because women who are insecure, you'll see there's always lots of dudes in their life. They've got to have two or three male orbiters at all times.
When you start to see that type of behavior, red flags popping up, that's when I'll ask "What's your relationship with your family like? What's your relationship with your parents like? Do you have a good relationship with your dad?" Those are some of the best qualifying questions you can ask someone when you meet them.
If she rolls her eyes like, "Oh, my dad's an asshole. He's a narcissist," and you know she doesn't have a good relationship with her dad, then you know she's not going to be the easiest person to have a relationship with. Statistically, that's reality.
Second Viewer's Email:
Hey Coach!
I just wanted to write this letter to you as a confirmation of what you teach, and to thank you personally for the info you share.
A little over a year ago, I almost made myself look like a big beta by begging my ex to take me back. A little background on myself, I am a high priority man, and even before discovering your content I already knew most of what you teach. I've never had difficulty with women and finding my purpose in business. I make 6 figures and constantly work on growing the business I own and try to better myself. I am 22 years old.
Last summer my ex dumped me, and it was a lot harder on me than it should have been. I was emotionally distraught.
Well, rejection breeds obsession. Because it wasn't your idea, it came out of the blue, and you weren't expecting it, your ego's going to get involved in that. It's a hard thing to accept when it's not your choice. Even when you weren't that into her. All of a sudden you get dumped and, "Oh, I've got to marry her. This is the one for me."
It even got to the point that I almost called her up begging her to come back. Luckily, at my lowest point I stumbled upon your YouTube channel. I stayed up all night watching your videos.
Even though I was already spending plenty of time "building my empire" as you say in the book, I decided to recommit to myself and forget about her. I started taking night classes just to expand my horizons, even though I didn't need the salary from a degree, I just wanted to learn. I went on lots of dates with different girls and relearned my value as a man.
Notice, he's doing all the work that I talk about in my book, which is the important thing. That way, he's going to get a good result.
I realized my ex was very emotionally distant from me, and when she wasn't happy, she became manipulative.
So now looking back, he can kind of see those red flags.
I guess I was blind to it because the sex was really good.
The emotions were over-riding the logic. It happens. You get hypnotized.
About 6 months later after dating around I met my current girlfriend, who is much hotter in my opinion. She still tests me like any other girl would, but she knows I am a high quality man, so she respects me and my time.
Well, obviously you're setting healthy boundaries now, because you applied what was in the book, and you did things right from the get-go. The things that are in this book, "How To Be A 3% Man," will really help you screen out the low-quality women or the women that don't qualify to have a relationship with you. That's what you're looking for.
There's a lot of women out there that you can have a lot of fun with, but they shouldn't go beyond sex playmate, fuck-buddy or friends with benefits ever. One of the biggest things I see in phone sessions is guys are, in essence, trying to 'turn a hoe into a housewife.' It's just not going to happen. If she's never been faithful to anybody, and nobody in her family was faithful to each other, and you think because you know her better than anybody, that she's not going to cheat on you when she's not happy or you get lazy and complacent, you're fucking delusional to think that way. And the numbers aren't in your favor.
She does 99% of the pursuing now and messages me every day to see how work is. She does everything you say a woman does in your book when she has a high attraction.
She currently lives about an hour drive away, and she is willing to make the drive because I am often spending 70-80 hours a week at work. After 8 months of casual dating, she is willing to pick up and move in with me, (of course when I feel ready for the next step), because she knows how committed I am to my business and social life here in my city.
Well, obviously she cares about you. And because you're being a man and you're in you're being in your masculinity, she feels safe and comfortable enough to uproot her life, submit to you and follow your lead, because you're demonstrating competency.
It's really important. He's demonstrating that he's a competent man. He's competent at getting what he wants. If you're competent, she can relax. Hang out, have fun and hook up.
Life seems great, and I enjoy every moment with her that I get! At the same time, my ex recently started pursuing me. It is so funny that as soon as I forget about her, all of the sudden she shows up again.
It's like, you totally lose any attachment to it, and bing, the phone rings.
Luckily, by this point I realized that she is not emotionally mature enough for me, and I don't want to play dating games with her.
So obviously, his level of competency has gone up. He has more criteria of what to look for, he recognizes more red flags, and now that he's dating a better quality woman, who's exhibiting higher quality behavior than the ex did, now he can really see the things I talk about in the book.
When she reaches out, I tease her a little and indulge in small talk, but as soon as she mentions getting back together or meeting up for a date, I either come up with a terrible excuse or just leave her on read.
That's fucking savage. But you know what, she up and dumped you. I mean, women do this to guys all the fucking time, and it's not really nice, but she kind of deserves it, right?
I feel like a jerk giving her a taste of her own medicine.
What's going to correct her behavior than learning the hard way that you can't dick people over like this? When she's young and really hot, she can get away with it more. But as she gets older, fewer guys are going to put up with that shit.
But it can be so much fun being the one that plays hard to get. Since I now have a much higher quality girlfriend, I don't want to mess it up by keeping my ex around as a fuck buddy.
Keep up the good work, and thanks for helping me stay centered as a masculine alpha male.
Regards,
Bob
Good job at learning the stuff that's in "How To Be A 3% Man," and applying it, getting good results and becoming good at recognizing good quality versus not-so-good quality. Because you can't make good wine from bad grapes. That's a big part of what I see guys doing when I'm doing phone sessions.
Oftentimes when you see flakey behavior,they're dicking you around, blowing you off, ghosting you, having other guys in the picture, cancelling dates, operating with a general lack of integrity. These are things it's not your job to fix. You're not there to save her, to be her white knight or to change her life. You want somebody that's happy, whole, complete and has their shit together.
If you're looking for a long-term relationship, you want somebody that comes from a good family, that loves their mom and loves their dad, admires their parents and the relationship they have. It's extremely rare in this day and age. But if you want to have ease and delight and effortless, quality relationships, the criteria is the criteria.
Get the Book "How To Be A 3% Man"
How to Be a 3% Man
Audiobook | FREE**
How to Be a 3% Man
Audiobook | $19.95
How to Be a 3% Man
Audiobook | $19.95
*Amazon and the Amazon logo are trademarks of Amazon.com, Inc. or its affiliates. As an Amazon Associate I earn from qualifying purchases. **Free with a new Audible.com membership
How to Be a 3% Man
Kindle eBook | $9.99
How to Be a 3% Man
iBooks eBook | $9.99
How to Be a 3% Man
Lulu eBook | $9.99
*Amazon and the Amazon logo are trademarks of Amazon.com, Inc. or its affiliates. As an Amazon Associate I earn from qualifying purchases.
How to Be a 3% Man
Paperback | $29.99
How to Be a 3% Man
Hardcover | $49.99
How to Be a 3% Man
Paperback | $29.99
How to Be a 3% Man
Hardcover | $49.99
*Amazon and the Amazon logo are trademarks of Amazon.com, Inc. or its affiliates. As an Amazon Associate I earn from qualifying purchases.
Get the Book "Mastering Yourself"
Mastering Yourself
Audiobook | FREE**
Mastering Yourself
Audiobook | $24.95
Mastering Yourself
Audiobook | $24.95
*Amazon and the Amazon logo are trademarks of Amazon.com, Inc. or its affiliates. As an Amazon Associate I earn from qualifying purchases. **Free with a new Audible.com membership
Mastering Yourself
Kindle eBook | $9.99
Mastering Yourself
iBooks eBook | $9.99
Mastering Yourself
Lulu eBook | $9.99
*Amazon and the Amazon logo are trademarks of Amazon.com, Inc. or its affiliates. As an Amazon Associate I earn from qualifying purchases.
Mastering Yourself
Paperback | $49.99
Mastering Yourself
Hardcover | $99.99
Mastering Yourself
Paperback | $49.99
Mastering Yourself
Hardcover | $99.99
*Amazon and the Amazon logo are trademarks of Amazon.com, Inc. or its affiliates. As an Amazon Associate I earn from qualifying purchases.
Coach Corey Wayne Merchandise
If you have a question you would like me to consider answering in a future Video Coaching Newsletter, you can send it (3-4 paragraphs/500 words max) to this email address: Questions@UnderstandingRelationships.com
If you feel I have added value to your life, you can show your appreciation by doing one of the following three things:
Make a donation to my work by clicking here to donate via PayPal anytime you feel I have added significant value to your life. You tip your favorite bartender, right? How about a buck... $2... $3... $5... $10... $20... what ever YOU feel its worth, every time you feel I have given you a good tip, new knowledge or helpful insight. Please feel free to donate any amount you think is equal to the value you received from my eBook & Home Study Course (audio lessons), articles, videos, emails, newsletters, etc.
Referring your friends and family to this website so they can start learning and improving their dating and relationship life, happiness, balance and overall success in every area of their lives too!
Purchase a phone/Skype (audio only) coaching session for yourself or a friend by clicking here. Download the Amazon.com Kindle version of my book to your Kindle, Smartphone, Mac or PC for only $9.99 by clicking here. Get the iBook version for $9.99 from the iBookstore by clicking here. Get the Audio Book for FREE $0.00 with an Audible.com membership by clicking here or buy it for $19.95 at Amazon.com by clicking here. Get the iTunes Audio Book for $19.95 by clicking here. That way, you'll always have it with you to reference when you need it most. Thank you for reading this message!
From my heart to yours,

Corey Wayne
Author, Speaker, Peak Performance Coach, Entrepreneur
"Just because people can be in your life doesn't mean they should be. In order to reach your full potential, your inner circle should be filled with people who share similar goals and values and who genuinely want to see you do well. People who take you for granted, who flake out for BS reasons and who operate with a general lack of integrity are going to create unnecessary obstacles to your success and inner peace. Not everyone deserves the gift of your time. Don't be afraid to cut people off who abuse and misuse your trust." ~ Coach Corey Wayne
Click Anywhere on Today's Instagram Image Below & You'll Be Taken To My Instagram Page. When you get to my Instagram page, click the "Follow" Button so you can follow me on Instagram. I upload several new Instagram photos per week.