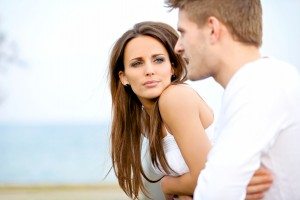 This is how to avoid the past relationship landmine…
Bringing up past relationships is always a tricky subject. Here is an email question I got recently from a client.
My answer comes in the paragraphs after he explains his situation. I'm going to call him Tom and her Cindy to protect the names of the innocent.
Corey,

Things have been going great, and Cindy does all the things you said a woman in love would do. We were talking today, and I asked her about her past relationships. She says that she's ashamed to admit it, but she had a relationship with a married man about two years ago. It was a bad break up for her, and she basically pursued him for four months, on and off, until she gave up. Out of the blue, he called her tonight and they spoke for twenty minutes. He apologized, says he's divorced and wants to stay in touch. She was upset, couldn't go to sleep, and called him back at 4 am in the morning to say, don't call anymore. Then she called me, still upset. So I let her talk and asked her questions; Why are you so upset? Do you think you still have feelings? Why did you talk to him for twenty minutes? I thanked her for being open with me, and let her know I'm sorry she got hurt. I also let her know that my interests are, that she's completely over him and that she be honest with herself. I told her that I know how to walk away. Needless to say, she started getting an attitude. We talked a little longer, but I can tell she wanted off the phone. She apologized and said she loved me, but she wanted me to either listen or offer help, not tell her what I would do. She told me she loved me, and said she's not okay, but she will be. I want to be there for her in that way, but it reminds me of times in the past when I didn't get it with women. What do I do? Give her space? Try to be more understanding? Or let her feel that she could lose me if she doesn't resolve this? I just want to keep her interested in me and be fair to myself as well.

Tom

Here's my response:

Hi Tom,

Thanks for bringing up a great question. You are in a relationship with Cindy, and should be focused on the relationship skills taught in the latter half of my book. Before I get to the root of your question, I need to bring this up first. You never threaten to walk away from a woman to her face. However, as I discuss, women have to know that if they push you too far, you will walk and never look back. That means, if she is disrespectful of you and your time, you stand up for yourself. You reward good behavior with more of you, and bad behavior with less of you. You set the boundaries by telling her what you did not like about how she treated you and how you expect to be treated in the future, then watching her ACTIONS, and not her words, to see how she responds. If she abuses you continuously, then you spend less time with her. in my book She probably will try to test you with the same bad behavior to see if you really will stand up for yourself, and to see if you really meant what you said. If you do, you pass the test and she will stop. If you don't, she will continue to mistreat you because you are teaching her it's okay to abuse you by not standing up for yourself. Basically, what has happened is, Cindy was being honest, open and sharing what was in her heart with you. What you had done right was to create a relationship where she feels comfortable and safe enough to share everything with you. Where you messed up was, you let your own insecurities, fears and doubts about yourself damage the intimacy of your relationship. You took a little thing, (this other guy calling her), and made it into a big problem. That's what a woman does. Women take the little things and make them big, and your job as a masculine alpha male is take her big problems and make them little. So stop acting like a woman, and act like a man. A confident alpha male feels no threat from any man. He comes from the place of knowing that he has no competition. Even if his lady left him for another man, it is her loss, and he really feels that way.

Here is what you need to do. You need to apologize for acting weak when she needed you to be strong, and just listen. She even told you what she wanted, (they help you when they like you), and you ignored it. That usually prompts a woman to say, "you never listen to me." Explain to her how you think you hurt her by saying…I know I must have made you feel like I did not trust you. You probably also felt like I could not be there for you to just listen in a non-judgmental way. Instead of allowing you to share your thoughts and feelings about something that was very upsetting to you, I was selfish and only thought about how I felt. I am sorry I have let you down, and I ask for your forgiveness. I really do love you, and I am sorry I was weak when you really needed me to be strong for you. Let her talk and share anything she needs to share. Ask her questions like… tell me more, don't leave anything out, what else?, etc. You will know when you are done when she says… "I'm so glad we talked, I feel so much better, etc."

Corey Wayne