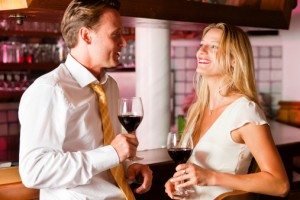 I get asked a lot about how to keep a relationship casual with a girl when she wants a serious relationship. This is from a coaching clients email, my comments to his questions are (in brackets like this in the body of his email):
Tom wrote:
Dear Corey,

The last date was another home-run man! Went out for a couple drinks and talked the entire time. (Of course the date was a home run. You are a stud, and you have the best coach in the world helping you 🙂 How else should it go? Keep it up and things will get better and better. The quality of woman you are able to attract will get better and better as your skills and confidence grow from applying what you are learning. You deserve it!)

As we were walking out to the parking lot I could tell she wanted me to make a move so I went for it. The BEST part is, in the middle of making out, we stopped for a second and she said, "I don't know if I can trust you… You're so good at flirting with girls and stuff!" (you are becoming aware of your own innate power with women).

Talk about a boost of confidence haha! You are definitely right too; that's when it starts getting fun. She's texting and going after me even more now and it just feels Awesome! (repetition is the mother of skill)

There is a little of a downside to the story though. I can tell by the things she says that she's looking for a relationship but that's the last thing I want right now. I need to keep practicing your lessons and get to the kinds of girls I really want (yes!). Not putting her down at all. She is definitely pretty, but how could I stay out of a relationship without breaking this girls heart.

(See her when you want to see her. You two just started going out. Focus on having fun and improving your skills. It's waaaaaay too soon to be talking about a relationship at this point. She is on probation too. You still have to decide if you really like her enough. Just take your time and see her every other week or so.

If after a month or two she starts trying to get you to commit to a relationship, just be honest with her regarding where your feelings are at at that point. If you feel you just want to date and have fun with her and other chicks if she brings up a relationship down the road, then tell her. Tell her you are not looking for a serious relationship. Women do it to guys all the time with no remorse. Its ok to stand up for yourself and what you want. Tell her she should keep her options open and that you want her to be happy. If she meets a guy that she thinks is better for her then tell her to go for it. You want her to be happy. Say "lets just enjoy each other for now and if you find a better guy for you then go for it!" You are getting a little ahead of yourself right now. It just went from going sideways a few weeks ago to now she is coming on strong again).

Tom
Slow your roll and have fun 🙂
Keep me posted on your progress. Keep the questions coming. End of my response to Tom's email.
"The ultimate negotiating position is being able to walk away and mean it." – Michael Yon