How to determine if people value your time and really care about you, and whether or not someone has true romantic interest in you or they are simply being nice because they don't want to hurt your feelings.
In this video coaching newsletter, I discuss two different emails from two different viewers. The first email is from a forty year old female who reunited with her college boyfriend after twenty years. He ended their relationship last February after they broke up multiple times during the year they dated once again. He said they just don't get along. She told him since he did not want to work things out, they should go their separate ways. She ran into him last August and later contacted him a few times, but he does not seem to be interested in seeing her again, and she can't stop thinking about him.
The second email is from a guy who has developed feelings for a female friend of his he has known for six years. However, she had a boyfriend when he told her he had feelings for her. She became cold and flakey after that. Several months later, he got a message from her one night after he had walked away, and she told him that she had broken up with her boyfriend. He talked about his feelings once again, and she said she also has some romantic feelings for him, but she needs to find herself first. Things have not gone anywhere, and he wonders what he should do. My comments are in (bold parenthesis like this below) in the body of their emails.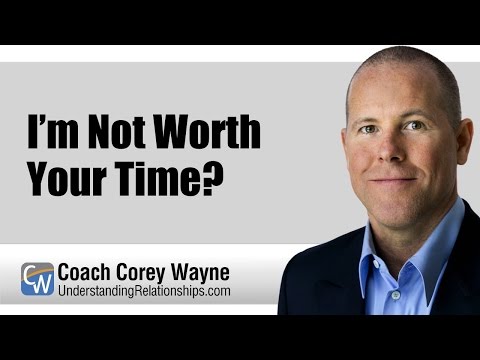 Email from 1st viewer:

Hi Corey,

I am a 40-year old female that reunited with my college boyfriend after 20 years. He ended our relationship in February after we broke up several times in a one-year period. During our last conversation, he told me that we just don't get along, and we are who we are. I said to him, if he did not want to work things out that he'll go left and I'll go right, and that was it. Deep inside, I thought he'd eventually contact me if I did no contact, but he never did. (That should tell you everything you need to know. As I discuss in my article and video, "7 Principles To Get An Ex Back," since he's the one who dumped you, you should not chase after him. Tell him to give you a call if he changes his mind.) It's been 10 months, and I haven't been able to forget about him, especially after running into him at a Vermont race in August. (Obviously, you wanted to stay together and just communicate better, but he wasn't interested in that. Unless he's willing to work on his communication skills, this will continue to happen. If this guy doesn't think he has a problem, you can't fix it.) When he noticed me, he came right over to me. He asked me about my family and brought up fun times we had together. (He's focusing on the good memories. That's a good thing.) I noticed how he seemed so interested whenever I spoke. I failed to mention that prior to going to Vermont, I noticed a picture on his ex-girlfriend's Facebook page with him sun bathing in the background. Despite this in my mind, I thought he wanted me back, LOL. Even though he seemed happy to see me in Vermont, he said goodbye first after we spoke for nearly an hour. I battled with myself for about a week before I finally broke down and texted him after seeing him in Vermont. (That's part of the problem. You're pursuing somebody who blew you off and rejected you. That is going to lower your value in his eyes. You're trying to force the issue.) I told him I missed our friendship, and that I missed having him around. It took over five hours for him to respond, but when he responded, he said that seeing me was great, he was happy just talking to me and that he missed me too. I waited another week before texting him again, and I asked if he'd be interested in running a race close to my house. He didn't send a response until the following day, (If he was really excited and enthusiastic to see you, he would have texted you sooner. When somebody cares, they will make the effort), and just asked when the race was in the text. I waited a couple hours before responding. I sent him copy/paste information about the race, however, he never responded again. That was in October. (Look at his actions. You have to look at what people do.)

I keep telling myself, that his non-responsiveness is a sign that he's moved on, but why can't I just leave well enough alone? (More than likely, he's bounced back to his ex-girlfriend. Obviously there's another woman in the picture. If you chase him, it will make you look weak. It makes you look like you don't value and respect yourself or appreciate what you bring to the table. If you don't value yourself, then other people are going to treat you that way.) I keep fantasizing and/or don't want to believe he doesn't feel the same way as I do. (Just look at it as he's not available. The other person has to make a mutual effort. You can't force him to communicate.) It's like every day I'm "hoping." Could this be a result of not allowing myself to grieve the loss? (Remember, rejection breeds obsession.) Any analysis you can give me on my situation is really appreciated. I'm stuck in stupid. (You've tried pursuing him, and it got you nowhere. You were making up and breaking up, and it just doesn't sound like he was capable of having the kind of mature relationship you would have liked. You have to move on and focus on the outcome you'd like in your life. A great relationship is impossible with this guy. He's not willing to do his part, and it's not your responsibility to fix him.)

Thank you!

Jessica

Email from 2nd viewer:

Hey Corey,

I came across one of your YouTube videos, and from that one video I watched, I kept on watching and subscribed to your channel. I love your work and advice! I ordered your book as well, soon after a few videos. Although before I get to read your book, I wanted to ask you a question about a friend of mine who I recently told about my feelings towards her being more than just a friend. We've been good friends for about 6 years now, and I hadn't even thought much about seeing her as more than a friend, until a couple months ago. (A lot of guys think if they reveal they like a woman, the next step is a relationship, but there's a process. You have to date.) Long story short, she was in a relationship with a guy who she'd been with for 2 years and 4 months. During that period, I had brought up that I started to like her, but very briefly, which was stupid of me, because I knew she was still with him. (You definitely shouldn't tell a girl that if she's in a relationship. It's inappropriate.) Regret! She told me it was fine that I told her what was on my mind, and it didn't bother her. (Whenever a girl says "it's fine," it's not fine.) From that time, it never came up again from either of us. While with him, she wasn't herself anymore. She was always short with me and wasn't as enthusiastic to talk. (Obviously, something was off and awkward, and on top of that, she was a little rude. Women get bitchy when a guy gets weak. They don't like it.) I understood that, because she had brought up before in a casual conversation that he was the jealous type.

Eventually, she started college. I asked if I was able to see her before she left town to live with family about 2 hours away, to make school easier. (You're pursuing her, even though she has a boyfriend.) She was real shady with me, and said "Umm… I don't think I can, sorry." (The dynamic of your relationship changed, and you can tell her attitude changed.) By this point, I was fed up with how she was acting towards me, even though I was tolerant before, (You were basically a doormat and let her be rude to you), so I didn't text her back and deleted her number. I figured she could care less about me, and our friendship, for that matter. (No, you were just acting like a beta male, and she didn't respect that.) That all happened in early August.

Then comes the beginning of October, it's a casual night, I'm laying in bed, my phone goes off, and it's 11:00 pm. So I wonder who the hell could be texting me this late on a Tuesday? I check, and it's a number I didn't recognize at first, until I saw the text signature. That's when I knew it was her. She told me about how her boyfriend broke up with her, because he couldn't handle not seeing her enough. I was obviously the nice guy and replied, being there for her, telling her she'll be okay, stuff like that. (You finally walked away after revealing your interest, which was the right thing to do. If she's reaching out now, telling you she broke up with her boyfriend, as a man you're supposed to know what to do with that. You should tell her you're sorry it didn't work out, but you'd like to see her.) She said she came to me, because I was one of the only people she knew that had gone through what she was going through and felt comfortable talking to me. A few weeks have gone by that we've been back to talking, but it is her always texting me every afternoon, and we'll talk from then until late at night. (You've become an emotional tampon and her therapist. The phone is for setting dates dude. You should do a Skype video date and ask her when she's coming to see you. Otherwise, you're just going to give yourself a really bad case of blue balls.) Just a few nights ago, I asked her if I could call her, (You act like a beta male when you ask if you can call her), and she said of course, so I called her, and we get into talking about her recent break up and how she feels and whatnot. It was a deep enough conversation to where it only felt appropriate to bring up what I had in the past, that I liked her and that later on down the road I'd like to be with her, more than just friends. (So you basically just said, "Hey, now that you're single, let's have a relationship.") I told her I'd love the opportunity to give 100% in a relationship with her, (That was the wrong thing to say dude. A girl's not going to go from dating a guy for a couple of years to being in another relationship already, without even having a date. You have to let the woman bring that up. You definitely need to read my book. If you keep behaving this way, you're going to wind up in friend zone), like I always had with our friendship. After saying this, she then asks me, "Can I be honest with you?" I said of course. She then carries on to say, "I like you too, more than just a friend, and to be honest, when you told me about how you felt a while back, even though I was with my boyfriend at the time, I still thought about what it would be like to see you as more than a friend. (Remember, all relationships start as casual affairs. If you try to lock her down to a relationship, she won't be ready for that. You should never bring that shit up. You should just make a date.) Although as of now, I'm not sure if my feelings are because I actually feel this way for you, or if it's because of my recent break up. I don't want to rush things with you. (She's trying to say, "Slow down dude. Stop trying to get me into a relationship." You just need to hang out, have fun and hook up. That's the formula. Women fall in love slowly over time.) I just need time to find myself." After this, she said she likes how we can be so honest and open with one another, and it's not awkward. However, this confused me because she pretty much said she likes me, but is not sure if she does, and that at the same time, she doesn't want to rush things with me, and needs to find herself. (She's saying she's interested, but not really interested in jumping into a relationship.)

Should I wait? Should I move on? (You should do nothing. She needs to do 100% of the calling, texting and pursuing from now on. Then when she reaches out to you, you should assume she wants to see you and make dates.) I've asked myself this, and it only feels right to wait. (Dude, don't put your life on hold for a woman who just started college and lives two hours away.) She's really sweet, funny, and big hearted. We click very well. After seeing her past boyfriends, I am very confident she'd give me a shot. What do you think is best? (One step at a time. You have to make dates first. When you climb a staircase, you don't jump to the top step. You have to take your time. There's a progression of things. You're responsibility in the courtship is to create an opportunity for sex to happen.) I'd really appreciate the help, because I'm driving myself crazy over thinking this, when in all reality, I don't need to be. (All you really have to do at this point is let her pursue you and then set dates when she reaches out to you. Schedule a Skype video date or a Facetime chat as if you're having a date in person, then try to make a date in person after that. Stop talking about a relationship. You need to delete the terms "relationship" and "girlfriend" from your vocabulary. After a few months of dating and courting her properly, she will bring it up. I talk about all of this in my book. Hang out, have fun and hook up. It's pretty simple.)

Thank you! I hope to hear your take on this.

Bob
Get the Book "How To Be A 3% Man"
How to Be a 3% Man
Audiobook | FREE**
How to Be a 3% Man
Audiobook | $19.95
How to Be a 3% Man
Audiobook | $19.95
*Amazon and the Amazon logo are trademarks of Amazon.com, Inc. or its affiliates. As an Amazon Associate I earn from qualifying purchases. **Free with a new Audible.com membership
How to Be a 3% Man
Kindle eBook | $9.99
How to Be a 3% Man
iBooks eBook | $9.99
How to Be a 3% Man
Lulu eBook | $9.99
*Amazon and the Amazon logo are trademarks of Amazon.com, Inc. or its affiliates. As an Amazon Associate I earn from qualifying purchases.
How to Be a 3% Man
Paperback | $29.99
How to Be a 3% Man
Hardcover | $49.99
How to Be a 3% Man
Paperback | $29.99
How to Be a 3% Man
Hardcover | $49.99
*Amazon and the Amazon logo are trademarks of Amazon.com, Inc. or its affiliates. As an Amazon Associate I earn from qualifying purchases.
Get the Book "Mastering Yourself"
Mastering Yourself
Audiobook | FREE**
Mastering Yourself
Audiobook | $24.95
Mastering Yourself
Audiobook | $24.95
*Amazon and the Amazon logo are trademarks of Amazon.com, Inc. or its affiliates. As an Amazon Associate I earn from qualifying purchases. **Free with a new Audible.com membership
Mastering Yourself
Kindle eBook | $9.99
Mastering Yourself
iBooks eBook | $9.99
Mastering Yourself
Lulu eBook | $9.99
*Amazon and the Amazon logo are trademarks of Amazon.com, Inc. or its affiliates. As an Amazon Associate I earn from qualifying purchases.
Mastering Yourself
Paperback | $49.99
Mastering Yourself
Hardcover | $99.99
Mastering Yourself
Paperback | $49.99
Mastering Yourself
Hardcover | $99.99
*Amazon and the Amazon logo are trademarks of Amazon.com, Inc. or its affiliates. As an Amazon Associate I earn from qualifying purchases.
Coach Corey Wayne Merchandise
If you have a question you would like me to consider answering in a future Video Coaching Newsletter, you can send it (3-4 paragraphs/500 words max) to this email address: Questions@UnderstandingRelationships.com
If you feel I have added value to your life, you can show your appreciation by doing one of the following three things:
Make a donation to my work by clicking here to donate via PayPal anytime you feel I have added significant value to your life. You tip your favorite bartender, right? How about a buck... $2... $3... $5... $10... $20... what ever YOU feel its worth, every time you feel I have given you a good tip, new knowledge or helpful insight. Please feel free to donate any amount you think is equal to the value you received from my eBook & Home Study Course (audio lessons), articles, videos, emails, newsletters, etc.
Referring your friends and family to this website so they can start learning and improving their dating and relationship life, happiness, balance and overall success in every area of their lives too!
Purchase a phone/Skype (audio only) coaching session for yourself or a friend by clicking here. Download the Amazon.com Kindle version of my book to your Kindle, Smartphone, Mac or PC for only $9.99 by clicking here. Get the iBook version for $9.99 from the iBookstore by clicking here. Get the Audio Book for FREE $0.00 with an Audible.com membership by clicking here or buy it for $19.95 at Amazon.com by clicking here. Get the iTunes Audio Book for $19.95 by clicking here. That way, you'll always have it with you to reference when you need it most. Thank you for reading this message!
From my heart to yours,

Corey Wayne
Author, Speaker, Peak Performance Coach, Entrepreneur
"Breakups are hard to deal with, because when we date someone for an extended period of time, our identity becomes associated with being with our ex. Post-breakup, it can often feel like we don't know who we are anymore, because the other person defines so much of our life, our routines and how we spend our time. It's healthy and necessary after a breakup to be alone and single for a period of time when another person does not define you, so you can get back to who you were before you met your ex. This enables us to go inward and work on ourselves, so we can become a better version of who we are. When you become a better quality person because you've worked on yourself, you will increase your value and improve the quality of lovers you are able to attract. However, people who don't focus on getting better tend to attract the same kind of people and relationships over and over." ~ Coach Corey Wayne
Click Anywhere on Today's Instagram Image Below & You'll Be Taken To My Instagram Page. When you get to my Instagram page, click the "Follow" Button so you can follow me on Instagram. I upload several new Instagram photos per week.