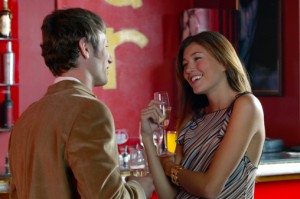 Some great questions you can ask women when you first meet them or when you are out on dates that are interesting and fun to talk about to make you stand out from the rest of the crowd and create attraction at the same time. How to be an interesting and fun guy for women to talk to instead of being dull and boring.
The idea is that whoever is asking the questions is the one leading the conversation. These questions will elicit more than a yes or no answer. Her responses then can become topics to discuss and share personal stories of your own in a humorous way. By letting her do most of the talking it creates rapport and causes you to remain mysterious:
What are you passionate about?
What do you love?
What is the craziest thing you've ever done?
What is the most exciting place you ever had sex in public?
What do you like to do for fun?
Do you remember your first day of school? What was it like?
What do you love, but are afraid to admit you love it?
What's unique and exciting about you?
What are your guilty pleasures?
What do your friends love most about you?
What makes life exciting to you?
What's your biggest dream?
What are you most proud of?
What is the funniest thing that ever happened to you?
What's the most fun you've ever had?
How do you know when a guy is right for you? What specifically makes him stand out from the rest?
What do your friends admire most about you?
Have you ever fallen in love just by looking into someone's eyes? If she says yes, ask her specifically what it was that made them stand out from the rest: Their smile, clothes, body language, how they looked at you, tone of their voice, etc.? What was their "hook" that made them irresistible to you?
What makes you really happy?
What cracks you up more than anything?
What is the silliest thing you've ever done?
What is your favorite memory?
What is the funniest movie you've ever seen?
Have you ever been very mischievous and done things like put Mr. Bubble in a large water fountain, and then came back later to see the bubbles everywhere?
Have you ever farted and then blamed it on someone else successfully like an older relative?
What is the most fun you ever had on a date?
What's the one thing you can't say no to?
What are you really good at that would surprise me?
If you could wake up tomorrow and be anyplace in the world, where would it be? Why?
RECOMMENDED PRODUCTS
"Most people don't really have that much exciting stuff going on in their lives. When people go out they are usually looking to escape from their boring lives. The best way to crate rapport and attraction with members of the opposite sex is to talk about positive and uplifting topics that elicit good feelings. This will cause them to see you as unique, fun, different and exciting to be around. If they're smiling, feeling good and laughing with you, it will create sexual attraction." ~ Coach Corey Wayne