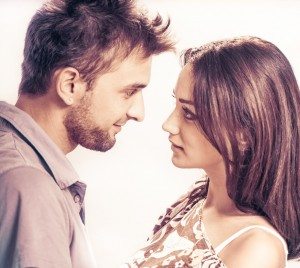 The importance of using playful banter properly so you come off as being charming and playful, instead of being mean and arrogant.
In this video coaching newsletter, I discuss an email from a viewer who has difficultly using playful banter properly. He says he has a lot of confidence and displays this in a dominant and indifferent manner. He is in sales, and this works well for him in his career. However, when it comes to interacting with women, he tends to come off as being more abrasive and mean than he does being sweet and playful, which obviously has a negative effect on how women view him. Even his guy friends can tell that something is off in his body language and tone, but they can't tell exactly what it is. They just know that he comes off as being mean spirited. He's really concerned with developing this skill, because when a woman is upset or not in a good mood, he is unable to successfully use playful banter and humor to diffuse things. He asks my opinion on how he can strike a successful balance. My comments are in (bold parenthesis like this below) in the body of his email:
Hi Coach!

Feel free to use this on YouTube, and just call me "Bob."

I read your book once, and I'm working on the second read as we speak. I am also a huge fan of your videos. My issue is this: I have a take it or leave it attitude; I know that I have value, and it comes out in my life. I also have a dominant frame, body language and tonality, some even call it an absolute tone, which is great for sales, but not so much for women maybe. This gets in the way of me bantering. I always come off as the asshole. (This is why I promote Network Chiropractic Care so much. Most people are stuck in fight or flight response from past traumas, and their physical structure is locked in that physiology. Others can sense that in the way you communicate with them. Network Care can put you in a peaceful and relaxed state. Look at my article and video, "How To Become More Confident & Sure Of Your Actions," for more information on Network Care.) All my friends essentially tell me the same thing. They can't exactly say why, but they say, even when I am being playful, I come across as a cocky ass. (It would be helpful to work on your body language. I highly recommend you look at my article and video, "Body Language That Attracts Women." It will also help you notice other people's body language.)

I am great at rapport, seduction, and being a man, except for this banter thing, and generally speaking, my women feel safe and trust me. The banter issue causes trouble down the line, because without playful banter, I cannot easily diffuse their emotional issues. (The key is, do you feel peaceful and relaxed? Sometimes you'll be interacting with people who are locked in a defense type of a position or may have self esteem issues. It's not your job to fix those people, and your playful banter won't help.) Thanks to your book for helping me understand this. This has caused my last two long-term relationships to fail. I own that, and know I need to improve. How can I "learn" to be playful, or not come off as an asshole? (You have to practice it, and notice how people react to you. Watch the video of Carey Grant's performance in "Charade" below, and use that as an example.) If it matters, I am one of those guys that people either love or hate. Literally no one is on the fence about that.

Bob

My response to him:

Hi Bob,

Sometimes, when guys start trying to be playful and charming with banter, they are too abrasive, mean spirited, angry and aggressive, instead of being sweet and charming. Usually what happens is, women sense anger and frustration when talking with you. This usually happens when a guy is pissed off and frustrated he is not getting what he wants. Your face may be smiling, but your body language is communicating insecurity, fear, anger, belittlement and inappropriateness, because you are pissed off that you are not as successful with women as you would like. Network Chiropractic Care can be a big help. If your life sucks or your career sucks, that will have a negative effect on what you project in your communication. CLICK HERE for more information on Network Chiropractic Care.

You need to model guys who are good at humor and who are good with women. Watch the movie "Charade" with Cary Grant and Audrey Hepburn. Here is a small clip:

That is a masterful display. Charming banter is non-serious, self-deprecating humor, cockiness, playfulness, treating her lovingly like a bratty little sister, and being non-serious to the point of sometimes being ridiculous and silly. If you have done it right, playful banter is sometimes leaving a woman unable to determine if you are serious or totally fucking with her in a good-natured way,

Corey
RECOMMENDED PRODUCTS
"People who are happy, love life and have a high self-esteem are not easily offended. Since they tend to be optimistic and look for the good in every situation, they don't let other people get under their skin or get upset very easily. People who have a low opinion of themselves and are defensive tend to assume that even good-natured humor is a personal insult, and therefore they get upset, offended and butt-hurt at the slightest infractions. Using playful humor can be a great tool to weed out the easy-going, good-natured people from unhappy and low-self esteem people. High self-esteem people tend to be drama-free lovers, friends, associates and clients. Low self-esteem people tend to bring drama, chaos and conflict wherever they go." ~ Coach Corey Wayne
Click Anywhere on Today's Instagram Image Below & You'll Be Taken To My Instagram Page. When you get to my Instagram page, click the "Follow" Button so you can follow me on Instagram. I upload several new Instagram photos per week.