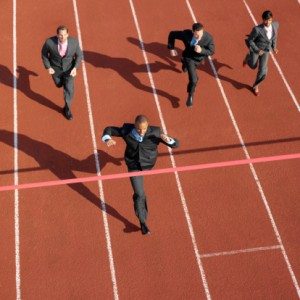 Do you know what the fastest way to speed up your success in life is? Modeling successful people. What do I mean? Once you have decided what it is that you want to accomplish in life, the fastest way to speed up your success is to model the success of others. Find people who are already successful at what it is that you want to accomplish and model what they are doing and you will get the same results.
Why? If you are starting a business, a new career, an exercise program, etc. there is no reason to try and do everything on your own. Or to re-invent the wheel so to speak. Why beat your head against the wall when you can just model and copy what others are already successfully doing? It will shorten your path to success.
If you want to start a business, there is a good chance there is already someone who is successfully doing what you want to do. Go work for them and get paid while you learn. Then when you know all the in's and out's of the business, have plenty of capital and are ready to do it for yourself, you can transition into your own company.
When I started my first real estate company buying, fixing up and reselling single family homes for a profit, I borrowed $50,000 on my credit cards and purchased two foreclosures in crappy neighborhoods. I also quit my job working for Centex Rooney. After a few months I realized that cash flow was going to be a real issue. I also wanted to purchase additional properties that had much better potential profit margins than the ones I currently had.
I knew how to fix a house up and do a good job making it look beautiful. I had gone to college to get a bachelor of science in construction management from FIU. I also had a General Contractors license. I had spent the previous five years working for various General Contractors to gain experience learning how to build. The last General Contractor I worked for was Centex Rooney. It was part of Centex Construction Group. The largest builder in the world. Rooney did big multi-million dollar commercial construction. I was a Project Engineer on the $150 million dollar Coronado Springs Resort at Walt Disney World Florida.
So I had the construction part covered. I did not know much about financing for my buyers, how to sell the homes or how to find the best deals. The company I was buying my foreclosure properties thru was a place I spent a lot of time trying to learn and find out as much as possible about the business. They had spent 7 years making mistakes and not making very much money. However, they were on the verge of taking off.
I resolved to get them to offer me a job. I remember one day while talking with the acquisition manager and asking him how I could find some better deals with better potential profit margins. He told me the only way he could do that is to make me an acquisition agent. I said "when do you want me to start?" They were not ready to hire anyone else yet. They had just hired another acquisition agent and were in the process of training him. He told me maybe in another month or two.
I followed up and was relentless just like I talk about in my article "How To Get Any Job You Want" and two months later they offered me a job. The reason he hired me was because I was aggressive and simply "would not go away."
Working there allowed me to learn what it was that I needed to know in order to make my buy, fix and re-sell business more profitable. I was also able to meet many mortgage investors who put up the 1st mortgage money to fund the purchase of the foreclosure properties and become friends with them. Since the properties were in such rough shape, they did not qualify for conventional financing. We used private short term interest only loans. Once the properties were renovated the end user/buyer got their own conventional or FHA financing.
So I was able to learn all the in's and out's of the buy, fix and re-sell business. I was also able to make sales commissions on the properties that I found and flipped to other investors. This gave me the cash flow I needed in-between closings. I cherry picked the best deals for myself and flipped the rest. There were dozens more properties available each month than I could fix up myself.
So a year and a half after going to work for this company, my own real estate business was doing pretty well. I had also paid back all my debt and had plenty of cash in the bank. I approached two of my co-workers who had also become pretty good friends at that point about the three of us leaving and going into business together.
I got my real estate brokers license. We then approached the girl in charge of matching up the properties with the private mortgage investors who provided the private 1st mortgages. We leased a cool 1,600 s/f office building. We started a mortgage company and another holding company. Then one by one we all left within 2 weeks of each other.
Our first month in business together we made a $60,000 dollar profit! Not because we were geniuses, but because we modeled the success of our former employer. They had made most of the mistakes so we did not have to. We went from getting 33% of the commission dollars working for them to 100% in our own shop. Our successes in the wholesale foreclosure business was duplicated when we ventured into the retail real estate and mortgage business. Within 6 years we had built the business into 7 companies, 40 employees and grossing approximately $7 million dollars per year in commissions.
If I had tried to figure everything out on my own, you would not be reading this and I would never have experienced the success I have. All due to modeling the success of others so I could speed up my own success.
Once you figure out what you want to accomplish, find others that are already successful doing it. Model their success and you'll get the same results. It's called the path of least resistance. Its also the best and fastest way to speed up your success at accomplishing your goals and dreams!
"Whatever you can do, or dream you can, begin it. Boldness has genius, power, magic in it." ~ Goethe