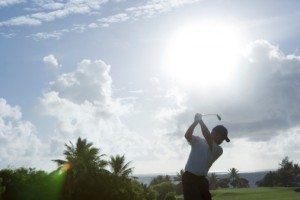 Tiger Woods needs to be TIGER!!! Why do you think Tiger Woods is in a slump? Well, lets take a look at everything that has transpired in his life over the past year. In 2009 Tiger Woods was the highest paid athlete in the world with his endorsements and tournament winnings. He was married with a beautiful wife and family. We've all known tiger woods as a golfer since he was a little boy. We met Tiger for the first time when he was on the Johnny Carson show with his father as a little boy.
Thirty something years later, he is the best golfer in the world and almost everyone knows who he is. On the golf course he is arguably the best golfer to ever play the sport. Off the golf course… well… we thought we knew who he was.
Tiger's world all came crashing down around Thanksgiving 2009. The world saw headlines that Tiger had crashed his SUV and his wife beat him with a golf club. What the real story is, is really none of our business. It's between him and his family.
We also learned that when it comes to the ladies, Tiger… is… well… A TIGER! Tiger, apparently in addition to being married, had maybe dozens of of beautiful ladies he was hooking up with located throughout the world. At some point Tiger decided to break his marriage vows and sow his oats so to speak.
Fame and success brings a lot of temptations and opportunities the average Joe and Jane six-pack will never get. Women love successful, confident, good looking men who are successful with women. Its exciting to them. All professional athletes and celebrities deal with this and it can go to your head. Being on TV causes people to not see you, but see what they think you are. They tend to project all of their hopes and dreams onto to people who they perceive as having everything they want. When that celebrity or athlete lives a life that matches their projections; they love and admire the star. When the star does not live the life that they think they should be living, they viciously attack the star in the media and in the public domain.
Their "star" has "crossed the line," "been a poor example," "a bad role model," etc. The star will continue to be vilified and attacked until they get in line and conform to some ridiculous ideal of what people think they should be instead of honoring and celebrating who that star really is.
As a life coach and looking in from the outside this is what I see. This past year, Tiger has not been Tiger. People loved Tiger until his "transgressions" crossed their imaginary line of what was appropriate or not in their eyes. Pundits and people in the media savaged every move Tiger has made since it was revealed he has been living more like a superstar playboy, than a devoted husband and father that most people think Tiger should be.
The overwhelming majority of people who comment on Tiger and his actions portray him as being some kind of sexual deviant. He did make a commitment to his wife to be faithful which he obviously broke and should not have. But at some point Tiger made the decision to chase what his heart told him to do. People can only suppress who they are for so long.
When I see Tiger in interviews now, he looks more like a deer in the headlight. He does not seem like himself, nor does he seem very happy. I read where he went thru counseling for sex addiction. So I would assume from the beating he took in the media and the counseling he got, he was probably made to feel ashamed of his own sexuality and his desires. While what he did and how he went about it keeping it from his wife and doing all this stuff behind her back was not very honorable, from my experience as a dating and relationship coach, he was just trying to be who he was.
When two people decide to get married, they are teammates that are there to love and give to one another unconditionally. Tiger obviously had desires, wants and needs that were not being met in his relationship with his wife. If they were he would never have done what he did and I would not have written this article. There was a lack of true, deep, open and honest communication between he and his wife. Both of them entered their marriage committing to things and suppressing certain aspects of their personality and desires that later, at least for Tiger, he could no longer do. That's a universal attribute of every relationship in trouble. Almost all human beings do this to some degree.
Now in a healthy relationship, everything is discussed. Both people ask and try to give the other one what it is that they say they want. If they truly love the other person, unconditional love would say, "I love you and want you to be happy. If I can't give you what you want, I give you permission to go and get it." When Tiger's true feelings and desires came up, he initially repressed and pushed them down deep inside. When we do this it builds resentment inside. Eventually when we can no longer fight it, it comes out. When these desires or feelings came up for Tiger, it was easier and more comfortable to not talk about it with his wife. Over time, a little bit here, a little bit there, leads to a shocking discovery of a double life.
What would I say to Tiger if he was asking for my opinion and how to get back on top and be "invincible" like he recently said he felt like prior to the train wreck in 2009? God put you on this earth to BE GREAT Tiger. Not average. You've been crushing it on the golf course since you were a little boy. The worlds best golfer is who you are. With that comes huge endorsement deals, money, fame, beautiful women, success, leadership and responsibility not to others, but to God and yourself. God made you the way you are for a reason. All of the desires and dreams in your heart are there as a gift from God. The more you can honor your heart and be congruent with who you are, the more you will honor God and the person he created you to be.
The past is in the past. Everyone is just doing the very best they can with the cards they have been dealt in life. "There is no imperfection, you've only ever done what you were meant to do." – Panache Desai. You can't change the past. You can only decide who you are going to be in this moment right now.
If that means you are going to be a single, super-star, billionaire golfer playboy, then by all means go out there and have as much fun and get as much pussy you like. The only standards you need to worry about are the standards you set for yourself. Michael Jordan once attributed all of his success to the fact that he demands more of himself than his teammates, coaches, friends family, etc. do. Michael's standards and expectations are always higher than anyone else's.
If you spend your life trying not to offend others or trying to be something that the media, your friends, family and fans want you to be, you will never be happy. You must honor who you are.
If that means you are the worlds best golfer and live like Hugh Hefner, then so be it. If living that lifestyle means you lose all or most of your big corporate sponsors, then so be it. You will get new ones from companies who are proud of the example of greatness you are and for being authentically you. Your happiness will radiate from your face and you will inspire others. You are set for life financially. It's time to live for YOU!!!
Remember, people too weak to follow their own dreams will always find a way to discourage yours. So FUCK YOUR DETRACTORS! Tell them if they are so great then to get off their asses and do better, or SHUT THE FUCK UP!!!
No one will ever do or say anything that is not a direct reflection of how they feel about themselves in a moment.
You don't have to prove jack shit to anyone. Just do what makes you happy. Follow your heart and be a great example to your children of what it takes to pursue your dreams and what makes you happy in life. If you try to diminish who you are to fit in someone else's box, you will teach your kids how to be mediocre. I know Tiger Woods is not mediocre.
Every time I hear some pundit or asshat passing judgement on you and your life, I know and recognize that they are just weak people testing a leader. The word lead means to go first. You are an example of the greatness we all can be. We are all giants inside. Being a leader means you catch a lot of shit from people weaker than you are. Just know that that comes with the territory of being on top. Coach Pat Riley texts this phrase to Dwayne Wade all the time… BIW. You know what it stands for? Best in the world. That is who you are Tiger. Be it. Never apologize for it. If people don't like it tell them to take it up with God. God put all of us on this earth to BE GREAT!! You must be who you are, what you should be, is not important. "God places the heaviest burden on those who can carry its weight." ~ Reggie White
Sporting News Archive/Getty Images
"Our deepest fear is not that we are inadequate. Our deepest fear is that we are powerful beyond measure. It is our light, not our darkness that most frightens us. We ask ourselves, Who am I to be brilliant, gorgeous, talented, fabulous? Actually, who are you not to be? You are a child of God. Your playing small does not serve the world. There is nothing enlightened about shrinking so that other people won't feel insecure around you. We are all meant to shine, as children do. We were born to make manifest the glory of God that is within us. It is not just in some of us; it is in everyone. And as we let our own light shine, we unconsciously give other people permission to do the same. As we are liberated from our own fear, our presence automatically liberates others." (from A Return To Love: Reflections on the Principles of A Course in Miracles, Harper Collins, 1992. From Chapter 7, Section 3)
Get the Book "How To Be A 3% Man"
How to Be a 3% Man
Audiobook | FREE*
How to Be a 3% Man
Audiobook | $19.95
How to Be a 3% Man
Audiobook | $19.95
*Free with a new Audible.com membership *Amazon and the Amazon logo are trademarks of Amazon.com, Inc. or its affiliates.
How to Be a 3% Man
Kindle eBook | $9.99
How to Be a 3% Man
iBooks eBook | $9.99
How to Be a 3% Man
Lulu eBook | $9.99
*Amazon and the Amazon logo are trademarks of Amazon.com, Inc. or its affiliates.
How to Be a 3% Man
Paperback | $29.99
How to Be a 3% Man
Hardcover | $49.99
How to Be a 3% Man
Paperback | $29.99
How to Be a 3% Man
Hardcover | $49.99
*Amazon and the Amazon logo are trademarks of Amazon.com, Inc. or its affiliates.
Get the Book "Mastering Yourself"
Mastering Yourself
Audiobook | FREE*
Mastering Yourself
Audiobook | $24.95
Mastering Yourself
Audiobook | $24.95
*Free with a new Audible.com membership *Amazon and the Amazon logo are trademarks of Amazon.com, Inc. or its affiliates.
Mastering Yourself
Kindle eBook | $9.99
Mastering Yourself
iBooks eBook | $9.99
Mastering Yourself
Lulu eBook | $9.99
*Amazon and the Amazon logo are trademarks of Amazon.com, Inc. or its affiliates.
Mastering Yourself
Paperback | $49.99
Mastering Yourself
Hardcover | $99.99
Mastering Yourself
Paperback | $49.99
Mastering Yourself
Hardcover | $99.99
*Amazon and the Amazon logo are trademarks of Amazon.com, Inc. or its affiliates.
Coach Corey Wayne Merchandise
If you have a question you would like me to consider answering in a future Video Coaching Newsletter, you can send it
(3-4 paragraphs/500 words max)
to this email address:
Questions@UnderstandingRelationships.com
If you feel I have added value to your life, you can show your appreciation by doing one of the following three things:
Make a donation to my work by clicking here to donate via PayPal anytime you feel I have added significant value to your life. You tip your favorite bartender, right? How about a buck... $2... $3... $5... $10... $20... what ever YOU feel its worth, every time you feel I have given you a good tip, new knowledge or helpful insight. Please feel free to donate any amount you think is equal to the value you received from my eBook & Home Study Course (audio lessons), articles, videos, emails, newsletters, etc.
Referring your friends and family to this website so they can start learning and improving their dating and relationship life, happiness, balance and overall success in every area of their lives too!
Purchase a phone/Skype (audio only) coaching session for yourself or a friend by clicking here. Download the Amazon.com Kindle version of my book to your Kindle, Smartphone, Mac or PC for only $9.99 by clicking here. Get the iBook version for $9.99 from the iBookstore by clicking here. Get the Audio Book for FREE $0.00 with an Audible.com membership by clicking here or buy it for $19.95 at Amazon.com by clicking here. Get the iTunes Audio Book for $19.95 by clicking here. That way, you'll always have it with you to reference when you need it most. Thank you for reading this message!
From my heart to yours,

Corey Wayne
Author, Speaker, Peak Performance Coach, Entrepreneur
"If you accept the expectations of others, especially negative ones, then you never will change the outcome." – Michael Jordan