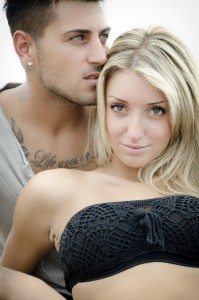 One thing I try to really drive home in my book is that you always look at what a woman does, and not what she says.
This was a great question from another client of mine I got recently…
"I met this girl at the mall, at Kay Jeweler's to be exact. We started "dating," I took her out to eat, and we had a good time. She came over for movies and such, but she never would give me even a kiss. One night she even called me at 11 pm and asked if she could come over after work. She came over just to see me, then I tried to kiss her and she gave me a hug. I couldn't figure out what was up with that. My question is, when a girl would go out of her way to see me at 11 pm and come over, go out on dates, invite me over to her house, etc., what the hell do you think she wants?"

Here is my response:

"That's a good question. You always want to look at what a woman does, and not what she says. For whatever reason, you are stuck in friend zone with this girl.

There are also women that will go out with a guy when they have no romantic feelings for him, because it's better than staying at home and staring at the four walls.

They like the attention and being wined and dined. Plus, women that have no problem doing this have low integrity and think that maybe they can meet someone else while they are out with you. Maybe even one of your friends.

I have dated women like this also. Years ago when I was still totally clueless, I went out with a girl that started flirting with another guy at the bar. While I was paying the tab, I saw her slip him her number.

I almost just paid and left and she would have been none the wiser. It really pissed me off at the time, but now women like that are easy to spot and disqualify up front.

This girl is a total waste of your time, energy, and money. You are obviously a high integrity guy and a good catch. Flush her number and forget about her.

There is also no point in asking or confronting her about it, because she will never give you a straight answer."

It really sucks that there are women out there like this. The good news is by watching their actions you can always spot them a mile away.