Here's the best way to handle your interactions with a woman when you are her rebound relationship after her breakup. It's always tricky when you are dating a woman who recently broke up with her boyfriend. It's never the ideal situation to be her rebound relationship after a breakup with someone she was really deeply in love with. Why? The guy may be trying to come back into the picture which can mess with her emotions and cause her to be really hot for you one moment, and the next moment she seems cold, distant and not really enthusiastic to see you. The most important thing to understand if you are dating a woman and you are her rebound relationship, is that it is absolutely essential that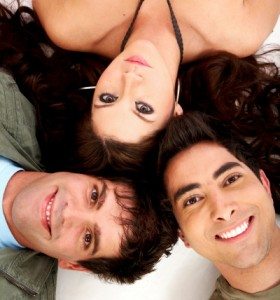 you let her come and go as she pleases. When a woman has two guys she likes and has feelings for, she will often say she is confused about how she feels. As she backs off, the weaker of the two men (the unprepared guy who has not read my book yet) will usually try to compensate for this by chasing her and trying to force things. When he does this, he makes it easy for her to choose the guy who is hanging back and not chasing her. The other thing to consider when you are her rebound relationship is the amount of time she and her ex were together. If they were together for several months or more, and you've only been dating her for a short time, 9 times out of 10 she will choose him over you simply because she is more emotionally familiar with him. Plus, she's had time for her feelings for him to grow. You simply have not been dating her long enough after a few weeks to make up for several months or longer that she was with the other guy. The following is an e-mail from a reader. He was dating a girl he was really starting to like, but she just went back to her ex-boyfriend. On top of that she has asked him to be her friend only. He told her he was not interested in that, and walked away. She's still contacting him, testing him and trying to get him to go along with her "friend's agenda." He's unsure of what to do to help her choose him over her ex-boyfriend. My comments are (in bold brackets like this) in the body of his e-mail:
Hi Corey,

I've been seeing a girl for two months. It was great, she was the one that chased me. I didn't want anything from her. But she finally got me. However, just two days ago, she tells me she still loves her ex. I told her it's fine that she wants to get back with her ex, but I won't stick around just as a friend, so I cut contact with her. (Good for you. When a woman wants to change the terms of your relationship that are not to your liking, you ALWAYS have the option/choice to walk away to find what you want. As a matter of fact, an Alpha Male will always do just that. He sees himself as a catch. When a woman appreciates and loves him in the way he likes, he rewards her with more of his time. When she does not, he spends less time with her, so he can spend more time with women who do treat him the way he wants to be treated. It's not being a jerk, it's simply standing up for yourself and what you want. Life is too short to spend it dancing with chicks who are unwilling or unable to give you what you want. Any man who goes along with something he really does not want in hopes that his "being nice" will cause her to dump the other guy and return to him is deluding himself.) After one day however, she texts me asking if it's okay to call me. I told her that she can and she called me. During the phone conversation, she was very interested and was holding most of the conversation. The first thing she asked was if I had time. I told her no, I'm going for a drive but she has fifteen minutes. I didn't act as if her wanting to get back with her ex bothered me. (Why should it? It's her loss in your mind. She will test you and chase you to see if you will go along with her "friends only" agenda. What she really wants is for you to stick around as backup in case things don't work out with her ex, which they won't, but she needs to explore her feelings and see if she can make it work. Don't be a sucker! Stick to what you want. She'll more than likely be back soon enough. Why? He was her ex for a reason, but he still has more time in with her than you. Therefore, she will chose him because he is more emotionally familiar. Tell her to call you if it does not work out every time she contacts you. Keep the conversations short, let her calls go to voicemail. Be busy. If she calls you after 7 pm, call her back the next day. If she asks, tell her you were out with a friend. If she presses you, tell her you don't kiss and tell. Then say, "are you calling to tell me that you are coming to town to seduce me again?" If she says no, then say, "well, give me a call when you are going to. I gotta run, talk later." and get off the phone. Try to keep it to texting only. Return her phone calls with texts at YOUR CONVENIENCE. It's mysterious and makes you more of a challenge. It causes her to wonder what you are up to and makes her worry she may lose you to another woman because you are not waiting around on her. You're acting like a catch so she can't help but try to keep you in her life. The more the ex does things wrong, the sooner she'll dump him and try to return to you… if… you're still available.) She also told me that she told her ex the other day about how she feels. She said he didn't care so she decided it was time to move on. So the conversation was pleasant and I could sense her interest. After that, I went for a drive and about five hours later, she told me that her ex came back. I told her I'm happy for her, but this is where we have to say goodbye. (Nice job! So many guys struggle to do this. You got big balls bro!) She then texts me how she wishes it wasn't like this. She said she wishes that we didn't have to say goodbye because she wants me as a friend. (You could have texted back, "it was your choice to get back with your ex, not mine. You made it this way. I'm not interested in being your male girlfriend. I want you, but I'm not interested in waiting on things to play out with you and your ex. I've got too much to offer. It's selfish of you to ask or expect me to take a back seat to some other guy. Call me if you change you mind, I'd love to see you again.") She thanks me for all the good times I gave her and hopes that we can be friends again one day. I replied saying that there's no hard feelings and we left it off at that. Should I have handled it a different way? (You handled it like a pro. Good job! The bottom line is, you stood up for what you want. You're not taking any of her crap. Treat me right or get lost, basically, but in a sweet way that leaves the door open. Be ready, because I don't think she's going to stop calling you. The more things go better with the ex, the less you will hear from her. The worse they are going, the more you will hear from her. I gave you some good responses you can use if she contacts you again with the same "lets be friends" BS.) You tell people to leave doors open, but I feel as if I burned that bridge. Is there a better way to handle this? Should I text her saying to give me a call if she ever wants to work things out? (Nah, only repeat that if she contacts you again. You don't need to do anything else other than get busy with some other hot women!) Or should I stick to my words and not expect anything from her. Whatever comes is a surprise? (Nothing for you to do but move on now and improve your skills so you continue to lessen the odds another woman does this kind of thing to you again.) I know that I was the rebound. (So, you both had a good time. There's also a good chance she'll be back in the future. So relax, it's in the bag. Find a suitable replacement ASAP!)

Is there a chance for me? I just bought your book, but I just wanted to hear from you about this situation. (You're doing pretty damn good for a guy who just got my book. You can download the Amazon Kindle version of my book to your Smartphone, PC, Mac or iPad in under 60 seconds for only $9.99 by CLICKING HERE to learn how to meet and date the type of women you've always wanted and have effortless relationships.) Honestly, I feel like complete shit knowing that I can't compete with the ex and his previous relationship with her being an advantage. (You feel like shit and suffer because you have not let go of what is. She's with him now. When we want reality to be other than it is, we suffer. The only thing you can do is accept it, be ready if she comes back and bust your ass applying what I teach with other women. Then things like this will never happen to you again!) He also has the distance advantage, as I live about five hours away where he lives fairly close to her. (So what. High interest cuts thru everything. Women will leave their kids, family, religion, country, etc. for a man they have super high romantic interest in.) Is there an easy way to get over this? ("Inaction breeds fear and doubt, action breeds confidence and courage." ~ Dale Carnegie. Get busy talking to and dating other women. You can curl up in a ball and cry at night in your bed if you feel the need to. You got to FEEL YOUR PAIN in order to HEAL IT. Be 100% present with your dark feelings and they will slowly dissolve and no longer have an effect on you. Resist the urge to feel them, and the pain and suffering will persist.) I would meet other women, but I feel it won't be fair with me moping about when I could've been with this girl. (She's just one girl. There are 6 1/2 billion people on this planet, approximately half are women! Your odds are pretty fucking good you will meet a hotter, sweeter, smarter, more fun, etc. chick than her in the future who you have even more fun with. It's in the bag, get busy!)

Photo by The Bettmann Collection/Getty Images

Another question, if she does re-initiate contact, how should I handle it? (I addressed this above. Think of yourself like you're a broken record. She gets the same response today, tomorrow, next week, six months from now, etc. You want what you want… her naked in your bed again.) There are times when I feel like I would accept her back in a heartbeat. Other times however, I tell myself that if she did this to me, what's to stop her from doing it again? (You obviously need to clean your pickup, dating and courtship game up. My book will fill in those knowledge gaps. My coaching can help you master it in the shortest time possible. You can book a paid phone coaching session with me personally by CLICKING HERE.) Is she worth the heartbreak all over again? (Women like this help you build emotional muscle and strength. You're going to need it when you start dating a supermodel or other ultra high status and successful women.) Sometimes, I hope their relationship doesn't work out again and she comes crawling back. (If I was a betting man, there's a good chance she'll be back. However, you never know. That is why you must move forward with OTHER WOMEN.) Other times, I just want to completely forget about her and never know what is going on in her life. (You simply want the pain to go away. "Pain is just weakness leaving the body!" ~ Thousands of Drill Instructors. She taught you that your pickup/dating/relationship game needs some work. The good news is you are filling in those knowledge gaps now.)

Thank you, Jayden
Get the Book "How To Be A 3% Man"
How to Be a 3% Man
Audiobook | FREE*
How to Be a 3% Man
Audiobook | $19.95
How to Be a 3% Man
Audiobook | $19.95
*Free with a new Audible.com membership *Amazon and the Amazon logo are trademarks of Amazon.com, Inc. or its affiliates.
How to Be a 3% Man
Kindle eBook | $9.99
How to Be a 3% Man
iBooks eBook | $9.99
How to Be a 3% Man
Lulu eBook | $9.99
*Amazon and the Amazon logo are trademarks of Amazon.com, Inc. or its affiliates.
How to Be a 3% Man
Paperback | $29.99
How to Be a 3% Man
Hardcover | $49.99
How to Be a 3% Man
Paperback | $29.99
How to Be a 3% Man
Hardcover | $49.99
*Amazon and the Amazon logo are trademarks of Amazon.com, Inc. or its affiliates.
Get the Book "Mastering Yourself"
Mastering Yourself
Audiobook | FREE*
Mastering Yourself
Audiobook | $24.95
Mastering Yourself
Audiobook | $24.95
*Free with a new Audible.com membership *Amazon and the Amazon logo are trademarks of Amazon.com, Inc. or its affiliates.
Mastering Yourself
Kindle eBook | $9.99
Mastering Yourself
iBooks eBook | $9.99
Mastering Yourself
Lulu eBook | $9.99
*Amazon and the Amazon logo are trademarks of Amazon.com, Inc. or its affiliates.
Mastering Yourself
Paperback | $49.99
Mastering Yourself
Hardcover | $99.99
Mastering Yourself
Paperback | $49.99
Mastering Yourself
Hardcover | $99.99
*Amazon and the Amazon logo are trademarks of Amazon.com, Inc. or its affiliates.
Coach Corey Wayne Merchandise
If you have a question you would like me to consider answering in a future Video Coaching Newsletter, you can send it
(3-4 paragraphs/500 words max)
to this email address:
Questions@UnderstandingRelationships.com
If you feel I have added value to your life, you can show your appreciation by doing one of the following three things:
Make a donation to my work by clicking here to donate via PayPal anytime you feel I have added significant value to your life. You tip your favorite bartender, right? How about a buck... $2... $3... $5... $10... $20... what ever YOU feel its worth, every time you feel I have given you a good tip, new knowledge or helpful insight. Please feel free to donate any amount you think is equal to the value you received from my eBook & Home Study Course (audio lessons), articles, videos, emails, newsletters, etc.
Referring your friends and family to this website so they can start learning and improving their dating and relationship life, happiness, balance and overall success in every area of their lives too!
Purchase a phone/Skype (audio only) coaching session for yourself or a friend by clicking here. Download the Amazon.com Kindle version of my book to your Kindle, Smartphone, Mac or PC for only $9.99 by clicking here. Get the iBook version for $9.99 from the iBookstore by clicking here. Get the Audio Book for FREE $0.00 with an Audible.com membership by clicking here or buy it for $19.95 at Amazon.com by clicking here. Get the iTunes Audio Book for $19.95 by clicking here. That way, you'll always have it with you to reference when you need it most. Thank you for reading this message!
From my heart to yours,

Corey Wayne
Author, Speaker, Peak Performance Coach, Entrepreneur
"We shall not cease from exploration, and the end of our exploring will be to arrive where we started and know the place for the first time." ~ TS Elliott