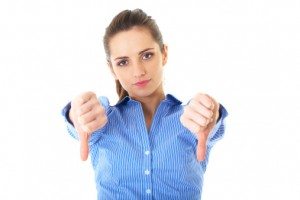 If you want to be more successful dating women who have a high level of interest in you, then you must learn to understand the signals of low interest. If you do not, you risk going out and spending your money on dates with women who have no romantic interest in you.
There are women who will go out on dates with you even though they know that you have no chance with them. Why? Because in her mind it's better than staying home and looking at the four walls. Besides, you may have a friend that she likes or she may meet somebody else when she is out with you.
As I say in my book, women must have at least 51% interest level in you to start with, or you have absolutely no chance with her at all. The lower a woman's level of interest is in you to start, the fewer things you can do wrong before you lower your level of interest below the 51% and then you're out! The higher a woman's level of interest is in you to start out with, say 80% for example, the more things you can do wrong before you turn her off completely and she rejects you. That's why I constantly say that you need to learn the material in my book so well that you could literally give a seminar on it. That is the only way you will be able to do the right thing most of the time in your interactions with women. Its called… being prepared. Otherwise, you're going to be making unnecessary mistakes and blowing your chances with really hot women you could have had.
The following is an e-mail I got from a reader who states that he has no problem approaching women or asking for phone numbers. He has a chance with a really hot woman who initially told him she was not interested in dating, but she took his number and he forgot about her. Then out of the blue, a month later, she sent him an e-mail. They made a date, but she broke it. He wants to know why. If he had known the material in my book better, he probably could have had her. My comments are (in bold brackets like this) in the body of his e-mail:
Hey Corey,

This is an email describing the events of how I got a woman's number at the end…. a first for me.

First and foremost, I like your videos and the site which probably gets you a lot of women. I almost feel that's why you started the site (I love helping people. I am a coach. Its what I do for a living. Besides, I prefer meeting women in person. When you understand women, meeting them anytime, anyplace and anywhere is just a daily occurrence. Women are naturally drawn to dominant alpha males. They can sense and feel their strong masculine presence.)

Anyway, honestly I have always been pretty good with women. Whenever I walk up to a woman and make a real effort of talking to her, I almost never walk away empty handed. I once walked up to a woman who was waiting for a train, because she was beautiful. I got her number and we talked for about a half hour. Then we had an on and off thing for about 6 months. Just the other day I approached a woman while we were waiting for the rain to stop, got her number too. Just to give you an idea that I will approach a woman if I like what I see no matter what. Almost always, I'll either have her phone number or we will be linked up on Facebook. Of course I prefer a phone number, but sometimes giving a woman space, being patient and not too pushy will work in your favor so it's a wait and see approach. Obviously, a woman who doesn't give you her phone number automatically has a lower interest, but whatever…

Anyway, the following I wanna share with you: About two months ago we had a big project to finish at work, so outside help was brought in. Among them was was a woman I was drawn to. At the end of the day, after chit chatting the whole time, I asked her if she'll be back sometime in the future (mistake, you should have simply invited her to meet you out for a drink. When you ask when she is going to be back, you are communicating you like her, but don't have the confidence to be direct and ask her out. This will lower her perception of your status as being successful with women. Confident men go for what they want without beating around the bush or asking if she has a boyfriend first). She said that she might come back the next day if I was worried that we wouldn't be finished in time. I said very straight forward that that was not the reason I asked the question. She said that she didn't know her own number (translation… I have low interest in you so I'm not going to give you my number), because it was new but I could Facebook her…. Of course this is already a red flag (yep) since there is about a million ways to handle this problem, but it was pretty clear that this was BS. So I didn't push the issue much more. However, she did have to assist me then and there with finding her on Facebook because she has a very common name. I also gave her my phone number so she could do whatever she wanted (good idea). In other words: everything was up to her… can't do anything about that. After she left I felt that I would never ever hear from this girl again… Of course it's not a great feeling (you should have been direct and invited her to meet for a cup of coffee because you find her fascinating, but instead you communicated you were unsure about yourself the way you beat around the bush and confused her. Not being direct to a woman is interpreted by her that you are weak and not very confident in your ability to get a woman of her quality), but whatever at least I really tried…

Then one week past, then another and another…. I had almost forgotten about her until about a month later I get a pretty long explanation letter on Facebook why it's just not the right time and that she wants to finish studying and then leave for Spain to sort of start a new life…. in her words: new people, new city… It's basically all a bunch of typical woman stuff. Like I said before, the letter was pretty long for not being interested and she stated that she was smitten from my approach at the firm and she feels that her not getting in contact with me at all would have been rude.

I was quite surprised by this long letter since she didn't have to get in contact with me at all (true). I wasn't mad or disappointed that she didn't contact me, after all people are free to do what they want on this earth. Especially a month after I already made my peace with it she takes the time to write a letter…. that impressed me a great deal, so I wrote back that I would still very much like to see her, because I value her character a great deal, which is the truth.

She didn't answer my letter (she was congruent with what she said). Another month went by and then by coincidence I saw her on facebook chat. I felt like chatting with her, but I didn't since she didn't seem to be interested anyway and I didn't want to waste my time. Then a few days went by and she was on chat again. This time, for some reason, I wrote her a friendly "Hi" and I cut to the chase very quickly asking her if she had a bf (mistake, never ask if she has a boyfriend. She could be ready to do him in if the right guy came along. You were not paying attention to the signs of low interest and her communicating her lack of wanting to go out with you). She said no, but also said that she just liked working towards a goal right now and found it very motivating and liberating not to have to deal with all that stuff… I actually understood what she was saying and I respected what she said since she sounded sincere, but now I was involved for some reason and send 2 more little messages to her inbox. She responded two days later and said that she was fine without a guy for now,…. however, and these are her words"…. although someone who is this persistent actually truly deserves a drink with me, but not this coming week, the beginning week after next would be good" (translation… even though my interest in you is really low, maybe I will meet you for a drink).

She contacted me on Facebook via mail on Tuesday, remember, I don't have her number, and suggested Friday or Saturday evening whilst apologizing that she wasn't going to be able to see me at the beginning of the week as she promised (another sign of low interest. Women help you when they like you. They are eager to see you and make plans when they have a high level of interest in you). Then she send a separate email: "or Wednesday evening, tomorrow?" I said no to Wednesday and Friday, since I had plans and settled on Saturday evening. So in 3 days we would go out on a date.

So Saturday approached and I get a text (now I have her phone number) 2 hours before stating that: " Hi, I now it's impolite to cancel this short notice, but I worked most of the night and had a lot to do today…. all I wanna do now is sleep"

I responded in asking: "and this means what exactly?"

She texts: "I am canceling for today"
Me: "Yes I got that, and what now?"
Her: "Alternate date: Thursday or after the ****** convention" (this is where you fucked up, she offered a counter-offer or another day to go out. If you knew my book better you would have picked up on this)
Me: "Well, there is no use in it if you don't want to…. too bad I guess, well see ya around" (you just communicated… this kind of thing happens to me all of the time. Women I like don't like me. I am not very successful with women. You are rejecting me like all the rest did. You completely missed her counter-offer because of your limiting belief)

That was the end of it. I felt like asking her what her deal is (you acted weak too many times with her. You made too many mistakes with a woman who had real low interest in you to start out with and you blew it), because it's obvious to me that something is very off (you don't know the material in my book well enough), but this mission would go nowhere and is completely pointless. I am a writer (German not American) so motivations and motives interest me a great deal, but this is just one of the strangest things ever to me. It seems to me that she really wishes that she were ready for something, even though it's just a meaningless date (you are rationalizing. You did not know what to do in some key situations and therefore did the wrong things and misinterpreted the situation). The way it all fells is as if she just had a long term relationship go to shit and is a little scared and now only wants to focus on herself. To me that's all just stuff women say and doesn't really mean anything. Just the fact that she couldn't stick to saying no and her responding to my mails and everything is puzzling to me. I mean women hardly ever say yes to anything, but a woman who really doesn't want anything to do with you just ignores you to the fullest and then you make your peace with it, which I did in the beginning (you simply were not prepared to handle a beautiful woman who had low interest in you).

I wasn't needy or gave her a million compliments or anything that beginners would do (good job, but it does not matter. You still did too many other things wrong)…. all I said was that she was a nice person and that it would be a shame if we didn't at least have ONE drink… one drink never killed anyone, well I guess that's not really true (she probably would have gone out with you if you had handled the situation properly by learning my book).

Of course she did say from the beginning that she was fine on her own, but since I hate being told NO, I tried anyway (you went after what you wanted with confidence and persistence, however, you were driving blind because you were unprepared). Do you have any insight on what on earth happened here? (you did great by going after her. Your approach was incorrect. Re-read my book until you know it all to the point you could give a seminar on it. Then the next time you meet a woman in this situation you will be direct, ask her out on the spot and get the date… and later… get laid. Repetition is the mother of skill. You learned something with this woman. Be grateful for the lesson she has given you).

Also, her not giving me her phone number for all this time only to cancel with a text. Most people get phone numbers at the beginning, I got this one at the end, Ha-ha. I am just incredibly confused (awesome, being confused means you're about to learn something. You should have by now), but I guess she may just not know what she wants.

Jeff
Get the Book "How To Be A 3% Man"
How to Be a 3% Man
Audiobook | FREE*
How to Be a 3% Man
Audiobook | $19.95
How to Be a 3% Man
Audiobook | $19.95
*Free with a new Audible.com membership *Amazon and the Amazon logo are trademarks of Amazon.com, Inc. or its affiliates.
How to Be a 3% Man
Kindle eBook | $9.99
How to Be a 3% Man
iBooks eBook | $9.99
How to Be a 3% Man
Lulu eBook | $9.99
*Amazon and the Amazon logo are trademarks of Amazon.com, Inc. or its affiliates.
How to Be a 3% Man
Paperback | $29.99
How to Be a 3% Man
Hardcover | $49.99
How to Be a 3% Man
Paperback | $29.99
How to Be a 3% Man
Hardcover | $49.99
*Amazon and the Amazon logo are trademarks of Amazon.com, Inc. or its affiliates.
Get the Book "Mastering Yourself"
Mastering Yourself
Audiobook | FREE*
Mastering Yourself
Audiobook | $24.95
Mastering Yourself
Audiobook | $24.95
*Free with a new Audible.com membership *Amazon and the Amazon logo are trademarks of Amazon.com, Inc. or its affiliates.
Mastering Yourself
Kindle eBook | $9.99
Mastering Yourself
iBooks eBook | $9.99
Mastering Yourself
Lulu eBook | $9.99
*Amazon and the Amazon logo are trademarks of Amazon.com, Inc. or its affiliates.
Mastering Yourself
Paperback | $49.99
Mastering Yourself
Hardcover | $99.99
Mastering Yourself
Paperback | $49.99
Mastering Yourself
Hardcover | $99.99
*Amazon and the Amazon logo are trademarks of Amazon.com, Inc. or its affiliates.
Coach Corey Wayne Merchandise
If you have a question you would like me to consider answering in a future Video Coaching Newsletter, you can send it
(3-4 paragraphs/500 words max)
to this email address:
Questions@UnderstandingRelationships.com
If you feel I have added value to your life, you can show your appreciation by doing one of the following three things:
Make a donation to my work by clicking here to donate via PayPal anytime you feel I have added significant value to your life. You tip your favorite bartender, right? How about a buck... $2... $3... $5... $10... $20... what ever YOU feel its worth, every time you feel I have given you a good tip, new knowledge or helpful insight. Please feel free to donate any amount you think is equal to the value you received from my eBook & Home Study Course (audio lessons), articles, videos, emails, newsletters, etc.
Referring your friends and family to this website so they can start learning and improving their dating and relationship life, happiness, balance and overall success in every area of their lives too!
Purchase a phone/Skype (audio only) coaching session for yourself or a friend by clicking here. Download the Amazon.com Kindle version of my book to your Kindle, Smartphone, Mac or PC for only $9.99 by clicking here. Get the iBook version for $9.99 from the iBookstore by clicking here. Get the Audio Book for FREE $0.00 with an Audible.com membership by clicking here or buy it for $19.95 at Amazon.com by clicking here. Get the iTunes Audio Book for $19.95 by clicking here. That way, you'll always have it with you to reference when you need it most. Thank you for reading this message!
From my heart to yours,

Corey Wayne
Author, Speaker, Peak Performance Coach, Entrepreneur
"Pain is temporary, may last a min, an hour, a day or year, but it will subside. But if I QUIT, that lasts forever. So I keep fighting."-Tony McDaniel