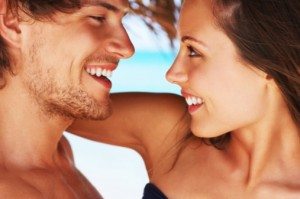 Here's how you can become more interesting to women in order to raise their level of interest and sexual attraction to you. A lot of guys who write me and new clients who I've just started coaching want to know what to say to women. How to tell great stories so women find them interesting and attractive.
Well, if you've read my book then you know that you must make sure that women do 70 to 80% of the talking by asking questions. However, there are going to be moments in your conversations and interactions with women where she is going to run out of things to say and you do not want to continually ask questions because you don't want to come off as seeming like you are interrogating her.
So when the conversation starts to die and you're having trouble coming up with things to ask her about, you should have some interesting stories or fascinating topics you can share with her. Well, in order to have interesting things to talk about, you need to learn about them first. When was the last time you read a book on some random fascinating subject? I read all of the time. I'm obsessed with learning. I learn about life and the best techniques and doctors to follow so I can always stay at a high level of success in all areas of my life. I read about history, health, biographies, military history, business, leadership, peak performance, American history, self-help, world history, news and current events, UFOs, ancient history, technology, etc.
So if you and I were meeting for the first time, I could blow your mind with information you have never heard before about subjects that are of interest to you. I know a lot about a lot of different fascinating subjects because I constantly read about them. I wrote an article yesterday about the real cause of the Arab Spring and where this wave of peaceful revolution is going. That's a current event that has been in the news a lot lately. If you simply read that article you would be able to talk about that in a way very few people know about. My article what is money really is another fascinating subject to learn about. Can you imagine being able to give all of the correct answers of how the worlds financial system works and why its broken next time people are talking about the national debt, federal reserve bank, economy, creating wealth, etc.? That's powerful. Leaders know things that most people don't. That is why everyone listens to them.
As I have stated many times, learning to understand women and the psychology of how they think and what they emotionally respond to, and experiencing what that feels like in your own life, will completely change the way you interact with and read other human beings. Becoming more successful with women will make your sensory acuity hyperactive and hypersensitive. You will not look at politicians the same anymore, or any other world leaders for that matter. You will see right through their bullshit and feel when they are lying to you and being incongruent with what they are saying. To me that is fascinating! This new ability of heightened sensory acuity and understanding of human relationships and interactions can give you the upper hand in all of your human interactions, sales calls, meetings, job interviews, dating, relationships, parenting, etc.
Here are a few of the fascinating topics you can learn about from some of the fascinating authors that I mentioned in the YouTube video above…
RECOMMENDED PRODUCTS
"Success is a by-product of doing something you like, and doing it really well."-Herb Kelleher, founder of Southwest Airlines