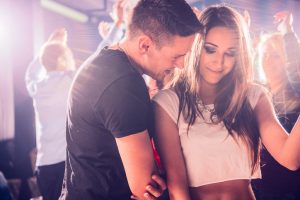 You should never hit on or try to steal a girl from another guy. In other words… never mow another man's lawn. How would you feel if some guy was trying to rip-off your girlfriend?
Here's an email question I got recently from a guy who is contemplating just that. My comments are in (bold brackets like this):
Hi Corey,

Nice story you sent today.

I am 56 and have the hots for this 23 yr old yet she has had a boyfriend only for about 2 years. She has no idea how much I like her or I the fact I want to date her (women care only about their interest level in you, not yours in them). She seems happy where she is, working min wage at a restaurant (that's what a lot of people her age do). Yet I have been there and done that and know she isn't happy with her job, if I only knew if she was happy with boyfriend or not, I would make a move.
 
She has a great taste for clothes that show off her perfect "10" figure.
 
I am okay thanks to my wonderful business and could really offer her a lot yet don't want that in the picture (then why did you bring it up?). I want her to want me for who I am, not for what I have.
 
Do I make a move? (she's taken) or
 
Do I let her know how I feel about her? (she's unavailable) or
 
Do I wait & see what time provides? Destiny? (hit on women who are available)
 
Thanks
 
Tom
It appears you are projecting your own sky-high interest level onto this waitress and not paying any attention to the fact she has a boyfriend, and is therefore… not available. In my article "Do You Bullshit Yourself?" I talk about another guy who is doing something similar to you. Going into the same restaurant over and over, spending his money and then not asking the waitress he likes for her number. You on the other hand, are going back to the same waitress over and over who you know is not available, and engaging in this mental circle-jerk with yourself.
You are allowing yourself to get caught up in a fantasy with this unavailable waitress. Going back week after week. When you are not there you are thinking about her. Meanwhile, as the days, weeks and months tick by of your life, you ignore and block out all of the thousands of available single women you could be interacting with and dating.
Its comfortable. Easy. You don't have to risk rejection with other women. Instead you avoid getting out and living life by getting caught up in this fantasy with an unavailable girl. Its a good way to avoid a relationship, working on becoming a better and more successful man, being rejected and having to participate in life. You are a spectator of life.
Life is NOT A SPECTATOR SPORT! It requires your participation. Read my book "How To Be A 3% Man", and apply what it teaches. Its FREE. You have no excuses for not improving your situation. You have to participate in your own rescue.
That's why my client is getting the successes he is getting. He applies what I teach, he pays me to coach him, he gets better and continues to succeed. He still makes mistakes, but he is getting better… quickly. That could be YOU!
"The first person gets the oyster, the second gets the shell."-Andrew Carnegie