How to get out of and prevent from being permanently friend-zoned when you meet someone who knocks your socks off romantically.
In this video coaching newsletter, I discuss two different emails from two different viewers. The first email is a success story update from a guy whose previous attempts to get out of friend-zone were discussed and chronicled in my video coaching newsletters titled, "Friend-Zoned," (2nd email discussed in video), and "We Project What's Inside Of Us," (1st email discussed in video). The awesome thing is, he is now her boyfriend after all of her friends were adamant that he had no chance with her. Her friends still can't believe or understand how they are now a couple. He's now read my book nine times.
The second email is a YouTube comment posted from a guy who fumbled the football trying to get out of friend-zone, because he did not take the time to learn the fundamentals of what my book teaches. He just found out that the woman he wanted is now pregnant and very happy with another man. He details where he went wrong and what he should have done differently. He is in emotional agony right now, but hopes that others will learn from his mistakes and learn the fundamentals, so they don't end up staying stuck permanently in friend-zone and losing the girl to another man. My comments are in (bold parenthesis like this below) in the bodies of their emails.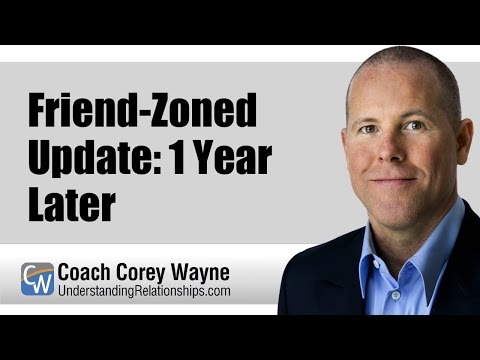 First Viewer's Email:

Hello Mr. Wayne,

I just watched your newsletter on the topic of being friend-zoned and no contact. ("Let's Be Friends & No Contact.") You did coach me for a little over a year about one year ago and did two YouTube videos on my case, ("Friend-Zoned," and "We Project What's Inside Of Us") in which I finally made some progress with my female best friend. So after watching your latest newsletter this afternoon, I thought maybe you and your followers are interested in the guy that took over one year to stand up for himself and tell a girl that he was not interested in just being friends.

Photo by iStock.com/anyaberkut

Last year in March, I told you that I was finally able to sleep with the girl that friend zoned me, but I had to go back to the United States to finish my studies. That part was covered in the previous videos. We kept in touch during my time away, and when I finally moved back to my hometown, the place where she also lives, in May, things started to progress further.I've got to be honest, it wasn't always easy, and even sometimes today I have some limiting believes and self doubt, but in the end, I still followed what you teach for about 80-90% of the time, and the frequency of us seeing each other started to increase after I returned. We were not exclusive at that time and were just dating and hooking up. She never had a committed relationship in her life, and I was not pushing things, at least not to the point where I would turn her off. (That tells me you were still focused on that, but it worked out obviously.)

Fast-forward to today, I can say that we finally became a couple at the end of last year. That took so long, because of me not doing everything right and her being abroad for some time as well, (It sounds like you two were kind of back and forth between being long distance and being together. It's understandable), and we are still very happy together. She wants to see me nearly every night and texts me every day. She also had many "first times" with me, and I enjoy every moment I get to spend with her. (That's what it's all about, enjoying your life. It's called being self-reliant, creating your own fucking masterpiece, a life that is pleasing to you and nobody else. Because if you aren't happy with your life, nobody else is going to be happy in your life. That's why it's so important to make yourself happy.)

Photo by iStock.com/AntonioGuillem

Even though we are now dating over one year, I am still very excited about the relationship and her as a woman, and I would do anything for her. Not because I feel obligated to do so or I'm trying to impress her, but because I want to create the greatest time of her life for her and just give. (Well, that's the whole purpose of a relationship. You go there to give. That includes your friendships, your clients and your family.)Sometimes I take some time to appreciate what I've got and remember how things used to be just to realize how far I have come. When I wrote my first email to you, I was such a mess in terms of women, and deep down I never believed that I could have something romantic with the girl I am now in a relationship with.

Like I described in an earlier email to you, even some of my and her friends told me that this was never going to happen. (Those dudes and those girls were telling you their story, not yours, and those are not the kinds of friends you really want to have in your circle. The quality of your life is in direct proportion to the quality of people you consistently spend your time with. When you've got people like that trying to fucking sandbag you, it makes it a lot harder to succeed in life.)

I met some of them recently, and they told me they heard we were a couple now and they could not believe it. I just smiled and told them that I did not know what they were talking about, and that I never had any doubt it would be like this, which of course is not what really happened, because it was not too long ago that I shared that same thought. (But hey, you're on your way to being a 3% man dude. Good job. Outstanding. I'm proud of you bro. It makes all of the struggle the whole fucking year it took to get there worth it.)

Photo by iStock.com/BraunS

Things have changed so much, and me being the guy that got introduced to her family as her first boyfriend feels so amazing. It isn't so much being her boyfriend, but feeling like I have evolved as a person and knowing that I was good enough.I can't thank you enough for showing me a way to become a better version of myself and finally get to experience something like this. (Dude, this is your fucking birthright. You are supposed to be awesome. Live your truth and create your own masterpiece.) I am currently following one of your career advices, working for a company without getting paid to acquire new skills and further improve myself. (Being successful in your career or your business is all about becoming a person of value. The more value you can add, the more valuable you become to a company, a business or your clients. Therefore, the more you can make.)

On the way to and from work I started listening to audiobooks frequently, which I am now a big fan of as well. (Instead of listening to music and flipping through your iPhone, looking at pictures and other nonsense on the internet, you should be filling your mind up with good stuff from good people. If you're looking for good recommendations, go to my wesite and click the Products tab. I have a whole list of books and products on there that will help you.)

What I just noticed in the last weeks is that people and women are much more attracted to me than they were a few years ago. (That inner alpha is coming out dude. People don't see that very often. That's why it scares so many people.) Just last week I met a girl on the train I used to know from school. Back then, maybe 4 or 5 years ago, I wanted to date her and really screwed up, so she wouldn't return my texts or calls. She ended up texting me the day after we ran into each other to see what I was up to and how funny it was that she ran into me. (Funny how that works. Act like a man, and women like that. They reward you with their attention and putting themselves into your orbit.)

Photo by iStock.com/nd3000

If I wasn't in a relationship, I would have used that opportunity to set a date, but with me being madly in love with the women of my dreams, I didn't. (That's because you're loyal and faithful. Good fucking job dude.) Still, it was another great victory for me. (You bet your fucking ass.)Maybe you can share some final thoughts with me why sometimes I still have a problem thinking about my girlfriend's ex-hookups, and how I can overcome it. (Time and repetition dude. Listen to that voice, pay attention, be observant and look at your girl's actions, because you can be the best boyfriend in the world, but if you're with a liar and a cheater who places no value on loyalty, communication and commitment, she's going to cheat, and there's not a fucking thing you can do about it. You might as well be your best, because all you have control over is what you do and how you show up. The rest is up to her.)

Is it because deep down I still compare myself to them and wonder if I am better, in bed and overall? (Since you wrote that down, I think you already know the answer to that question, but that's normal. It's going to take time. It's only been a year. You're always going to have doubts, no matter what you do in life. Over time, the more successes you have, the successes outweigh the failures. And this is a new experience.

If you had grown up in a happy, healthy, loving family, where you got plenty of strokes as a kid from your parents, where they told you they were proud of you and they built you up, you would normally think like this. But with your background and my background, we didn't have these experiences, so we had to figure this shit out on our own. This is what makes you a leader, because you learn this stuff, and your struggles are what make you awesome, polished and a great man. Everything that happened happened for a reason, and it couldn't have happened any other way.)

Photo by iStock.com/Kritchanut

Corey, thank you again, and I will definitely keep rereading your book in the future. (I care about making a difference in the world. I want the world to become a much better, much safer, more loving, more peaceful place. Every single person that becomes like you, becomes a leader in their community. And the more peaceful, balanced and relaxed you are, you bring that vibration to your community. It's a higher vibration of being and living in life, and therefore other people around you will entrain to your vibration, because you make them feel good just by being around you.) I have read it about 9 times so far. (Great success story. Nice job.)I am so happy for all the joy and wealth that comes your way, and I wish you the best future possible, as you sure made it happen for me. (As Zig Ziglar said, "You can get everything in life you want if you will just help enough other people get what they want.")

All the best,

Bob

Second Viewer's YouTube comment:

Photo by iStock.com/Fentino

I should have listened to Corey Wayne. I cannot say this enough. Buy the book and read it 10-15 times. I didn't master the fundamentals, and I misapplied the principles. It turned out predictably bad for me. Instead of getting the girl of my dreams after being patient for 1 year while she had a boyfriend, (Don't fucking do that. It's a bad way to go. Life your life, enjoy your experiences, extend the invitation, tell the girl "Hey if it doesn't work out, take my number and get in touch," and see where it goes), I fumbled the football just when playing it cool was paying off after all that time. (You were looking for shortcuts, trying to cherry pick. I say it all the time, don't do that.) Fast forward two years later, and I still haven't been applying all the principles in the book.I just found out she is pregnant by her modelesque looking boyfriend that I have been waiting for her to dump. (A real man waits on no woman. He's too valuable.) This girl is the good looking girl, perfect 10, actress/model looks, who cooks and cleans, is good with money, independent, owns her own home, and she DIDN'T have any kids. Not going to be so anymore. She has one on the way, she is 16 weeks. She is so fit, she isn't even showing yet. Soon though. She probably hasn't told me, because girls are sensitive to hurting guys' feelings. (Yep. You definitely have learned a lot, but you haven't learned everything you needed to know. That's why you're sitting on the sidelines watching some dude knock your dream girl up.) It could be that she doesn't want things to change between us either. (She'd probably still like to have you as a backup. Don't wait for nobody. As Steve McQueen said, "I live for myself and I answer to nobody.")

I know she likes me a lot as a person and I feel the same about her. I know if she were to have become available, she would have said something, since I asked her to let me know, like Corey says to. But I did it too late man… should have done that before she broke up with the first boyfriend.

Honestly, great for her though, crappy for me. I do want to be friends, not to someday get her, but because she is cool, she gives me a lot of social proof and her friends are really great girls too. (C'mon man. You're going to be okay and be around her, just being friends when you want to get in there?) Thing is, I could have avoided all of this easily.

Photo by iStock.com/AntonioGuillem

Corey warns us how are we going to feel when the girl you've been waiting on gets pregnant/engaged/married. (Some people are hard-headed. I was once like this too, but I got over it.) He tells us what to say if we want to date a girl when they become available, so they can let you know they are available. He also teaches how to read the subtle signals and the not so subtle ones.I didn't listen to Corey Wayne. I didn't fucking listen. (It sucks dude. I've been there. I know what it feels like.) Now I pay the price. It doesn't feel good guys. I fucked up by pulling back at the wrong time when I thought it was time to chase. I am on read number 2 with a highlighter. (Better late than never dude.) After this, 8-13 more times to go. This month. Never again, never fucking again. I am going to get the next girl of my dreams, and I am not going to fumble the ball at the one-yard line next time. (Good job dude. I know it was fucking painful to share that, but at least you had the balls to be humble and say, "I fucked up. Don't be like me." Listen to that shave-headed bastard and do what he says.)

Bob
Get the Book "How To Be A 3% Man"
How to Be a 3% Man
Audiobook | FREE**
How to Be a 3% Man
Audiobook | $19.95
How to Be a 3% Man
Audiobook | $19.95
*Amazon and the Amazon logo are trademarks of Amazon.com, Inc. or its affiliates. As an Amazon Associate I earn from qualifying purchases. **Free with a new Audible.com membership
How to Be a 3% Man
Kindle eBook | $9.99
How to Be a 3% Man
iBooks eBook | $9.99
How to Be a 3% Man
Lulu eBook | $9.99
*Amazon and the Amazon logo are trademarks of Amazon.com, Inc. or its affiliates. As an Amazon Associate I earn from qualifying purchases.
How to Be a 3% Man
Paperback | $29.99
How to Be a 3% Man
Hardcover | $49.99
How to Be a 3% Man
Paperback | $29.99
How to Be a 3% Man
Hardcover | $49.99
*Amazon and the Amazon logo are trademarks of Amazon.com, Inc. or its affiliates. As an Amazon Associate I earn from qualifying purchases.
Get the Book "Mastering Yourself"
Mastering Yourself
Audiobook | FREE**
Mastering Yourself
Audiobook | $24.95
Mastering Yourself
Audiobook | $24.95
*Amazon and the Amazon logo are trademarks of Amazon.com, Inc. or its affiliates. As an Amazon Associate I earn from qualifying purchases. **Free with a new Audible.com membership
Mastering Yourself
Kindle eBook | $9.99
Mastering Yourself
iBooks eBook | $9.99
Mastering Yourself
Lulu eBook | $9.99
*Amazon and the Amazon logo are trademarks of Amazon.com, Inc. or its affiliates. As an Amazon Associate I earn from qualifying purchases.
Mastering Yourself
Paperback | $49.99
Mastering Yourself
Hardcover | $99.99
Mastering Yourself
Paperback | $49.99
Mastering Yourself
Hardcover | $99.99
*Amazon and the Amazon logo are trademarks of Amazon.com, Inc. or its affiliates. As an Amazon Associate I earn from qualifying purchases.
Coach Corey Wayne Merchandise
If you have a question you would like me to consider answering in a future Video Coaching Newsletter, you can send it (3-4 paragraphs/500 words max) to this email address: Questions@UnderstandingRelationships.com
If you feel I have added value to your life, you can show your appreciation by doing one of the following three things:
Make a donation to my work by clicking here to donate via PayPal anytime you feel I have added significant value to your life. You tip your favorite bartender, right? How about a buck... $2... $3... $5... $10... $20... what ever YOU feel its worth, every time you feel I have given you a good tip, new knowledge or helpful insight. Please feel free to donate any amount you think is equal to the value you received from my eBook & Home Study Course (audio lessons), articles, videos, emails, newsletters, etc.
Referring your friends and family to this website so they can start learning and improving their dating and relationship life, happiness, balance and overall success in every area of their lives too!
Purchase a phone/Skype (audio only) coaching session for yourself or a friend by clicking here. Download the Amazon.com Kindle version of my book to your Kindle, Smartphone, Mac or PC for only $9.99 by clicking here. Get the iBook version for $9.99 from the iBookstore by clicking here. Get the Audio Book for FREE $0.00 with an Audible.com membership by clicking here or buy it for $19.95 at Amazon.com by clicking here. Get the iTunes Audio Book for $19.95 by clicking here. That way, you'll always have it with you to reference when you need it most. Thank you for reading this message!
From my heart to yours,

Corey Wayne
Author, Speaker, Peak Performance Coach, Entrepreneur
"You don't get what you deserve in life. You only get what you prepare for. Successful people expect to succeed someday. They prepare ahead of time by learning success principles, strategies and mindsets from those who already have the results they want in their own lives. Unsuccessful people talk about what they will do in the future, but when it comes to taking action to prepare in the present moment, they only have excuses and do nothing. When their opportunity comes, it simply passes them by, because they are unprepared and too scared to do what's necessary to capitalize upon opportunities when they unexpectedly show up. Confidence and competence comes as a result of practicing what you are not good at initially, but what becomes easy over time, due to successful repetitions and being undeterred by failures. Successful people look at failures as a necessary step and prerequisite for success, not a permanent state of being." ~ Coach Corey Wayne
Click Anywhere on Today's Instagram Image Below & You'll Be Taken To My Instagram Page. When you get to my Instagram page, click the "Follow" Button so you can follow me on Instagram. I upload several new Instagram photos per week.
Photo by iStock.com/Cecilie_Arcurs