When and how men should pursue women to create and grow attraction that leads to successful dating and relationships.
In this video coaching newsletter, I discuss three different emails from three different viewers. The first email is from a guy who had a good first date with a woman, but details how he blew it shortly thereafter by over pursuing and mishandling the texting. The second email is from a guy who did not pursue enough and got dumped for being a cold fish.
The third email is a success story from a guy who meets and dates women effortlessly after learning and properly applying what my book teaches about pickup, dating and relationships. These are three great emails that detail the subtle differences between pursuing too much, too little and just the right amount that leads to consistent success. My comments are in bold italics like this below in the bodies of their emails.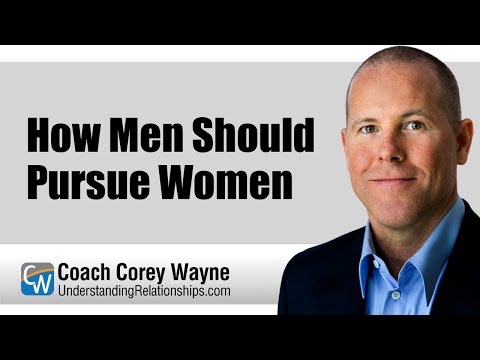 First Viewer's Email:
Hi Coach,
I thought this email would be a good testament to the continuous work required, and how the even the smallest mistake – and falling back into previous behaviors – can make things go tits up in an instant!
That's the key, because when you're applying the stuff that I talk about in my book, "How To Be A 3% Man," and you're relatively new to, or you just don't have a lot of experience dating, you're also trying to overcome your old programming and the way you've shown up in the past.
I recently had a date with a woman who matched everything on my list – 5'4", a doctor, beautiful, had a good family life and funny. We met on Bumble, and I did everything right, (and what now feels natural). After some quick chat and rapport building back and forth, I felt she was worth seeing for a drink and asked her when she was available to meet up. She told me almost immediately before giving her number over. I then told her when and where, and that was it. I felt no need to continue to chat, as I wanted to get to know her face to face, (and I'm a busy guy).
Keep in mind, this woman is a doctor. If you make an appointment with a doctor, they expect you to keep it. When you are dealing with professionals who are used to making appointments, this is a pretty common sense thing. With people who have integrity, when you make an appointment, they expect you to be there.
Five days later, and on the night of the date, she messaged me to make sure we were still on.
That obviously shows she's still interested.
I said "Yeah, of course. See you at 7:30." We met and had a great date! We had a walk followed by a drink. The date was so easy; I sat back, asked her questions and slowly but surely made her feel comfortable.
You're creating the conditions where her attraction level goes up throughout the date. And as her attraction level grows, she's naturally, physically going to move closer to you.
She began to touch my arms, laughing and had a huge smile on her face. It was effortless.
See, there's no forcing anything. It just happens. She slowly moves over and starts touching you, and then you slowly continue to reciprocate and escalate from there, versus the average guy who doesn't know any better. He's thinking, "How can I move this thing along?" But you can tell, by just having a good time and having a good date, she starts to feel safe and comfortable, and she wants to start getting all touchy and feely.
After 6 hours, I then drove her home, (after we had a dance in the street), and dropped her off. I of course went for the kiss, and she fully reciprocated. It was great!
Everything is going awesome here — perfect textbook date.
But then I made a tiny mistake, and it all went wrong, (and something for your viewers to take notice of).
The thing you've got to keep in mind, if you think about the average woman, she's probably been on countless dates with guys that were pursuing too hard, trying too much, too focused on a relationship, trying to rush things, so women are very familiar with this vibe. They're familiar with the things guys do and say that are like this. And that's why you really can't make a lot of mistakes in the beginning, because as soon as you give a woman the impression that you're the same kind of vibe as all those other overly eager, needy, insecure guys, boom! She's gone.
Women have had this experience where they've tried to get rid of those guys, and those guys don't go away so easily. That's why it doesn't take much to trigger this, and all your good work on your first date goes up in smoke.
Rather than waiting a few days to message her, let the anticipation build, let the dance and kiss we had to play on her mind or let her message me, I sent her a photo of some carrots the very next day, (an inside joke from our date).
Obviously, the tendency you're trying to overcome is the tendency to pursue too much and try to find out where you stand. So, deep down you're still worried, because you really like this girl. Now, you're naturally driven to go back into your old pattern of trying too hard to seek her approval and get her to like you, instead of taking your time.
I immediately felt weird. I knew that was not right! We exchanged some small talk, and I knew I had already made a huge error. I could sense in her messages that she was already not as excited.
Remember, she's probably had this experience many times. She has a good date, and the next day the guy is literally starting to try and act like he's her boyfriend.
I then decided to just ask her on another date for the following week and wait until then to speak to her.
You're trying to recover, but in your mind you know you really fucked up.
I asked her to come for dinner at my place, (I now realize she probably thought I just wanted in her pants).
She probably thinks, "He's just trying to get in my pants. He's just like all the rest." You're making multiple mistakes — calling too soon, and then inviting her over to your house after you just had one date. It's fine if you ended up back at your house and you hooked up, but you've got to take some time to build some rapport, so she feels comfortable.
And after initially agreeing, however, the next night I got the old, "I don't think we should see each other again. Lovely guy and we would have a great time, but I just can't see us being together" text. It stung! I knew my message the next morning and asking her out so soon had ruined it.
Too much, too soon. Patience! What's the fucking rush? But I used to be this way, so I had this experience many times in my twenties. I feel your pain.
I of course accepted and said to her I would be open to seeing her again, and if she changed her mind in the future – and I was available – to reach out. It just shows how true everything you say is, and that sitting back and letting women come to you is exactly what they want.
It's not so much what they want as, they want a guy who isn't in such an absolute rush, and who's not going to act like a creepy stalker, needy, insecure jackass, or a guy who gives off the vibe that he's just trying to get into her pants. Now, keep in mind this woman is a doctor, so she's no fucking dummy.
I am going to continue to date, and when I meet the next amazing woman who does it for me, I won't get so emotionally attached and not try and force it, despite how small the mistake seemed.
I'm on the 8th read of your book, and I watch your videos daily. It changed my life for the better, and I will email you soon when it all comes together.
Thanks,
Bob
Thanks for the email dude. That will help a lot of guys. When you feel the need to reach out the very next day, it's just way too much too soon.
Second Viewer's Email:
This guy was too much of a could fish with a woman he was dating. The idea that I talk about in "How To Be A 3% Man" is, there's pickup skills, there's dating skills and there's relationship skills, and this book covers the transition into each of them. And where this guy has basically screwed up is, he did not transition from dating into relationship. There was no intimacy. You could tell this girl really liked him. She was all in, figuring they were teammates. And by the end of it, he was still treating her like a girl he was just casually dating, fucking, and really not that into.
Hey Coach,
I might be one of your longest running subscribers / followers / coaching clients. I discovered you way back in 2011, when I was searching google for how to re-attract an extremely hot stripper I had a Summer fling with. You ended up making a video on it called "Do Strippers Make Good Playmates?"
Since then, I've become a regular reader of your book(s) (both Kindle and Audio version), and you've answered two more of my emails in video newsletters; "Dating Labels Are Unimportant" and more recently, "Why Women Prefer to Earn Your Attention." I've also hired you for phone and email coaching in that time, and based on our past interactions, I thought you might have some insight on a situation I had with a woman recently. What makes this different is everything I thought I learned from you that has always worked with women backfired on me and left me a bit puzzled and scratching my head.
This is why, pickup skills and dating skills, a lot of guys who just discontinue reading and never really grasp the relationship aspect of these skills. They're just unable to build intimacy, and therefore it doesn't last.
I met a very hot girl that is 24 from a dating app this past summer. From the very beginning, she made it extremely easy for me. It's the first time I can remember where a girl messaged me first, and after an initial flirty comment left her number and said, "call me some time!" I couldn't help but think "when the doors open, all you have to do is walk through them," and "when women like you, they help you." Anyway, needless to say we went on our first date within a week of matching on the app.
The date went effortlessly, she came back to my place after and we hooked up. I should also mention at this time, I was on an especially good roll, talking to half a dozen other women and was in a full abundance mentality, but out of all of them, this girl was the one I had the most interest in, and she was showing the most interest in me.
That's why it's so hard to do something right with somebody you really like, because, quite frankly, in the real world, it's very rare to meet a woman who you click with physically, mentally, emotionally and spiritually. If you think about it, how many super close friends do you have that you just jive with? All good relationships are very special and very fucking rare, especially when it comes to women in intimate relationships.
You can understand a guy who's mostly been doing pickup and dating, and not really getting serious with any of these girls, is never really going to have the option to practice the relationship skills. But you can see, this guy's been following me for awhile, and he gets stuck in the pickup and the dating stuff. Then, when he meets somebody he really likes, he's never really taken the time to understand the philosophy of the relationship skills outlined in the book.
She made almost 6 figures, drove a BMW, and was extremely feminine. She was doing 100% of the pursuing and even came right out and said after a few weeks, " I'm not gonna play games, I really like you and I'm not seeing anyone else."
Obviously, at that time, everything was working okay. It's her idea. She brings up being serious and being exclusive. Again, there's questions you're going to want to ask to make sure that's exactly what she wants, but something that's important when you're in an intimate, serious, exclusive, monogamous relationship — you've been dating several months and she's in love with you — is something I want to point out.
In the back of the book is "The Ten Disciplines of Love," which are great for building intimacy. But you can't use "The Ten Disciplines of Love" when you're trying to pick up a girl or you're just starting to date her, because these are things that come after you've already bonded and the intimacy has been built. So the idea is, you've got to do things in the proper sequence.
Everything was going well, and the only red flag that came up was she told me she had a past bad relationship where abuse and the cops were involved. She also told me relationships are hard for her, because she requires extra attention and can be more needy then she should. Despite my years of knowledge and studying relationships, I didn't fully clue in on this hint she gave me.
She was telling you, "I like to feel like you care."
I continued to let her do all the chasing, stayed off her social media, was slow to reply to texts, etc. I thought I was playing it just right to keep her attracted.
That's the problem. You never got beyond the techniques and the strategy. Everything was about gaming her out and getting her to react a certain way. That's the problem when you don't really understand the philosophy — when things are appropriate, and when they're not appropriate. If you're looking at every call or text and think, "Okay, I have to wait for a period of time to respond to this. I'm going to go out with her next week, and wait," it's like you got stuck in the pickup and the dating skills, and never really transitioned into relationship.
It's obvious this girl really liked you and wanted to become closer, but because you were so focused on gaming her, you were never really authentic. You never made her feel like you actually cared for her. Women with a healthy self-esteem, if you make them feel like you don't care about them enough, eventually, they will leave. I had that experience when I was still learning this stuff, and I wrote about it in my book.
And it all backfired, because she eventually got turned off after showing so much high interest and not having it ever reciprocated. I figured my setting of dates and spending a lot of time with her over 3 months was as much as I needed to do for her to know I was interested in her, but I guess I was wrong.
Well, at least you kind of figured that out, because you can't act like a cold fish. A normal woman is just not going to put up with that.
The reason this really caught me off guard is because the whole reason I sought you out all those years ago was because doing the "nice guy" things were never allowing me to keep girls more than 3 months. Since I changed my behavior and success principals with women, it always worked, but it seems with this one, she wanted that extra attention.
Well, you were supposedly in a relationship. In her eyes, you were boyfriend-girlfriend, and she was exclusive with you. But you just continued to treat her, in a sense, kind of like a fuck-buddy. Whenever she reached out, you made a date, you hooked up, and then you went back to living your life.
She wanted me to tell her I liked her, wanted me to reach out more, wanted me be on her social media.
It doesn't mean you have to do all those things, but you've got to let her know that you do care. When you're in a relationship, you have to. With a normal, healthy woman, it's not going to last the other way.
Generally, all the things that turned girls off in the past. She even said, "you never said you wanted me to be your girlfriend." It was like the 'bizzaro' world of everything I've learned from you.
So she brought up being exclusive, and you never really explored it, "Hey what do you mean? Are you saying you want to be exclusive? Do you want to be boyfriend-girlfriend? What are your thoughts?" It sounds like you just kind of brushed it aside and went back to dating as normal.
I'm sure this could just be a one-off, but I wanted to get your thought on it for future situations. She kept telling me "I didn't understand her" then she'd go MIA for a week, and come back.
More than likely, towards the end, what she was doing was purposely not calling you, because she's been talking to all her girlfriends and saying, "He never calls me. He never makes any effort. He never makes me feel like he cares. He never tells me I love you." Then she stops calling and texting, and nothing happens. Then she reaches out. And after a while of that happening, she just starts to think, "This guy just doesn't care about me."
But was always very conflicted like she couldn't understand why she was over. Or she'd call me, then be really rude and bitchy.
Remember, a rude and bitchy woman is typically a woman who feels like you don't care. That means you need to open her up and figure out what's going on. If you never took the time to open her up and go, "What's the matter? Why are you being so rude to me? Why would you talk to me like that? What's going on?" and you just put up with her being rude and bitchy, swept it under the rug, made a joke and went on to something else, you were constantly communicating to her that you didn't care.
Women have to feel safe and comfortable. When a woman feels heard and understood, the legs open, and when she doesn't the legs close. And when she's telling you you don't understand her, obviously she didn't feel heard and understood, because again, you never really took the time to have some real intimacy. You were just gaming her out.
Now it's been 3 weeks since I've seen or heard from her, and it feels like she's done for good. I'm not throwing a pity party for myself or anything. I've already started dating and hooking up with other women, but this one did bum me out, because I actually did care about her, and aside from a few issues, she seemed like a high quality, alpha female. I noticed she still creeps all my social media, but doesn't engage or comment on anything.
Anyway, keep up the great work. It's hard to believe how much you've grown since I found you in 2011!
Bob
It's been a long fucking time. Thanks for sticking with me all these years. What I would do in your particular case — you haven't heard from her in three weeks — I would definitely reach out to her. I'd call her up, see what she's doing, invite her to get together for dinner, and say, "Obviously, you've been kind of distant, and I wanted to talk. You said some things in the past, and in the past few weeks I've had some time to think. I kind of recognize I was being too cold and probably made you feel like I didn't care about you and you weren't important to me, and I apologize for doing that. It's like it didn't click. I didn't hear from you for several weeks, and now I realize what I did. I'm sorry if I hurt you. I'm sorry if I made you feel like I didn't care." And get her to talk about it. Get her to open up.
You've got to be a little warmer. There's a possibility that you'll hear from her, but I can tell you're just "Oh, I haven't heard from her, so I'm not calling her." That's not the way it's supposed to be. Like I talk about in the book, if you haven't heard from a girl in a week, you should reach out. There were several incidences where she backed off and she didn't reach out and you thought you'd just wait her out. And eventually she did reach out, but you didn't modify your behavior. So that's what was going on. You were too much of a cold fish.
There is a possibility it can be saved, but you need to reach out to her and make a date. You've got to be a little bit warmer, call her every now and then and communicate. Get her to open up and do some apologizing, because you definitely fucked up, but apologize for things that you actually did wrong, not just saying I'm sorry for the sake of saying I'm sorry. Women have to understand you know what you did to hurt them. Just saying "I'm sorry" is like trying to put a Band Aid on a gunshot wound.
Third Viewer's Email:
Damn Corey, you are spot on!!!!
I came across your work, by a YouTube recommendation 6 months ago. I saw some of your videos, and you gained my attention. I've always been liked and chased by women, but I never knew why. Why me and not my better looking guy friends? When I got your book and read it for the first time, it fucking open my eyes.
After 28 years, I finally see that I live in a world full of guys who are lost. They don't have their masculine energy in them. It's so funny seeing them trying so fucking hard to impress women, trying to prove to them and seek their approval. It's so pathetic when you read comments on social media when a woman posts a picture and guys start drooling all over her. When I'm out in public, I can now see how men start to act like little girls when a beautiful women is near them, and I just count the seconds before she picks up on that and leaves.
I started to play around a little bit, explore, just to see how women react. I would go to different events, and always, women just show up, inches away from me. They start to play with their hair a little bit, and I would just slightly move my eyes over looked at them and smile, (yes they wanted me to come over, but I really wanted to know what would they do If I wouldn't).
A few minutes later, they start to flick their hair around the place like they're crazy, just trying to get the attention. Now, I can SEE the things women do when they want you to notice them.
That's why it's so important — body language, your presence, things I talk about in my article and video, "Body Language That Attracts Women" — if you give off the right vibe, women will spot you instantly. Even when they're not looking in your direction, if you give off that vibe and that energy, they will turn around and look at you. It's really fucking cool.
Sometimes, I would move few feet away to the left, and they move to my left. Then I would move to the right, and they move to my right. I never realized that until reading your book. And almost all of the times when I'm out with my friends, women "accidentally" bump into me when there is plenty of space, and they are like "Oh, I'm sorry" and smile like a little girl when she eats your last piece of gum.
There was even one night when I said to my friends that I will count how many women would "accidentally" bump into me. Now I didn't put myself in position where they would have to bump into me just to pass by. I placed myself where I would usually be and feel comfortable being myself and enjoying my time with my friends. And there was at least 10 different women bumping into me, or I would feel her hair smacking the shit out of the back of my head. When I would turn around, she'd be there like oops, sorry. And my friends? Well, they stand there, and women just walk by like they don't exist. Now I see why. It's because the way they stand, look and act. I've tried to convince them to read your book, but they "don't have time."
How can you ever have the time if you never take the time?
When I go to the mall, I can't help myself not to look at the people, at the couples, young and older ones. And I see people in a rush, always in a flight or fight mode, couples who don't know why they are together. There is no love, you can SEE that. You really opened my eyes Corey.
In the past, I would go out with a woman and have a great time, but I wouldn't sleep with her until like 4th or 5th date, because I thought that is the gentleman's way, to wait a "period of time," even though the attraction was there. Now when I go out with a woman, the indoor Olympics are usually on a first or second date. Everything is so effortless. We go out, she talks, we go on a different locations, we're having fun, laughing and bantering, and you can just see how attraction builds up through the night, you can see how she wants to be kissed, you can see how she wants to be invited back to my place. There is nothing better in this world than to feel when you are truly desired by a woman — the way she looks at you, the way she hugs you, the way she kisses you, and the sex, oh my god, you can really feel a woman's soul.
You ain't fucking kidding dude. And you know what's really fucking cool is when you connect with a woman on a soul level, like really connect and feel that meaning and that relationship is divinely orchestrated, they will always stay in touch with you in some way, shape or form the rest of your life.
Many guys will never get this shit, because they don't understand. They have to understand and feel it, not just read your book 10-15 times, but really understand all of it, and then try it by themselves. I have also made my list of qualities that I like in a woman, and I will read your book again and again, because you cannot get tired of this shit. Plus, reading is good for your memory and focus.
Have a good life my friend, and all the best.
Bob
Thanks for that very observant email. This is what's fun. I remember when I started connecting all the dots and started learning these things, it's like you feel like you kind of have this secret decoder ring to the world. You see things that most people never even notice. And not only does it help you in your intimate relationships, but it helps you in the business world, especially when your interacting with other people, trying to size them up. It gives you an advantage that the other person has no idea even exists.
Get the Book "How To Be A 3% Man"
How to Be a 3% Man
Audiobook | FREE**
How to Be a 3% Man
Audiobook | $19.95
How to Be a 3% Man
Audiobook | $19.95
*Amazon and the Amazon logo are trademarks of Amazon.com, Inc. or its affiliates. As an Amazon Associate I earn from qualifying purchases. **Free with a new Audible.com membership
How to Be a 3% Man
Kindle eBook | $9.99
How to Be a 3% Man
iBooks eBook | $9.99
How to Be a 3% Man
Lulu eBook | $9.99
*Amazon and the Amazon logo are trademarks of Amazon.com, Inc. or its affiliates. As an Amazon Associate I earn from qualifying purchases.
How to Be a 3% Man
Paperback | $29.99
How to Be a 3% Man
Hardcover | $49.99
How to Be a 3% Man
Paperback | $29.99
How to Be a 3% Man
Hardcover | $49.99
*Amazon and the Amazon logo are trademarks of Amazon.com, Inc. or its affiliates. As an Amazon Associate I earn from qualifying purchases.
Get the Book "Mastering Yourself"
Mastering Yourself
Audiobook | FREE**
Mastering Yourself
Audiobook | $24.95
Mastering Yourself
Audiobook | $24.95
*Amazon and the Amazon logo are trademarks of Amazon.com, Inc. or its affiliates. As an Amazon Associate I earn from qualifying purchases. **Free with a new Audible.com membership
Mastering Yourself
Kindle eBook | $9.99
Mastering Yourself
iBooks eBook | $9.99
Mastering Yourself
Lulu eBook | $9.99
*Amazon and the Amazon logo are trademarks of Amazon.com, Inc. or its affiliates. As an Amazon Associate I earn from qualifying purchases.
Mastering Yourself
Paperback | $49.99
Mastering Yourself
Hardcover | $99.99
Mastering Yourself
Paperback | $49.99
Mastering Yourself
Hardcover | $99.99
*Amazon and the Amazon logo are trademarks of Amazon.com, Inc. or its affiliates. As an Amazon Associate I earn from qualifying purchases.
Get the Book "Quotes, Ruminations & Contemplations"
Quotes, Ruminations & Contemplations
Audiobook | FREE**
Quotes, Ruminations & Contemplations
Audiobook | $24.95
Quotes, Ruminations & Contemplations
Audiobook | $24.95
*Amazon and the Amazon logo are trademarks of Amazon.com, Inc. or its affiliates. As an Amazon Associate I earn from qualifying purchases. **Free with a new Audible.com membership
Quotes, Ruminations & Contemplations
Kindle eBook | $9.99
Quotes, Ruminations & Contemplations
iBooks eBook | $9.99
*Amazon and the Amazon logo are trademarks of Amazon.com, Inc. or its affiliates. As an Amazon Associate I earn from qualifying purchases.
Quotes, Ruminations & Contemplations
Paperback | $49.99
Quotes, Ruminations & Contemplations
Hardcover | $99.99
*Amazon and the Amazon logo are trademarks of Amazon.com, Inc. or its affiliates. As an Amazon Associate I earn from qualifying purchases.
Coach Corey Wayne Merchandise
T-Shirts & Mugs
If you have a question you would like me to consider answering in a future Video Coaching Newsletter, you can send it (3-4 paragraphs/500 words max) to this email address: [email protected]
If you feel I have added value to your life, you can show your appreciation by doing one of the following three things:
Make a donation to my work by clicking here to donate via PayPal anytime you feel I have added significant value to your life. You tip your favorite bartender, right? How about a buck... $2... $3... $5... $10... $20... what ever YOU feel its worth, every time you feel I have given you a good tip, new knowledge or helpful insight. Please feel free to donate any amount you think is equal to the value you received from my eBook & Home Study Course (audio lessons), articles, videos, emails, newsletters, etc.
Referring your friends and family to this website so they can start learning and improving their dating and relationship life, happiness, balance and overall success in every area of their lives too!
Purchase a phone/Skype (audio only) coaching session for yourself or a friend by clicking here. Download the Amazon.com Kindle version of my book to your Kindle, Smartphone, Mac or PC for only $9.99 by clicking here. Get the iBook version for $9.99 from the iBookstore by clicking here. Get the Audio Book for FREE $0.00 with an Audible.com membership by clicking here or buy it for $19.95 at Amazon.com by clicking here. Get the iTunes Audio Book for $19.95 by clicking here. That way, you'll always have it with you to reference when you need it most. Thank you for reading this message!
From my heart to yours,
Corey Wayne
Author, Speaker, Peak Performance Coach, Entrepreneur
"Women naturally and instinctively will seek to gain the attention and interest of men they are attracted to. Alpha males who know what to look for immediately spot female attraction and interest and then create opportunities to nurture, encourage and grow that romantic interest. For women, romance, courtship and intimacy is a slow process that takes time and cannot be rushed. Men, who don't know any better, try too hard and move things along too fast for the average woman's comfort level, which leads to rejection. It's always better if a man's pursuit of women is measured and slightly slower than they expect. This facilitates women's natural tendency to chase and pursue relationships so it's their idea. Being chased by women prevents rejection, because then the relationship is their idea." ~ Coach Corey Wayne
Click Anywhere on Today's Instagram Image Below & You'll Be Taken To My Instagram Page. When you get to my Instagram page, click the "Follow" Button so you can follow me on Instagram. I upload several new Instagram photos per week.