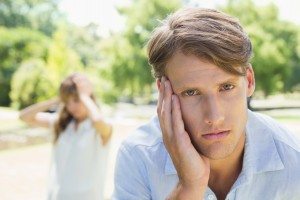 Why everything that a woman does, says or fails to do and say has nothing to do with you and your relationship, and why focusing on this actually creates unnecessary drama and preventable problems.
In this video coaching newsletter, I discuss an email from a viewer for whom I answered a previous email in the video newsletter titled, "My Feminist Man-Hating Girlfriend." In his latest email, you can tell he is still causing some of the same unnecessary drama and problems that he did when he first wrote to me six months ago. Things have gotten better, but once again he incorrectly assumed his girlfriend's behavior was all about him, and he reacted in a very needy way internally.
I call him out on his BS, he sends in a terse response, and then a second one a week or so later, when he realizes I was right. I discuss his first email, the email coaching email and my response, and his subsequent short email replies after, to point out how his own insecurities are still rearing their ugly head in his relationship. My comments are in (bold parenthesis like this below) in the body of his email.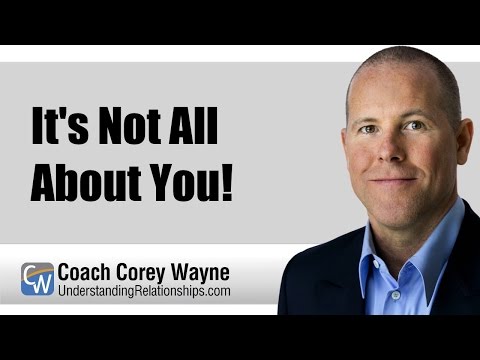 Hi Coach,

I'm the guy with the feminist, man-hating girlfriend. Basically, the last time you told me that my lady is structured and controlling, but otherwise a good woman, and if I don't stop creating drama she'll realize I'm a pussy, not a man, and leave me. Your advice was spot on and really hit me hard, but I took action and turned things around. I went back to therapy and did a lot of thinking. (I commend you for working on your issues.) To make a long story short, once I managed to be strong again and cut out the drama, I had her sitting on my lap, kissing me and telling me about her day at work. Remember, this is the feminist who tried to convince me that a man doesn't have to be strong. (You can have the best therapist in the world, but if a guy is not acting like a man, the relationship will not be salvageable.) This woman was sent to me as a blessing. She triggered all my worst fears and weaknesses, so I could deal with them and don't have to face them when I meet the one. But I'd like to say, I also care a lot for her, I'm crazy about her body and the sex is great.

Now I feel low again. I saw the great video where you helped the guy who had problems standing up for his self. I realized I have that problem. I started Network Chiropractic Care, and this makes me able to speak my mind. (For those of you who are getting Network Care, after all of that time holding in things you don't really want to say out loud, you don't feel comfortable holding that shit in anymore. As a coach, I know masculine energy grows through challenge. When men are shaken to their core and their ideals are threatened, that's when you find out who they really are.) Also, it causes a lot of thoughts on what I should accept and not. Then I saw a video where you said a woman might go on a romantic weekend with you, but then disappear, and you have to let her come to you. That exact thing happened to me. Now I'm a bit confused about when I should do what. (You need to read my book 10-15 times to learn the fundamentals and understand the principles.) My woman shut down after coming home from a great weekend in Paris. (It's not all about you dude. Ask her what's going on.) For almost two weeks, there was no affection and no sex. I called her out on it. I said I didn't want to meet again until she really wanted to see me. (Women want to be heard and understood. Something you were doing or saying was not opening her up properly.) She accused me of demanding her to behave in "a certain way," but when I stood my ground, she backed down and started to act "normal" again, including sex. (You got her to respond by complaining, when all you needed to do was ask her what was going on.) Later I tried a different approach. My woman was driving her son to his new college over the weekend. I was really there for her, held her in bed when she cried because her little boy was leaving home, and helped her out. Then she left and didn't even get in touch until very late, with a formal text saying she was going to bed. No affection. (Now you're focused on yourself instead of her feelings and what she's going through.) I know and accept her son comes first, but this still pissed me off, (What's behind anger… Fear. Fear that you won't be loved and accepted and fear that she doesn't care about you. Instead you should have been understanding about her. I explain this my article and video, "How To Communicate With Women Effectively"), because she had time to check out Facebook during the day, but not to send me a short text saying, "Hi honey! We arrived safely!" She often makes me feel I'm a low priority. (Something like this shouldn't be diminishing you. She didn't meet your unreasonable expectations, and you made it all about you.) This time I didn't tell her, to avoid creating drama. Instead, I waited for her to contact me. When she called on Monday, I did the, "Great to hear from you, I'd love to see you," and set our next date. She seemed happy. (Again, it really wasn't about you. It was about what she was feeling.)

These two times I was successful, but sometimes I'm confused on how to handle her. Her distant ways make me feel really bad. (You choose to feel bad because of the circumstances of your relationship and how she's behaving.) She doesn't use any affectionate language; she's distant on the phone and on dates. (When a woman feels heard and understood, the legs open. The legs are closed because you didn't open her up. You bypassed the communication skills I teach in my book.) In fact, if I go by instinct and what you teach, her behavior indicates low interest, (It just indicates to me you didn't take the time to really get to know her and see what's going on in her life), but she plans for the future and gets very upset when I indicate problems in the relationship. (This is because you're still creating drama.) She asks if she can change in any way to keep me, but I feel it's superficial, and she doesn't really want to make an effort to understand me and meet me halfway. (You need to do the work to learn the principles in my book.) Could you shed some light on how a man should balance between standing up for himself on what he wants from his woman, and leaning back and letting her come to him? I appreciate that a woman is like a cat, but can't I expect her to be there for me. Could I ever get this woman to change by negotiating my needs? (When you treat women properly, you never get denied for sex. When you're her rock and mountain, she always wants to be next to you. When she's hurt, she's okay with the distance.)

Thanks,

Bob

My response to him:

Hi Bob,

A big part of your problem is that you have not read my book ten to fifteen times to learn the basic fundamentals of what I teach. In the chapter in my book, "Women Are Like Cats and Men Are Like Dogs," I discuss this dynamic. When a woman spends too much time around you, she gets too familiar and bored. Therefore, like a cat, she will become a little distant, less enthusiastic about being with you, talking with you and being affectionate. At this point in your relationship, you can simply tell her to call you later after she leaves, or you drop her off and then let her be. When most guys sense or feel a woman pulling away or seeming to not be as into them as they were, they get fearful and start to pursue and force things. This turns women off. When she backs off, let her go and she will come back when she misses you. My book explains this. You can also review this article and video I did on the topic, "Women Are Like Cats… Men, Dogs."

The school thing and her not contacting you the next day is understandable. You are acting needy, fearful and desperate. You are getting butt-hurt over nothing. This how women are. They are driven by their strong emotions, not rationality. She was hurting and spending time with her son. This is her needing time away from you to spend with her baby boy. He's leaving the nest dude. This is traumatic for any mother. She is leaving him behind at school. She was sweet the next day. It had nothing to do with you. It was all about her and her baby boy. Get used to it. This is how women are. You need to let them be. Then they boomerang back, fuck your brains out and can't get enough of you, until they get bored again, busy or their curiosity takes them elsewhere temporarily.

You really need to fucking read the book 10-15 times. You are making your relationship way harder than it needs to be. Hangout, have fun and hook up. Stop looking for reasons to create drama because you feel insecure or seek validation from her.

Corey

His first follow-up response to me:

Coach,

With all due respect and acknowledging you know this stuff, which is why I ask you, I still think you missed the point of my question this time, (No, I told you exactly what you needed to focus on in order to turn things around):

1. I did acknowledge what you teach about women being like cats. (You acknowledged it, but you don't understand the principle. You don't know the material. You are doing the same things you were doing eight weeks ago.) I read that chapter yesterday. I don't create drama. (Come on man. You created drama here, and you were doing the same shit eight months ago.) I started letting her come to me. I don't show her how I feel, but why should I ever have a woman as more than a fuck-buddy if she just comes to me now and then, gives a little sex, and doesn't seem to care about me the rest of the time? (What you really should have been doing was being loving and supportive of her.) Then I should not be in a relationship at all. Ever. So I should dump her and play the field. (At the end of the day, if you don't know how to get it right with this one, what will happen when the girl of your dreams shows up? You better be prepared.)

2. You also said a guy should stand up for his needs in a relationship, like when she stops sex, or doesn't make coffee, as in the video you did, (Again, when a girl feels heard and understood, the legs open, and when she doesn't, the legs close. You need to step up your game), but how can he do that if he should just leans back, lets her do whatever she likes, and never appears needy?

I know you won't answer a follow-up question. But you still can't prevent me from writing one. Take care, Corey. You are a great guy, and you've changed my life for the better, but boy, are you tough! (I'm here to help you get the results that you want.)

Yours sincerely,

Bob

His second follow-up response to me:

Quick feedback, coach, if you want it… Your advice was useful, of course, but I was frustrated because I didn't quite feel it covered my issue. I probably it explained badly. This morning I listened to your video, "I Realized I Could Do Better." It completed my understanding, and now I feel I know where I am. An extra bonus was your comments in the video, "From Hot Sex To Flaky Behavior," where you discuss how your relationship with your mother caused you to get stuck on women who made it difficult for you. This advice put together gave me all I need. Thank you very much! (The problem is, you feel diminished when your woman is not as affectionate. You're not taking the time to open her up and communicate with her effectively. If you had known the book well enough, you would have known to open her up by asking questions and getting her to talk about what's inside her. You can ignore reality, but you can't ignore the consequences of ignoring reality.)

Yours truly,

Bob
Get the Book "How To Be A 3% Man"
How to Be a 3% Man
Audiobook | FREE**
How to Be a 3% Man
Audiobook | $19.95
How to Be a 3% Man
Audiobook | $19.95
*Amazon and the Amazon logo are trademarks of Amazon.com, Inc. or its affiliates. As an Amazon Associate I earn from qualifying purchases. **Free with a new Audible.com membership
How to Be a 3% Man
Kindle eBook | $9.99
How to Be a 3% Man
iBooks eBook | $9.99
How to Be a 3% Man
Lulu eBook | $9.99
*Amazon and the Amazon logo are trademarks of Amazon.com, Inc. or its affiliates. As an Amazon Associate I earn from qualifying purchases.
How to Be a 3% Man
Paperback | $29.99
How to Be a 3% Man
Hardcover | $49.99
How to Be a 3% Man
Paperback | $29.99
How to Be a 3% Man
Hardcover | $49.99
*Amazon and the Amazon logo are trademarks of Amazon.com, Inc. or its affiliates. As an Amazon Associate I earn from qualifying purchases.
Get the Book "Mastering Yourself"
Mastering Yourself
Audiobook | FREE**
Mastering Yourself
Audiobook | $24.95
Mastering Yourself
Audiobook | $24.95
*Amazon and the Amazon logo are trademarks of Amazon.com, Inc. or its affiliates. As an Amazon Associate I earn from qualifying purchases. **Free with a new Audible.com membership
Mastering Yourself
Kindle eBook | $9.99
Mastering Yourself
iBooks eBook | $9.99
Mastering Yourself
Lulu eBook | $9.99
*Amazon and the Amazon logo are trademarks of Amazon.com, Inc. or its affiliates. As an Amazon Associate I earn from qualifying purchases.
Mastering Yourself
Paperback | $49.99
Mastering Yourself
Hardcover | $99.99
Mastering Yourself
Paperback | $49.99
Mastering Yourself
Hardcover | $99.99
*Amazon and the Amazon logo are trademarks of Amazon.com, Inc. or its affiliates. As an Amazon Associate I earn from qualifying purchases.
Coach Corey Wayne Merchandise
If you have a question you would like me to consider answering in a future Video Coaching Newsletter, you can send it (3-4 paragraphs/500 words max) to this email address: Questions@UnderstandingRelationships.com
If you feel I have added value to your life, you can show your appreciation by doing one of the following three things:
Make a donation to my work by clicking here to donate via PayPal anytime you feel I have added significant value to your life. You tip your favorite bartender, right? How about a buck... $2... $3... $5... $10... $20... what ever YOU feel its worth, every time you feel I have given you a good tip, new knowledge or helpful insight. Please feel free to donate any amount you think is equal to the value you received from my eBook & Home Study Course (audio lessons), articles, videos, emails, newsletters, etc.
Referring your friends and family to this website so they can start learning and improving their dating and relationship life, happiness, balance and overall success in every area of their lives too!
Purchase a phone/Skype (audio only) coaching session for yourself or a friend by clicking here. Download the Amazon.com Kindle version of my book to your Kindle, Smartphone, Mac or PC for only $9.99 by clicking here. Get the iBook version for $9.99 from the iBookstore by clicking here. Get the Audio Book for FREE $0.00 with an Audible.com membership by clicking here or buy it for $19.95 at Amazon.com by clicking here. Get the iTunes Audio Book for $19.95 by clicking here. That way, you'll always have it with you to reference when you need it most. Thank you for reading this message!
From my heart to yours,

Corey Wayne
Author, Speaker, Peak Performance Coach, Entrepreneur
"The purpose of all relationships is that you go there to give, not to possess, control, manipulate or seek validation so you feel better about yourself. The love you withhold in your relationships is the pain that you carry. When we focus on giving and meeting the other person's needs, because we simply want to contribute to their happiness, that is love. When we focus on what we are getting, what we fail to get or why the other person did not do what we expected, we hold back, and the relationship starts to suffer, since it becomes about taking instead of giving. When you date a mutual giver, and you both focus on meeting each others needs just for the sheer joy of making each other happy, this leads to easy and effortless relationships. When the giving is unbalanced, so is the relationship." ~ Coach Corey Wayne
Click Anywhere on Today's Instagram Image Below & You'll Be Taken To My Instagram Page. When you get to my Instagram page, click the "Follow" Button so you can follow me on Instagram. I upload several new Instagram photos per week.